It's been years since Coach looked this good. On an earnings call with analysts this morning (April 26), CEO Victor Luis was practically giddy as he declared that third-quarter sales, profit, and earnings had all returned to growth for the first time in years. "I could not be more excited with the momentum in our business," he said.
As far as the company is concerned, Coach is back.
It was far from an overnight turnaround. Shoppers had become accustomed to only buying Coach on discount, and the brand had become so mass-market it had lost much of its prestige. To change all that, it cut back severely on discounting, watching sales suffer as it did so. In 2014, Coach, which turns 75 in June, hired a new creative director, Stuart Vevers, the fashion veteran who was instrumental in reviving the British brand Mulberry. Under his oversight, Coach launched a new luxury clothing line in a bid to become a full-fledged American fashion house—a costly and risky move for a handbag business.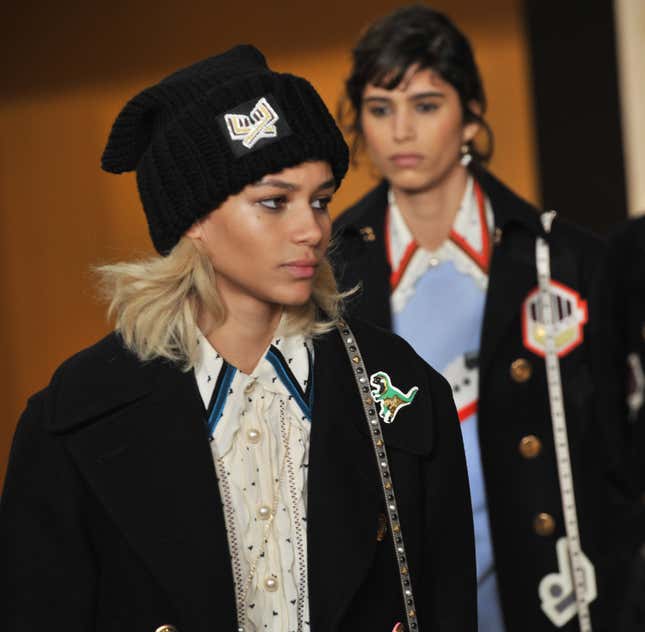 But taking those risks appears to have started paying off. Slowly the changes have taken hold, and Coach has restored some of the shine to its name. Luis said full-price purchasing is up, as are sales of its more expensive products. The $400-and-above bracket now makes up about 40% of the company's handbag sales, up from around 30% a year ago.
Vevers' clothes, meanwhile, have helped return the label's luster, with well-received runway shows. Those clothes now hang on racks at some of the coolest boutiques in the world, such as Opening Ceremony in New York, Luisaviaroma in Florence, and Lane Crawford in Hong Kong. In dollar terms, that wholesale business is small, but it's effective marketing.
Internationally, shoppers are responding. Sales saw double-digit growth in Europe and mainland China—Coach's second-largest market and an area that hasn't been too hospitable for luxury lately as the economy slows. Sales were tempered by drops in tourism to France, as well as Hong Kong and Macau, but Luis was optimistic looking ahead, and expressed high hopes for high-roller Chinese shoppers both inside and outside the country.
"The long-term opportunity with the Chinese consumer is as present as ever," he said. "Relevance on the mainland will mean relevance wherever the Chinese consumer chooses to shop globally."
In North America, where Coach brings in the bulk of its revenue, investors have been waiting to see if sales at stores that have been open at least a year will return to positive growth, a good indication that shoppers are coming back. While Coach said they were flat this past quarter, and that growth would finally return next quarter, that isn't the whole story. After warm weather in January dented sales, Coach would need positive comparable-store sales afterward to break even for the quarter. One astute analyst asked Luis if that was the case. "You can safely assume we had positive comps in February and March," he replied.
The upward trajectory is good news for Coach, which had sales of about $1 billion for the quarter, but it remains to be seen whether it can continue on this course. The company is restructuring its management and looking for other opportunities. Luis thinks menswear, for instance, could be a $1 billion business by itself.