As summer comes to a close in the US, so, too, does its blockbuster movie season, which this year was disastrous (unless you like horror movies). The sounds of gunfire and explosions will fade into the cinematic abyss, making way for period pieces, artsy character studies, and star-studded adaptations that are timely and thematically significant. Starting in September, studios release their most distinguished offerings—the awards contenders.
Yes, that's right, folks, it's Oscar season.
To help you sift through the murky waters of Prestige Cinema, we've identified 12 films coming out over the next few months that will more likely than not be good, and also probably get nominated for major film awards. Each one offers something a little different, depending on the type of moviegoer you are.
Here are some of the films we're looking forward to most this fall:
Martin Scorsese's three-hour historical drama passion project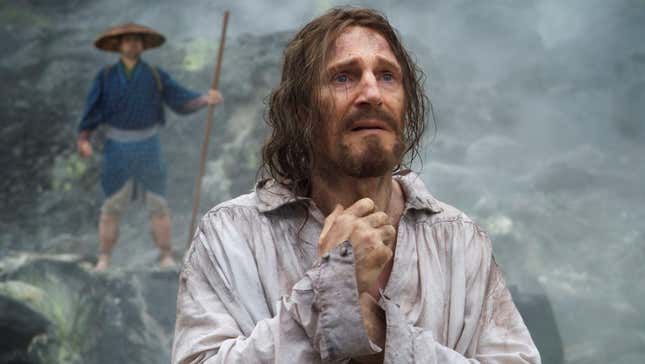 Silence stars Liam Neeson (above), Adam Driver, and Andrew Garfield as Jesuit priests who travel as missionaries to Japan and face persecution. It's based on the 1966 novel of the same name by Shūsaku Endō, which Scorsese had apparently been trying to adapt since 1991. According to Variety awards reporter Kristopher Tapley, the film is 195 minutes long. Release date: unknown. 
Tom Hanks as yet another heroic real-life American captain
Sully stars Hanks as Chesley "Sully" Sullenberger, the airline captain who landed an Airbus A320 safely in New York's Hudson River in January, 2009, after both of the plane's engines failed. Clint Eastwood returns to the director's chair following American Sniper, which was nominated for an Oscar for best picture. Sully comes just three years after Hanks portrayed Captain Richard Phillips, a ship captain taken hostage by Somali pirates, in the appropriately named Captain Phillips. Release date: Sept. 9.
Denzel Washington directing and starring in an adaptation of one of the greatest plays of all time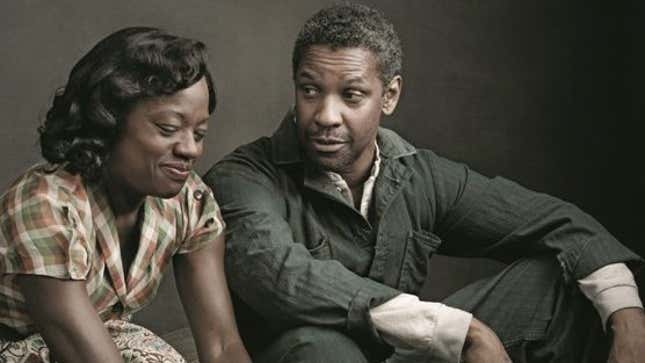 Fences stars Washington and Viola Davis in roles they're reprising from the 2010 Broadway run of the beloved play by August Wilson. Set in Pittsburgh in the 1950s about a former Negro League baseball player, Fences is now a staple in high school English curricula. One of the most decorated actors of all time, this is Washington's first time back as director since The Great Debaters in 2007. Release date: Dec. 16.
Your two favorite actors in a romantic musical from the director of Whiplash
La La Land stars Emma Stone and Ryan Gosling as an aspiring actress and jazz pianist, respectively, who fall in love in Tinseltown. It also stars J.K. Simmons, who was very, very good in director Damien Chazelle's previous Oscar best picture nominee, Whiplash, which, too, was very, very good. La La Land is already getting very, very good reviews from critics. Release date: Dec. 2.
Your two other favorite actors as space travelers who prematurely awaken from their hibernation pods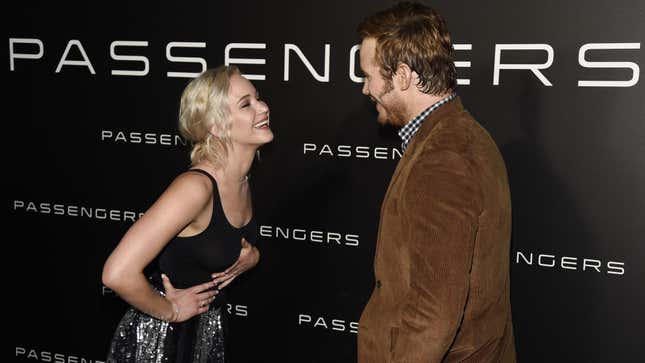 Passengers stars Jennifer Lawrence and Chris Pratt, which is essentially all you need to know. You're going to see this film. The two are on a spaceship traveling to another planet when they accidentally wake up from cryosleep just 30 years into the planned 120-year journey. It sounds like a sci-fi thriller with perhaps a dash of comedy, à la last year's hit The Martian. Passengers is directed by Morten Tyldum, who helmed 2014 Oscar nominee The Imitation Game. Release date: Dec. 21.
The Sundance Film Festival darling, featuring Massachusetts accents
Manchester by the Sea stars Casey Affleck as a man who returns to his hometown after his brother's passing and becomes the legal guardian of his nephew. The film was one of the hottest to come out of this year's Sundance Film Festival—Amazon outbid several major film studios for the rights to distribute it (the film will still have a normal theatrical release before it's put on Amazon). Manchester by the Sea is directed by Kenneth Lonergan, and also stars Michelle Williams, Kyle Chandler, and newcomer Lucas Hedges. Release date: Nov. 18.
A sci-fi alien thriller with more linguistics than explosions
Arrival stars Amy Adams as a linguist who's asked by the United States military to attempt to communicate with a mysterious species of extraterrestrials that has landed all over the world. Directed by Prisoners and Sicario director Denis Villeneuve, Arrival promises to be the rare cerebral sci-fi movie with more actual science than pure action. The film is based on a popular short story by Ted Chiang called "Story of Your Life." Release date: Nov. 11.
A true story about an interracial couple in the 1950s from the best director you've never heard of
Loving stars Joel Edgerton and Ruth Negga as Richard and Mildred Loving, an interracial couple who was arrested because their marriage violated Virginia state law. In a landmark 1967 decision, Loving v. Virginia, the US Supreme Court ruled that the statutes prohibiting interracial marriage was unconstitutional. Loving is directed by Jeff Nichols, who really should be a lot more famous, having directed Take Shelter, Mud, Midnight Special, and Shotgun Stories—all excellent films. Release date: Nov. 4.
A war movie filmed in 120 frames per second, the highest to date
Billy Lynn's Long Halftime Walk stars newcomer Joe Alwyn as a US soldier who's being honored during halftime of a National Football League game. During the ceremony, he has flashbacks to fighting in Iraq. The film is directed by Oscar-winner Ang Lee, based on the 2012 novel of the same name by Ben Fountain. It was shot in 4K, 3D, and at an accelerated rate of 120 framers per second (most movies are 24). You can see in the trailer above how clear and detailed the picture is. Release date: Nov. 11.
The early frontrunner now embroiled in controversy
The Birth of a Nation is directed by, and stars, Nate Parker as Nat Turner, the real-life slave who led a rebellion in Virginia in 1831. The film earned rave reviews from the Sundance Film Festival and sold to Fox Searchlight Pictures for a record $17.5 million. It was believed to be a lock for an Oscar best picture nomination before a rape accusation from Parker's past, of which many were unaware, was brought back to light. The controversy has sparked debates on whether it's still okay to see Parker's film, and if it should still be considered for major awards. Release date: Oct. 7.
The dark horse that could win all the awards
Moonlight stars Trevante Rhodes as a young black man struggling to embrace his sexuality. Told across three time periods, Moonlight is directed by Barry Jenkins, and also stars André Holland of The Knick. The film was picked up by film distributor A24, which helped Room to a best picture nomination last year. Release date: Oct. 21.
The Return of Affleck: Prohibition Era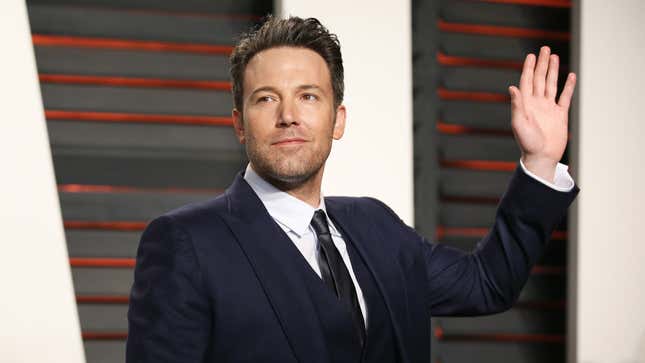 Live by Night, directed by and starring Ben Affleck, is set during Prohibition in the United States and follows the son of a police captain who becomes an infamous bootlegger. The last time Affleck directed a film (Argo), it won the Oscar for best picture. While the film technically comes out Jan. 2017, it's possible, and perhaps likely, it will get a limited release in December in order to qualify for awards. Live by Night is based on the 2012 Edgar Award-winning novel of the same name by Dennis Lehane. Affleck previously adapted Lehane's novel Gone, Baby, Gone into a critically acclaimed film in 2007. Release date: unknown. 
Other contenders worth keeping an eye out for