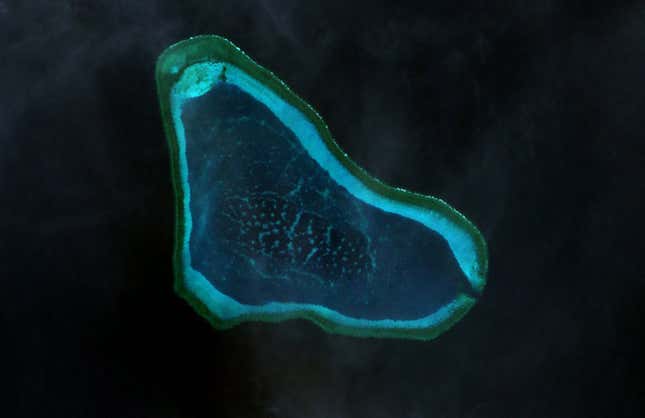 Of all the potential flashpoints in the contested South China Sea, none is more nervously watched today than Scarborough Shoal, a large coral atoll with a reef-rimmed lagoon. It encompasses 58 sq mi (150 sq km) and lies less than 150 miles (241 km) from the Philippines' coast.
Observers have long suspected that China wants to build a militarized island there, and last week the Philippines defense ministry distributed pictures of what it said were Chinese vessels gathering in the area that could become involved in such activity.
The South China Sea is a geopolitical tinderbox, rich in natural resources and strategic value. China seems intent on the eventually controlling the sea, and Scarborough Shoal could be the final piece of the puzzle. Elsewhere in the sea China has been building artificial islands with military-grade runways, monitoring equipment, and deep-water ports in recent years, all in support of its territorial claim to nearly the entire waterway. An international tribunal invalidated that claim in July, but Beijing vowed to ignore the ruling.
First, China would need to turn Scarborough Shoal into an artificial island, as it's done in numerous cases in the Spratly archipelago in recent years. The work causes enormous environmental damage and requires extensive dredging equipment, and China has become adept at it.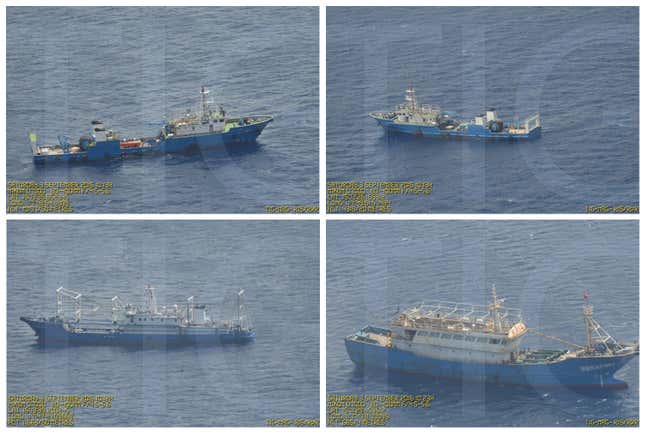 Upon closer inspection of the photos released last week by the Philippines, some observers concluded that the ships lacked dredging equipment and represented no imminent threat of reclamation work.
Others have hypothesized that China has long planned to build at Scarborough Shoal but backed down after US diplomats earlier this year signaled (privately, allowing Beijing to save face) that doing so would provoke a confrontation. Another theory is that China is subtly laying the groundwork now to rapidly build an island at Scarborough Shoal at some later (possibly imminent) date.
China seized control of Scarborough Shoal (or Huangyan Dao in Chinese) from the Philippines in 2012. It has restricted access to it since then, barring Filipino fishermen from the area. China insists it isn't building there, but Beijing has made false statements about such things in the past. For instance it originally said that it was merely building fishermen shelters at Mischief Reef (in the Spratlys). The site is now well equipped with hangars, port facilities, and a military-grade runway atop an artificial island.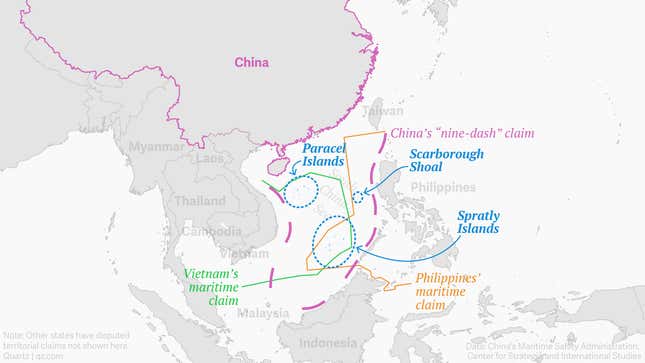 Whatever the reality, few doubt that Beijing would like to build a militarized island at Scarborough Shoal (also called either Panatag Shoal or Bajo de Masinloc in the Philippines). Such an installation, combined with its existing bases in the Paracel and Spratly archipelagos, would give China a "strategic triangle" for monitoring and policing activities across the South China Sea, where this week it's holding naval drills with Russia.
In the US, lawmaker Dan Sullivan warned the Senate Armed Services Committee about the triangle in April. On a map he showed a ring around each point of the triangle, showing the approximate range of Chinese fighter jets. The overlapping rings easily cover most of the South China Sea (note that Woody Island below is part of the Paracels):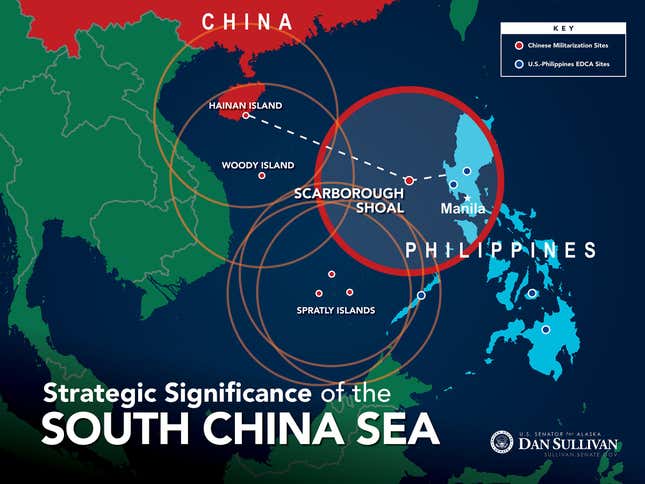 The triangle could also help China with establishing an air defense identification zone (ADIZ) over the sea, requiring foreign aircraft to notify Chinese authorities in advance of flights. How effectively it could enforce such a zone, especially in the beginning, remains a question, but for Beijing it would no doubt be another step in the right direction. Some have warned that Beijing wants to turn the South China Sea into a "Chinese lake." 
In August, China's supreme court ruled that fishermen caught operating in "its" waters—presumably anything within China's dubious nine-dash line—could be arrested for a year. Filipino fishermen have been cautious about trying to reenter the shoal's rich fishing grounds, which they've relied on for generations.
The ruling came after US president Barack Obama warned his Chinese counterpart Xi Jinping in Washington to neither build at Scarborough nor set up an ADIZ over the South China Sea, according to a US official who spoke anonymously (paywall) to the New York Times.
In late August Philippine foreign secretary Perfecto Yasay Jr. said there had been attempts to use Philippine black sand for reclamation activities at Scarborough Shoal, but that those efforts had been "stopped by the Americans."
Of course in an actual war it'd be relatively easy for the US and its allies to simply destroy whatever military infrastructure China might have built in the sea. Much of it is built atop decimated reefs and also vulnerable to typhoons. But Sean Liedman, a military analyst and former US Navy officer, noted in an email to Quartz:
China's militarization of the Paracels, Spratlys, and possibly Scarborough has tremendous peacetime military utility in terms of extending China's operational reach, surveillance network, logistics support, and command and control networks… Their utility in peacetime and the run-up to war ("Phase 0" and "Phase 1" in US military jargon) should not be underestimated, and those early phases set the conditions for victory in Phase 3 (major combat).
An installation at Scarborough Shoal would also be uncomfortably close to not just the Philippines itself, but also specifically to Basa Air Base near Manila. That base is one of five that the Philippines government, faced with Chinese maritime aggression, has permitted US forces to use on a temporary basis, under the 10-year Enhanced Defense Cooperation Agreement signed in 2014 and cleared by the Philippines Supreme Court earlier this year.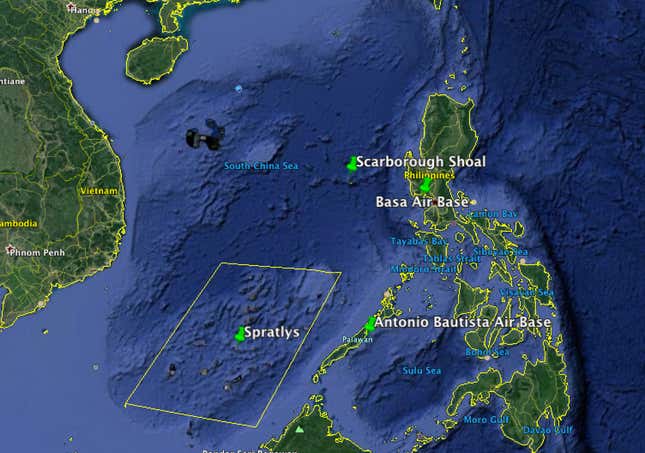 Other nations are fretting over Scarborough Shoal, too. The sea is the main passageway for Middle East oil to reach Japan and South Korea, as well as China. Indeed more than $5 trillion worth of trade passes through the waterway every year. Yoji Koda, a former vice admiral in the Japan Maritime Self-Defense Force, wrote in the journal Asia Policy in January that the strategic triangle "could be a game changer in regional power relations."
Military strategists in Beijing would no doubt agree.