Artists looking to reach audiences in China will increasingly face a choice—keep your politics to yourself, or risk getting cut out of the market.
The latest artist to catch the ire of China's online censors is Denise Ho, a 39-year-old Hong Kong pop singer. Ho has been an active participant of Hong Kong's pro-democracy movement, appearing in person at rallies (she was the first celebrity to be detained) and writing music to support the Umbrella Revolution of late 2014. Her records have ranked among the top best-selling albums made by local Hong Kong artists from 2005 to 2014 (with the exception of 2013), according to IFPI, which tracks record sales in Hong Kong.
Her politics have come with a price. As reported by China Digital Times, last week a Weibo user noticed that China's censors have scrubbed Ho's music from China's major music streaming services—sending a chilling message to artists looking to reach fans in the mainland.
Searching for Ho's Chinese name in Chinese on Kugou, one of the most popular music streaming services in China, yields a page saying the app has found no results.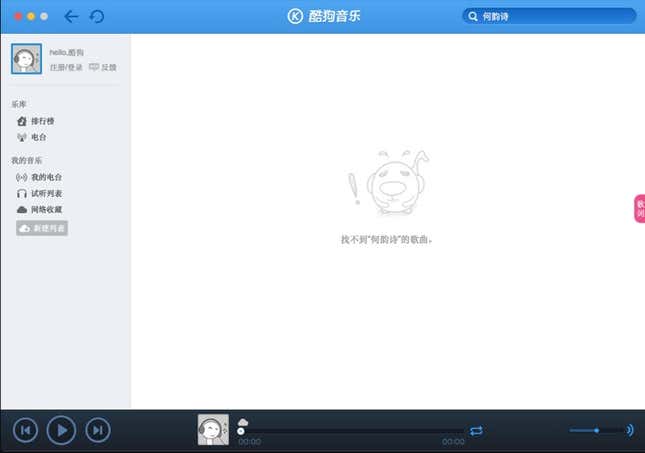 The same goes for Tencent's QQ Music…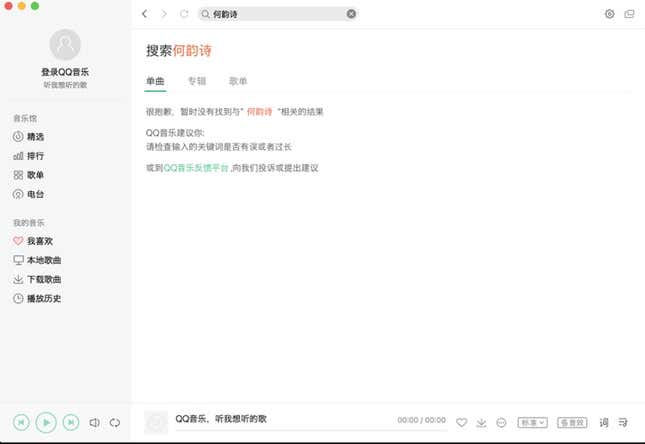 …as well as the streaming service offered by online portal Netease.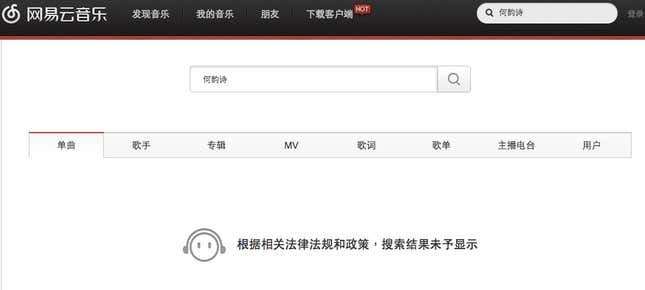 Apple's iTunes music store for mainland China also contains no songs from Ho. The company's music store has always been sparse in the country though, and it's not clear if Ho's music was there to begin with.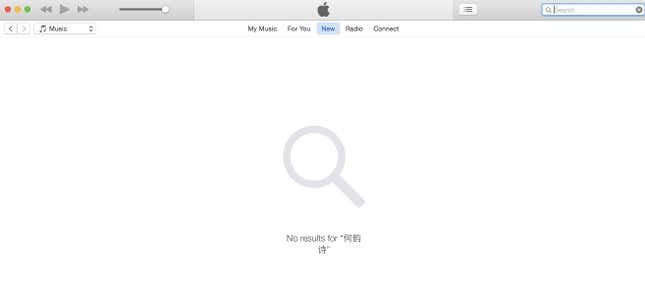 Quartz reached out to Tencent, Netease, and Apple to but did not receive an immediate response.
Ho has been targeted by China's state media and nationalist web commenters for months.
In June, party mouthpiece paper Global Times asked its followers on social media what they thought of Ho's endorsement deal with cosmetics company Lancome. A barrage of nationalist web users replied, calling Ho "Hong Kong poison," and threatening to boycott the brand. Lancome responded by canceling an upcoming concert with Ho. It also released a public statement saying Ho was "not a spokesperson" for the brand, setting what some called a dangerous global precedent for multinational brands.
Removing Ho's music from China's internet is likely to cut her off entirely from her mainland fans—in the past about 80% of her income came from mainland performances, and it seems unlikely she'll be booked there anytime in the future.
Chinese state media has not commented on Ho's removal from China's music streamers. In the past, authorties have openly called for bans on music for being too vulgar—in August 2015, for example, authorities published a list of rap songs that streaming services must drop from their sites. The absence of a similar statement on Ho suggests that censors are acting covertly, and would rather not draw attention to her ban.
Tom Tsui contributed to this piece.