Two pro-independence lawmakers in Hong Kong are under fire for employing a racial slur against China during their oath-taking ceremony in the legislature. One is receiving more vitriolic criticism than the other because she is a woman.
Baggio Leung, 30, and Yau Wai-ching, 25, both from the newly formed party Youngspiration, won seats in Legislative Council (LegCo) elections last month. However, the two have still not formally been sworn in as lawmakers, after their first attempts two weeks ago were nullified as they used a derogatory term for China used by imperial Japan in their oaths. Pro-Beijing groups have rallied to block them from taking their oath a second time, for example by walking out of LegCo last week to prevent the chamber from meeting quorum. The government also tried to block Yau and Leung from retaking their oaths by applying for a judicial review.
Pro-Beijing groups have also said that Yau and Leung's comments insulted Chinese people around the world, and have called for the two to apologize to Chinese people everywhere. Even the pro-democracy opposition, while supporting their procedural and legal rights to be sworn in as new lawmakers, have sought to distance themselves from Yau and Leung's comments.
Leung's and Yau's Facebook pages, as well as the Youngspiration page, have been flooded by hateful comments, deriding them for insulting Chinese people.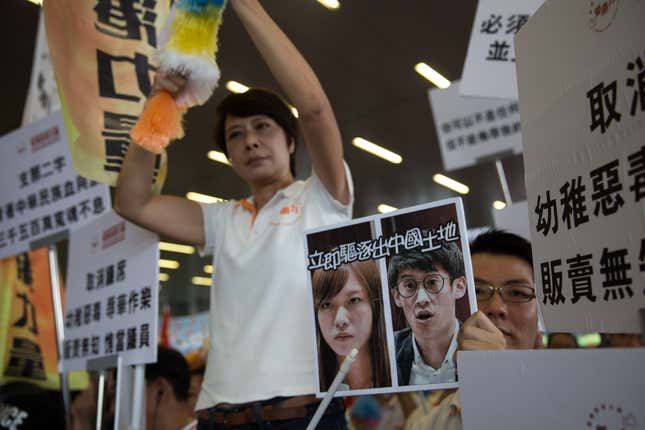 "Congratulations Mr. Yau, congratulations Mrs. Yau! As your ancestors did something bad, your internationally famous beast-like daughter is payback for your family. Chinese people all over the world are cursing the Yau family," wrote one user (link in Chinese) whose account only lists five friends. Some of the most active people attacking Yau on Facebook seem to be rather inactive users whose accounts made very few or no posts before. Some accounts were registered recently and had no friends.
But Yau has conspicuously attracted much more vicious hatred than Leung simply for being a woman. Many of the attacks against her have sexual overtones.
One Facebook comment (link in Chinese) with over 500 likes said that Yau's supporters voted for her "because they just want to hold her photo while masturbating." During the election campaign period, she was called (link in Chinese) a "vase" for not doing well in televised debates—pretty to look at, but lacking in actual abilities to be a lawmaker. One female legislator even said (link in Chinese) that people who voted for Yau were "deceived by their hormones."
In fact, attacks on Yau started to multiply when a few weeks ago she used a curse word (link in Chinese) at a public forum to describe the plight of being young in Hong Kong and not having private space to have sex because of the city's astronomical property prices. She used the Cantonese term "bok-yeh" (扑嘢) for sex, which roughly translates as "to bang." "If we want to bok-yeh, we can't afford a room to do so, and that's a very real problem," Yau said.
Many criticized her comments as being too vulgar for a lawmaker to use—particularly a female one. One user on Facebook implied (link in Chinese) that Yau is a prostitute: "I really want to bok-yeh with Wai-ching— how much is it for a f***?" Another asked (link in Chinese) whether Yau wanted to "seize the last chance to bok-yeh in your lawmaker office."
Yau and Leung were due to retake their oaths for the third time on Oct. 26, but LegCo president Andrew Leung adjourned the meeting instead. Meanwhile, the pro-Beijing camp of lawmakers says that it is still determined to use whatever means possible to stop the pro-independence duo from being sworn in as lawmakers.
Yau was targeted again at a protest outside LegCo on Oct. 26 by pro-Beijing demonstrators, who carried a blow-up doll with a photo of her face taped to it.