Update, Feb. 7, 12:30pm: DeVos has won the Senate's confirmation, 51-50, with vice president Mike Pence as the deciding vote.
Of all of US president Donald Trump's cabinet picks, Betsy DeVos—a philanthropist and businesswoman with scant experience in education policy—has emerged as one of the most contentious. She could make history as the first US education secretary nominee ever to be rejected. Surely she is among the first to have been parodied on the NBC comedy show Saturday Night Live.
The US Senate is expected to vote on DeVos's confirmation Tuesday (Feb. 7). The tally currently stands at a tense 50-50, thanks to two Republican senators who've crossed party lines to oppose DeVos. In the event of a tie, US vice president Mike Pence will be the deciding vote to push her through; if just one more Republican breaks ranks, the confirmation will be blocked. Whether DeVos makes it or not, though, she's already managed to inspire an unprecedented amount of conflict for someone in her position.
What exactly makes an education secretary candidate so objectionable—to the point that people would gather in physical protest? That even the newspapers and residents of her home state of Michigan would come out against her?
It boils down to a few key matters, and they're eerily reminiscent of the concerns raised about Trump by his opponents during his own gamble for political power in the 2016 election.
Experience, what experience?
If confirmed, DeVos will be the first education secretary in the department's 35-year history to not have been a public school parent or student.
DeVos attended private institutions for both grade school and college, and her four children were educated at private schools, too. In contrast, John King Jr., the last education secretary to serve during the Obama administration, went to public school, sent his daughters to public school, and taught at public school. Ironically enough, almost all of Trump's other cabinet picks also have some kind of personal experience with public school (although Trump himself does not). DeVos not only lacks the qualifications for the job on paper, but also betrays it in her answers. She couldn't identify basic education terms at her confirmation hearing in January, and fumbled a response about gun laws on school campuses by citing a need to protect students against grizzly bears.
She is anti-teachers'-unions and steadfast on supporting charter schools and school vouchers, both of which are controversial in education circles. She's described by historians as potentially the most radical and "hostile" figure to lead public education since the Office of Education was established in 1867.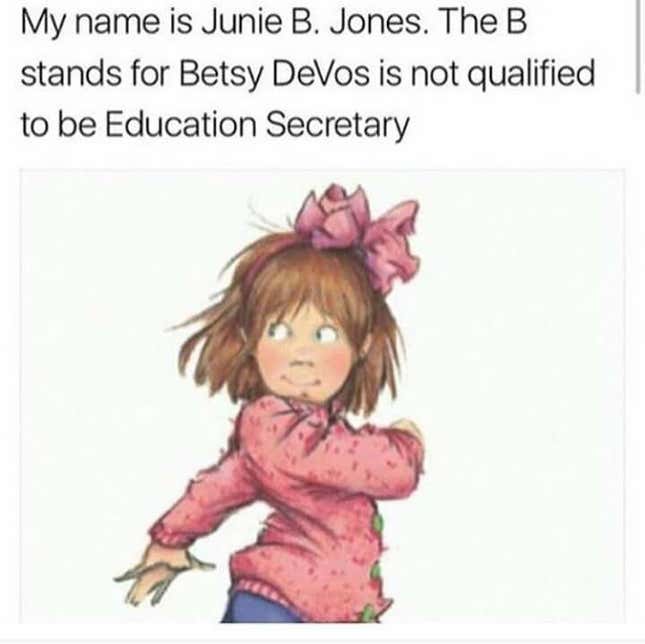 Similar warning signs—brash stances, without personal experience in either politics or policy—are exactly what Trump's opponents saw in him during his campaign against Democratic nominee Hillary Clinton. And Americans are now seeing those concerns play out: Trump's sprawling decisions since his inauguration have thrown the federal government into disarray, and it seems he's made many of those moves without actually understanding what they mean.
Money, money, money
DeVos is a billionaire. That wouldn't be a conflict for her, if it weren't for the fact that a large chunk of her private wealth has funneled its way into politics.
First, there's the stark fact that she and her family have given millions to Republicans in the Senate. This includes close to $1 million in direct contributions to sitting senators, who will be voting on her confirmation.
On top of these contributions, the Center for American Progress found DeVos and her family have given $2.25 million to a super PAC tied to Senate majority leader Mitch McConnell, and another $900,000 to a Republican Senate fundraising group. Her family's support for Republicans goes back decades; her father-in-law, Amway co-founder Richard DeVos Sr., spearheaded Ronald Reagan's 1980 election fundraising.
At her confirmation hearing earlier this month, DeVos herself acknowledged it's "possible" her family has given as much as $200 million to the Republican party over the years.
The problem runs deeper when one considers all the partisan groups that DeVos has invested money in, including but not limited to right-wing think tanks, evangelical groups, political committees, and conservative social campaigns aligning themselves against issues like gay marriage. It's not just politics, either: DeVos has donated heaps to religious organizations, charter school advocacy groups, and even experimental brain therapy for children with hyperactivity disorder. All of those are problematic for a role that calls for neutral leadership of the country's teaching system.
As president, Trump has not yet delivered on his promise to sever his business entanglements while in office. DeVos, with her family's long history of generous contributions, likely won't be keen to do so either.
An ethics dilemma—or several
If DeVos's financial conflicts of interest are not enough to make Americans uncomfortable, there are a number of other red flags to consider—some of which were raised by her own fishy answers during her confirmation hearing.
For example, when confronted about her involvement in her mother's foundation giving money to an anti-gay-marriage group, DeVos chalked up her connection to a "clerical error."
DeVos also drew criticism when she submitted responses to a Senate questionnaire that seemed to have been outright plagiarized from other sources. "Every child deserves to attend school in a safe, supportive environment where they can learn, thrive, and grow," DeVos wrote in one answer, almost word-for-word echoing comments made by Vanita Gupta, head of the US Justice Department's Civil Rights Devision under the Obama administration. (Melania Trump flashbacks, anyone?)
The controversy around DeVos ultimately comes down to a single question: Can the US Senate in good faith confirm someone for public office who is unqualified, potentially unfit, and arguably too conflicted to serve in the role—and who just might want to take down the very institution she's entrusted with? That's the question that teachers, parents, and other education advocates opposing DeVos are putting to their senators. But if Trump's unprecedented election upset is anything to go by, it could be a futile fight.