Spending all day waiting for a package delivery may one day be a thing of the past.
UPS announced today that it has successfully delivered a package in Florida using an autonomous drone that launched from one of its delivery trucks. The test is the first step in what the company hopes could one day become a more routine use of drones for package delivery.
The drone-and-van solution was developed by Workhorse, a truck company that already supplies vehicles to UPS, in collaboration with the University of Cincinnati. Here's how it works: The drone lives in the roof of the truck; to use it, the UPS driver scans a package, puts it in a retractable cage that sits below the drone, and then plugs in a destination on a tablet near the driver's seat. The roof of the truck then retracts, and the drone flies off to its destination. Once there, it lands, opens its cage, drops off the package, and sets back out to meet the driver as they continue along their route. The drone has a battery life of about 30 minutes, so it can't stray too far from its truck base.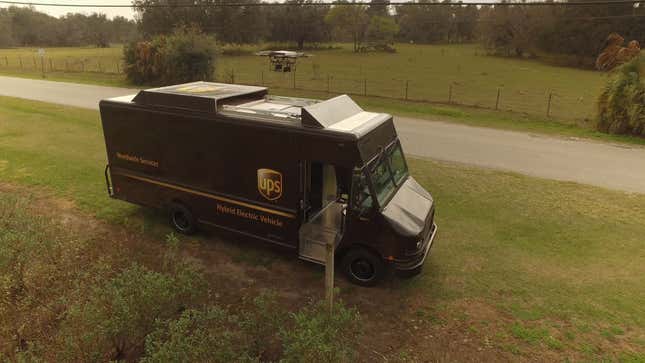 The potential efficiencies are easy to spot. Right now, delivery-truck drivers follow a route that's been optimized using UPS-created software known as On-Road Integrated Optimization and Navigation (ORION). But there are things beyond the control of even the smartest algorithm. Trucks get delayed by traffic, road work, accidents, and myriad other issues. What if a driver could head to one drop-off point and send a drone out to another, later reconnecting with it at a third? That type of process would save drivers time, put fewer miles on delivery trucks, and might even get customers their packages sooner.
These are the sorts of changes UPS is eyeing. Mark Wallace, the company's senior vice president of engineering and sustainability, told Quartz that being able to cut a single mile from a driver's daily route saves the company up to $50 million each year. On any given day, UPS has around 66,000 drivers out on the road, so getting drones to cover some of those miles could have a massive impact on the company's expenditures. It might also give drivers, whom Wallace calls "the great face of UPS," some time to actually speak with customers.
This isn't the company's first foray into drones. Last year, UPS partnered with drone startup CyPhy Works to test delivering medical supplies to an island off the coast of Massachusetts. It also granted startup Zipline close to $1 million to develop drones that can deliver blood to medial clinics in Rwanda. The first such delivery was completed in October.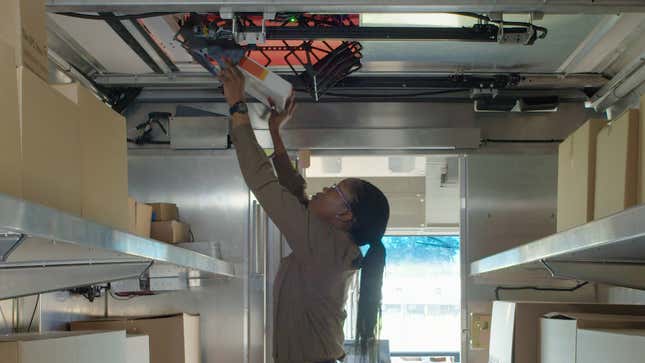 All of UPS' drone plans are still in the testing phase for now, and it's unlikely the company will have a widespread drone-delivery service in the US anytime soon. Federal regulations passed last year prohibit drone operators from flying them beyond their line of sight, and it could be at least another three years before the government develops any sort of air-traffic control system for autonomous drones, which an operation like UPS' would need to be successful at scale. The company, which operates one of the largest airplane fleets in the US, does have a "great relationship" with the US Federal Aviation Administration (FAA), Wallace said, adding that UPS sits on the FAA advisory committee that's working out how to integrate drones more thoroughly into US airspace.
What's also unclear is how many customers this type of system would service. Wallace couldn't provide a breakdown of what percentage of UPS deliveries are made in rural areas versus urban ones, but it's fair to assume that many people in the US don't have access to a front lawn that could serve as a landing pad. That limitation will also be a factor in the drone delivery services that companies like Amazon and Google have envisioned.
Any delay in implementation could actually be good for UPS, which may need that time to retrain its staff. Wallace maintains that the company has always been at the forefront of new technologies—UPS had delivery workers using tablets back in the mobile dark ages of 1993—but having drone colleagues could force human drivers to take on some new tasks. Wallace says it's just the latest phase in drivers' roles evolving as the available technology does.
"We're an engineering company at UPS," he said. "It's part of our DNA, of who we are."