There are many terms one might use to describe sustainable fashion; "glamorous" is probably not the first that comes to mind. Recycled cotton and plastic waste, pulled from the ocean and converted to yarn, don't normally conjure images of beautiful clothes.
At the same time, the fashion industry is coming to terms with the realization that it can't carry on with business as usual, dumping toxins into waterways and using up vast quantities of virgin resources for clothes destined for landfills after little wear. So a few concerned parties are working to recast sustainable fashion in a more glamorous—and desirable—light.
At the forefront of the push has been fashion consultancy Eco-Age, which yesterday (Feb. 22) announced a glitzy new annual awards show—the Green Carpet Fashion Awards—in partnership with Camera Nazionale della Moda (the National Chamber of Italian Fashion, a nonprofit that promotes the Italian fashion industry). The sustainability-focused event, which debuts in September, will feature Italy's most famous luxury labels, including Gucci, Fendi, Armani, Prada, and Valentino. "The Oscars of sustainable fashion," is how Carlo Capasa, president of the Camera Nazionale della Moda, describes it (paywall).
That new event builds on a previous campaign by Eco-Age that it calls the Green Carpet Challenge, which pairs "glamour and ethics" by getting celebrities to dress in and promote sustainable fashion. It actually started as a game of sorts. On a dare, founder Livia Firth wore only sustainable and ethical pieces on red carpets during awards season as she accompanied her husband, actor Colin Firth, who had starred in Tom Ford's 2009 movie A Single Man. Since then, actors such as Michael Fassbender and Sophie Turner have taken part, as has Emma Watson, who is currently bringing it to the next level by using the press tour for her upcoming movie Beauty and the Beast as an opportunity to show how stylish an eco-friendly wardrobe can be.
In a new Instagram account dedicated to her press-tour clothing choices, she revealed, for instance, that the striking, custom-made Louis Vuitton dress she wore to a press junket in France was made of recycled polyester created from used plastic bottles, and that what looks like a leather jacket is actually faux-leather by Stella McCartney. Though the account has only five posts so far—it only launched a few days ago—it already has more than 300,000 followers. She notes in her captions that all the details she's giving about the sourcing of her clothes are verified by Eco-Age.
The push to glam up sustainability isn't just happening at the high end. Fast-fashion retailer H&M, known for selling cheap, casual clothes, created a flowing plissé pleat evening gown as the centerpiece of its latest Conscious Collection, which uses more sustainable materials. In powder pink and detailed with shell-like curlicues, the dress is made out of Bionic yarn, a recycled polyester from plastic waste recovered from the ocean. (Denim brand G-Star has also used the material in its denim collaboration with musician Pharrell.) The collection also offers a line of "relaxed formalwear" for guys.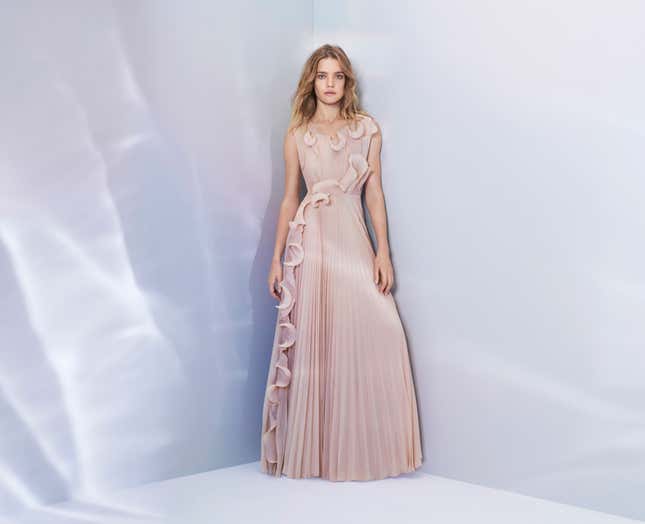 Of course, most consumers don't have much reason to buy evening wear, whether it's from Louis Vuitton or H&M. But these efforts are more about changing perceptions of sustainable fashion, rather than instructing consumers on what they should be buying. They pull materials such as recycled and organic fibers away from crunchy stereotypes and show how legitimately fashionable they can be.