Barcelona, Spain
As smartphones have proliferated, so have the kinds of people obsessed with them, from car-makers to media chieftains. Every year, they gather at Mobile World Congress, an annual extravaganza that brings together telecom companies, internet giants, handset makers and everyone in between to talk mobile computing for four days in Barcelona. The 2016 edition attracted over 100,000 visitors, the most in its 30-year history.
This year in Barcelona, the confab's theme is "The Next Element." With 5G still years away, MWC's participants are trying to come up with something—anything—that could be the next element in the smartphone's evolution. That includes trying to turn cars into smartphones (connected cars), packing home appliances with sensors and radios (the Internet of Things), and strapping phones onto various limbs (wearables).
Here are some of the themes and products that will likely emerge from this year's gathering, which runs from Feb. 27 to Mar. 2 (expect announcements starting Feb. 25):
Nostalgia marketing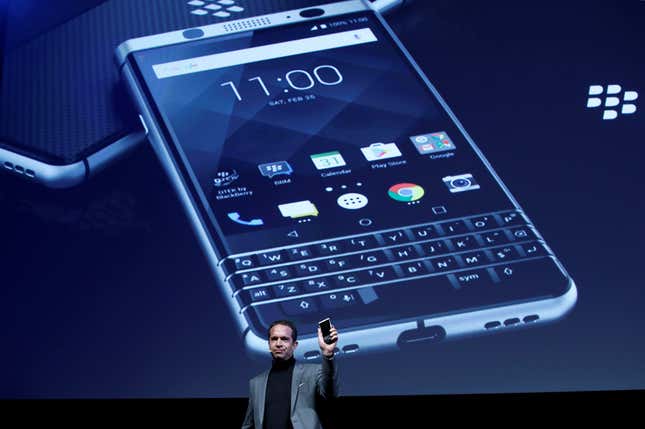 A pair of venerable handset brands will present reborn offerings, with Mobile World Congress as their debutante balls. TLC-licensed BlackBerry goes first with the KEYone, or what fans codename "Mercury." It will take a usability cue from its forebears, featuring a full-sized physical keyboard coupled with a large screen.
Nokia, now licensed to a Finnish firm called HMD Global staffed by ex-Nokia execs, will launch a range of Android-powered smartphones. These are the Nokia 3 and 5, which will be shown for the first time, and a launch outside China for the top-of-the-line Nokia 6. But the show-stealer is likely to be a reformulated Nokia 3310, in a nod to the brand's lineage. The reborn feature phone will have a color display but will not run Android, according to new information leaked to the VTech blog (in Mandarin), which also broke news of the handset. Here's a livestream for the event, which starts Feb. 26 at 4:30pm CET.
The subtext with these launches is that while storied handset brands retain a certain cachet with consumers, the companies now charged with exploiting them have to turn on the nostalgia to unlock that brand value.
Nokia and BlackBerry were also ardent believers in their own mobile operating systems to their bitter ends. Given Android's dominance today—it runs over 85% of all smartphones—it's no surprise that the new phones have ditched their proprietary operating systems for Android.
Connected stuff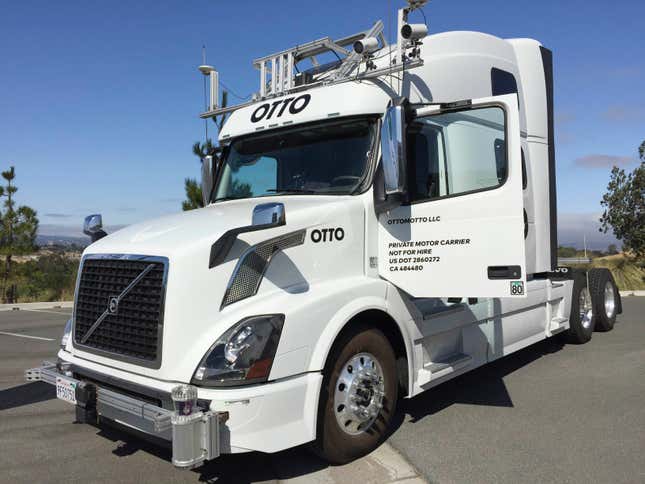 Mobile phones brought an explosion of connected devices, and manufacturers and telcos want more of the same. At Barcelona, they will focus on the Internet of Things and connected cars.
On one end of the spectrum of possibility are the sensor-packed autos from Roborace, where race cars piloted by AI compete against each other on street circuits. At the other end is the prosaic: IBM's Watson AI is baked into the software aboard General Motors' cars, and will soon be available to the public. A new way to use a MasterCard mobile wallet from your car is the promised demonstration this time.
On the IoT front, expect a strong show from Nokia—the company, not the mobile brand—which now makes wearables that capture health data. It will announce major upgrades to its health apps, and show more products from Withings, the health-centered wearables firm it acquired for $191 million last April. Nokia also has a network equipment business, and makes high-end virtual reality cameras under the Ozo brand. These disparate business lines will be knitted together into a whole by Nokia boss Rajeev Suri, who is slated to give a keynote on Mar. 1.
The cutthroat race to develop driverless cars is perhaps best encapsulated by the lawsuit filed by Alphabet against Uber's driverless trucks subsidiary Otto. The man at the center of the complaint, and who is accused of stealing Alphabet unit Google's driverless car secrets, is Anthony Levandowski. He's scheduled to appear on stage on Feb. 27.
5G tussling
The mobile industry lives for a new network generation. That's why 5G will dominate discussions again as it inches toward a technical standard and eventual commercial deployments in 2020. The annual meeting in Barcelona is where telecom companies try to stake their claim on the "5G" tag with a slew of announcements about pilots, successful trials, and experiments with network technology.
Witness Verizon putting rival AT&T on notice with planned 5G trials in several US cities with a well-timed announcement, just days before MWC. Successfully claiming the next-generation of mobile standards as your own is a powerful advertising hook. However, it can also end in mass confusion, as happened with 4G and its alphabet soup of competing standards and marketing lingo.
What's missing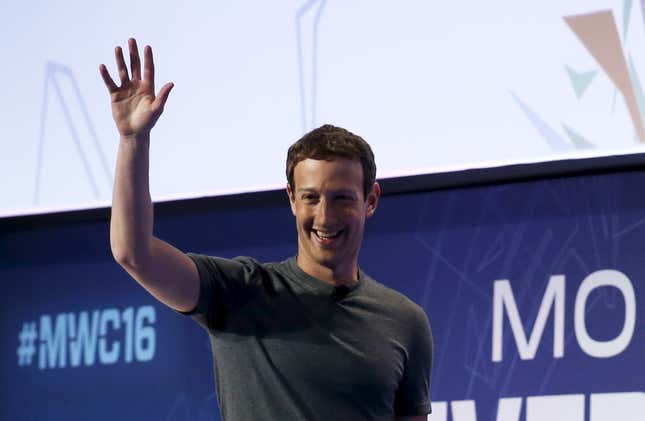 Mark Zuckerberg's speeches in Barcelona have usually set the agenda but after appearing three years in a row, he's absent this time. There's no appearance from Google's Sundar Pichai either, who spoke in 2015. Instead, Facebook will have a major exhibition floor presence, as will Google, which is also sending an emissary in the form of John Henke, whose Niantic subsidiary created Pokémon Go. This could be read as a snub by the tech titans to their telecom brethren—no matter what networks or handsets are used, after all, the top apps belong to Zuckerberg and Pichai's firms.
Also absent will be a flagship phone launch from Samsung. The handset giant traditionally unveils its top-end unit in Barcelona, but the fiasco of exploding batteries in its Note 7 phones forced it to cancel what would have been an S8 launch. It will instead hold an event tomorrow where it's likely to unveil a new tablet, the Galaxy Tab S3, instead. Pundits, however, hold out hope that Samsung will slip in a teaser for the S8 (the livestream starts Feb. 26, 7pm CET).