In the photos, Uber's gray self-driving Volvo SUV is on its side, headlights still blasting. The car behind it is badly dented.
The pictures depict the aftermath of a three-vehicle collision that occurred Friday night (March 24) in Tempe, Arizona. Local police say there were no injuries and Uber's vehicle was not responsible for the incident. Another car failed to yield to Uber's vehicle, police told Bloomberg, causing the Volvo to flip on its side. Uber's car was in autonomous mode with two designated "safety" drivers up front at the time of the crash, the company told Reuters. The back seat was empty.
Uber said yesterday that it was suspending tests of autonomous vehicles in Arizona and Pittsburgh, Pennsylvania, while it investigates what happened.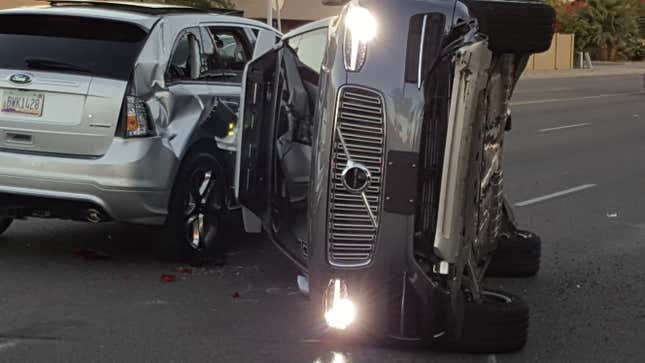 Uber began picking up passengers in its self-driving cars in Tempe in late February. Arizona governor Doug Ducey was the inaugural rider. Uber moved its driverless tests to Arizona at the end of December after a brief and disastrous pilot in San Francisco. The company defied regulators in California by refusing to get a testing permit for its autonomous vehicles, saying the rules didn't really apply. Within hours of being put into service for real passengers, one of Uber's cars was caught running a red light. Uber blamed the mishap on human error, but the New York Times later reported that internal company documents said their cars had failed to recognize that red light as well as five others.
Uber might have been blameless in the latest self-driving accident, but it couldn't come at a worse time. The company is mired in scandal, with allegations of sexual harassment, an exodus of senior-level talent, and the conduct and leadership abilities of CEO Travis Kalanick in serious question. Its autonomous vehicle program could be halted indefinitely by a lawsuit brought in February by Waymo, the self-driving car project spun off by Google parent Alphabet. The suit alleges that Uber and Otto, a startup Uber acquired last summer, conspired to steal trade secrets from Waymo. Uber called it "baseless."
Uber has made self-driving technology the linchpin of its plan for long-term success. In theory, robot cars will be cheaper to operate and maintain than Uber's current human workforce. They should also be less combative. But the health of Uber's autonomous vehicle program is unclear. At least 20 engineers have quit since November, Recode reported earlier this week, including Pittsburgh program director Raffi Krikorian and famed Jeep hacker Charlie Miller. Recode also obtained documents showing that Uber's self-driving cars currently need to be handled by their human safety drivers roughly once every 0.8 miles.
The accident in Tempe is another black mark on that program, as evidenced by Uber's decision to halt tests in Arizona and Pittsburgh. While Uber has said safety is a priority in its driverless testing, that's been tough to square with the company's hasty debuts and tendency to equivocate when questioned, as it did after the red-light incident in San Francisco. Anthony Levandowski, the Otto founder who became head of Uber's self-driving efforts last summer, also shares Kalanick's brash disregard for regulatory authority. Bloomberg reported earlier this month that a running joke at Otto was "safety third."