Legion, FX's mind-bending adaptation of the Marvel comic about a mentally unstable superhero, is packed with trippy pleasures. The storytelling is fragmented, more like one of David Lynch's hallucinatory worlds than any genre tale about mutants with superpowers you've ever seen. Visually, it goes big and aims for the surreal, packing in odd colors and disorienting shots as it depicts reality through the unsound mind of its protagonist, David Haller (Dan Stevens).
A main component of the show's absorbing visual gestalt are the clothes. Stylish in a totally idiosyncratic way, they lurch from British mod to space-age to cool contemporary, or sometimes to something entirely original. The outcome—sporty track jackets, Peter Pan collars, snappy suits, go-go boots, big trench coats, retro dresses—is vaguely familiar, yet impossible to peg down to any time or place. Like the rest of the show, the wardrobe works to create the feeling of a puzzle you're always just a few steps from working out, but can't let go.
What the clothes are not is typical superhero costuming. "We very consciously tried to stay away from that whole superhero in spandex outfits and all that kind of stuff, mostly because of the style and also because of the story," explains Legion's costume designer, Carol Case. "As crazy as it is, we're trying to tell a story from inside the guy's mind."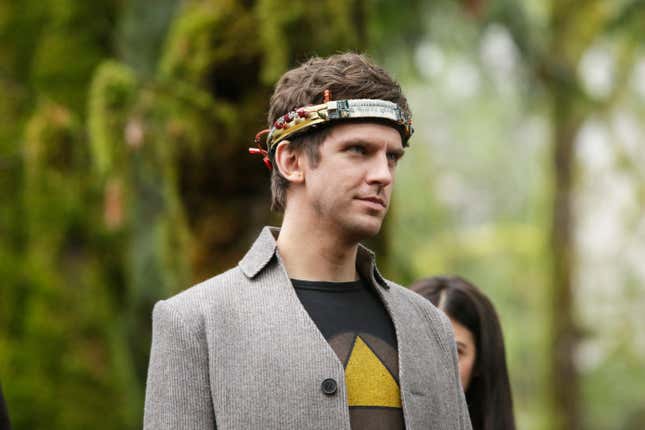 Case—along with Legion's creator, Noah Hawley—decided that subjective point of view demanded a unique look to tell the story. The colors are offbeat and striking—"fear orange and misery avocado," The New Yorker called a couple of them. Many looks are pulled from the artwork and style of 1960s rock bands, particularly British acts such as The Kinks and The Who.
And each character's wardrobe has its own signature palette. In broad strokes, they are:
Syd Barrett (Rachel Keller): that aforementioned orange, and black
Kerry Loudermilk and Cary Loudermilk (Amber Midthunder and Bill Irwin): mostly navy and tan
Dr. Melanie Bird (Jean Smart): soft pastels and beiges that Case says convey her role as a caretaker
David (Dan Stevens): lots of blues and grays, through overall his look is more open than others', given that his character is a bit of a work in progress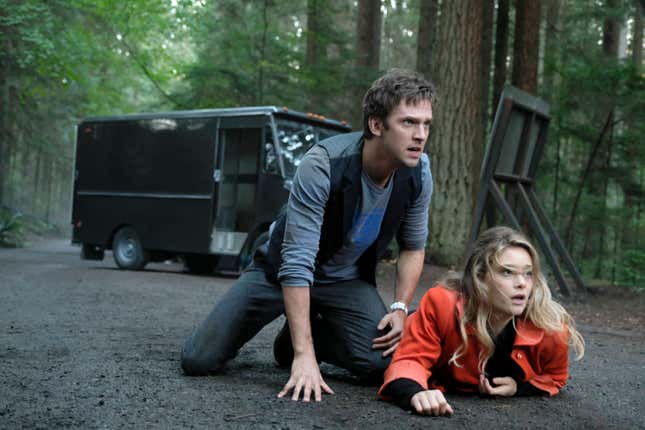 The clothing we see on screen is a mix of vintage pieces, some contemporary designer items, and lots of custom items. The track jackets all the patients wear at Clockworks, the mental hospital where some of the season is set, are made for the show, as is the orange coat Syd turns up in at times. A video FX posted to YouTube about the show's wardrobe in February gives you a sense of its unique color scheme, and the warehouse-sized space required to house it all.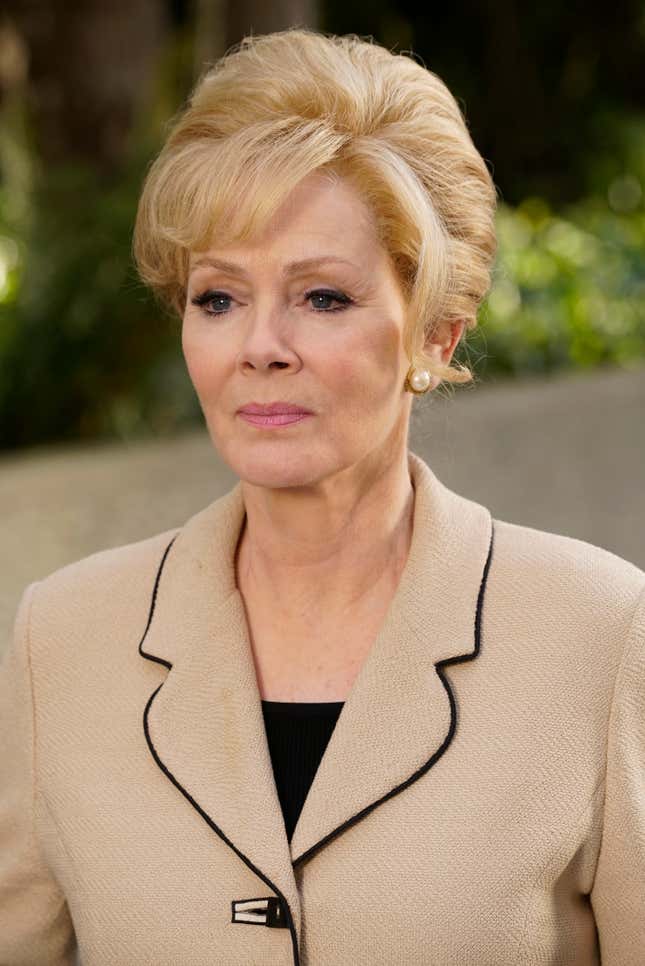 Hawley knew from the start he wanted a 1960s vibe in the clothing—and a bit of the 1970s squeaks in too. The influence of those eras is apparent beyond just the retro colors. Two of the show's biggest reference points are Stanley Kubrick's films 2001: A Space Odyssey, released in 1968, and A Clockwork Orange (1971). Another is Pink Floyd's 1973 album, Dark Side of the Moon. (The character Sydney Barrett, known as "Syd," references Syd Barrett, the founding member of Pink Floyd thought by some to have suffered from undiagnosed schizophrenia.)
The style of the period, especially in Britain, became the template for many of the characters' looks. The light green dress with blue flowers that Amy Haller (Katie Aselton) wears to visit her brother in Clockworks was directly inspired by British designer Mary Quant. Syd is done up in the style of 1960s starlets such as Brigitte Bardot, with her bouffant hairdo. David wears t-shirts with big graphic elements of the sort used by mod acts such as The Kinks or The Who.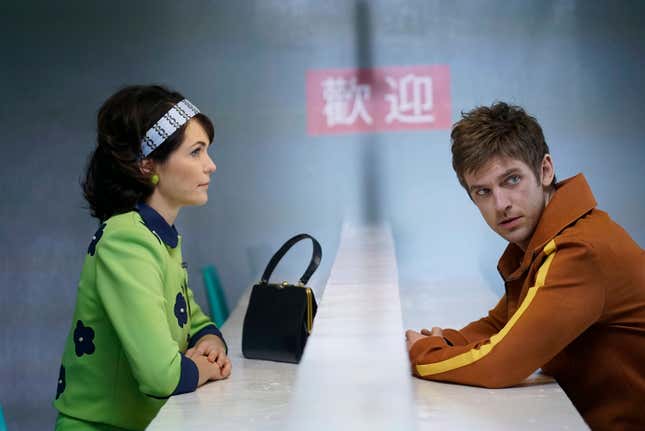 (The name of The Who's 1973 rock opera, Quadrophenia—also the title of the later film about mods in the mid-1960s—was a play on "schizophrenia." Everything in Legion can feel like part of the puzzle.)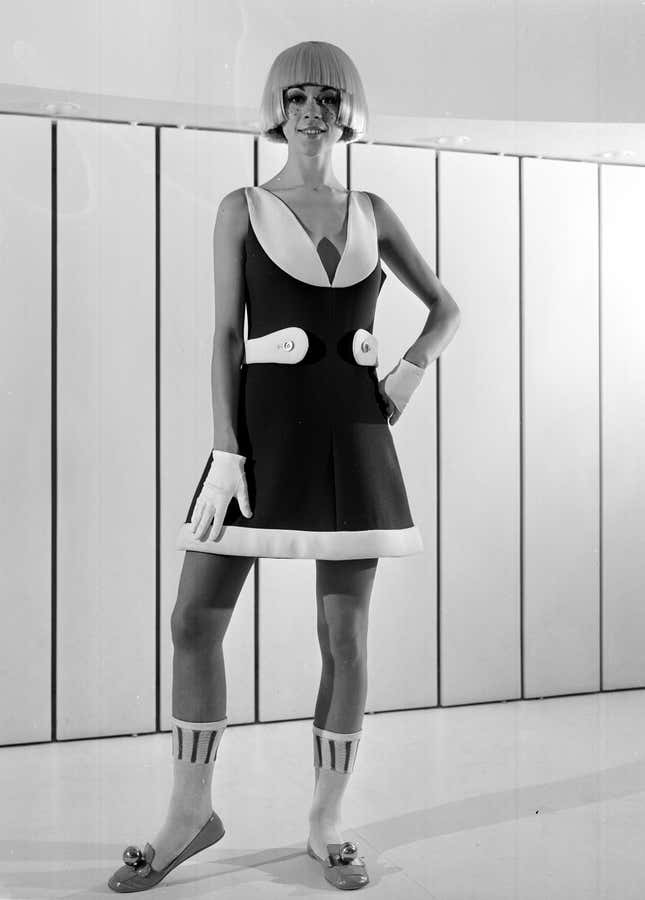 As research, Case and her staff looked at "a lot of '60s haute couture, but the stuff that was really focused on the future." Some of the designers who defined the period, such as André Courrèges, were known for whimsically space-age garments, such as truncated, tubular dresses. The nurse uniforms at Clockworks are based on that retro-futuristic look.
Maybe the most distinct wardrobe in the group belongs to Lenny Busker, played by a gleefully maniacal Aubrey Plaza. Initially she's in lots of oranges and reds, but as her role changes, her clothes—and hair—follow. In the recent episodes, black has taken over, and her wardrobe has become polished and "businessy," as Case puts it. "She's got a job to do, and she's determined to do it," she explains.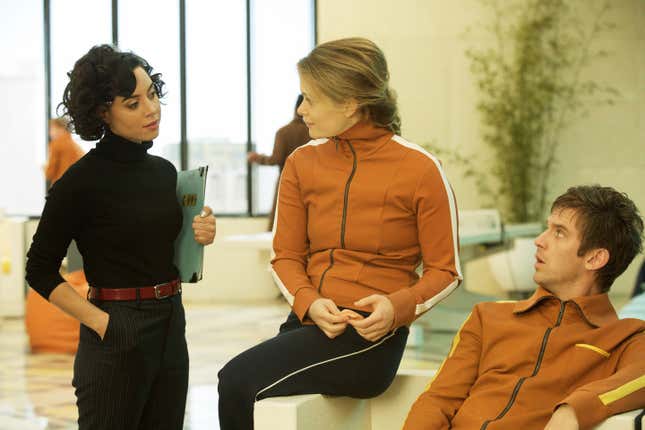 Her look soon starts to "degrade" and become unhinged. At one point, the collar bar on her shirt is a Twizzler, a candy she's frequently eating.
Case has worked as the costume designer for other shows, including Fargo (with Hawley), as well as Hell on Wheels and Heartland, but has never seen this level of response to a show's wardrobe. People have been writing to her to find out where they can buy the show's clothes, including those inpatient jackets. "I haven't noticed it as much as I've noticed it in the last month and a half," she says, "so I guess it's more of a Legion thing."