One of the futuristic promises of 3D printing in fashion was that one day the technology would allow you to walk into a store, give the staff your measurements, and walk out with a garment made on the spot, just for you.
We're not there yet, but the scenario is becoming a reality for 3D knitting, a cousin of 3D printing that uses yarn to produce a complete, three-dimensional item. Rather than the stiff plastic product created by a 3D printer—good for sneakers, less so for clothes—it produces sweaters, jackets, and anything else you could knit.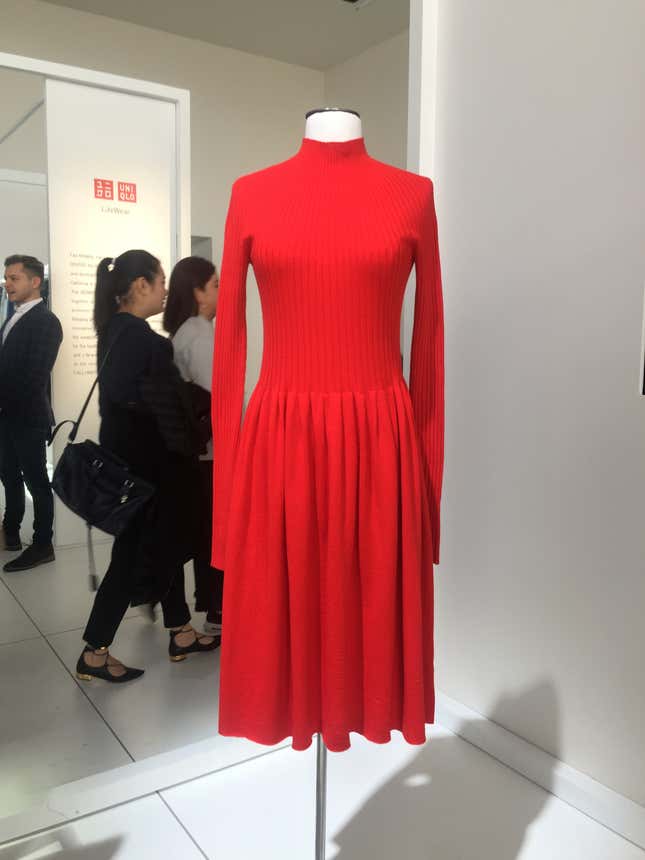 Some brands are already using it in their factories to produce garments. The fall collection of Uniqlo's U line will include 3D knit items, and the brand is working on a new production system based on the technology. But a couple adventurous labels, including Adidas, are experimenting with 3D knitting on-demand in stores, hinting at a greater role it might play in fashion production and retail in the years ahead.
Maybe the most significant effort thus far comes from the Boston-based label Ministry of Supply, which has permanently installed a 3D-knitting machine at its Newbury Street flagship in the city. Aman Advani, a cofounder of the quickly growing label, which makes performance clothes for the office, says it took a 60-foot crane to install the 3,000-pound machine. "This isn't a niche product," he explains. "This is step one of a longer route to a sustainable and strong production method that's here to stay."
The company is betting that in-store production will be the future of retail. In theory at least, the benefits are clear: 3D printing allows shoppers to personalize items to their specifications, meeting the growing demand for customized products. It lets stores carry less inventory, since a garment is only created when there's a customer ready to purchase it, meaning less risk of stock that doesn't sell and has to be discounted. And it turns retail into an experience, providing a reason for customers to visit a brand's brick-and-mortar stores and build a personal connection with it, rather than simply shopping online.
Ministry of Supply is starting off with just one 3D-knit item, an office-ready jacket (though the knit and weight make it look more like a cardigan) with plans to expand the offering later. "The fit is spectacular," Advani says. "It's built to move around in, so it will tend to look a lot sharper than a traditional cut-and-sew garment."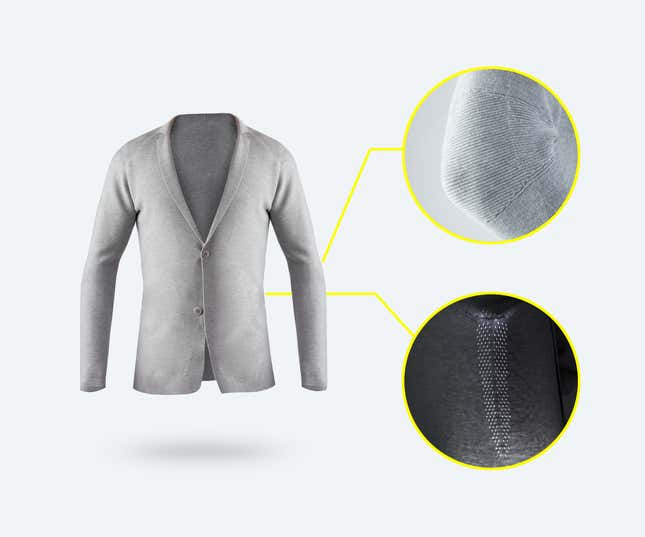 Shoppers are able to customize the color of the body, the cuffs, and the buttons, though they still have to choose from Ministry of Supply's standard range of sizes. (The brand plans to also increase customization options, including the fit, as they go forward.) It takes about 90 minutes to knit, then the jacket gets washed and dried so it's preshrunk. It costs $345, slightly more than the $285 for the non-customized item online.
Advani argues that 3D knitting generally makes for a superior product. Unlike cut-and-sew garments, which are assembled from flat pieces of fabric, a seamless 3D-knit garment is designed and produced in one piece, and in three dimensions, matching the shape of the body. The knitting machine is able to create details such as articulated elbows and shoulders that allow a built-in range of movement. It also produces less waste than a traditional cut-and-sew garment, where left over fabric scraps end up being discarded.
It's debatable just how much better a 3D-knit garment than one made with whole-garment or fully fashioned construction, in which the seams are knit, rather than sewn, together. But what Ministry of Supply can clearly offer is a personalized product that's made on the spot.
That promise is attractive enough that Adidas is also testing out 3D-knitting. It's currently offering the service in a pop-up store in Berlin as part of a strategic push toward faster, more customized production. The German sportswear brand takes the personalization even further: Customers can walk in, get a 3D body scan, and have a merino-wool sweater knitted to their size and color specifications, washed, dried, and ready to go within four hours. The sweaters cost €200 (about $215).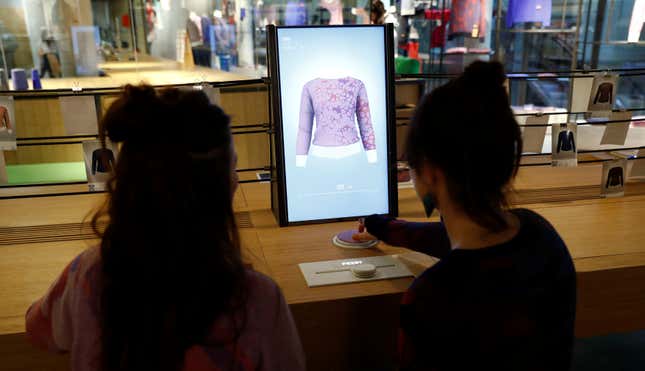 Fashion label Eileen Fisher has looked into the possibilities of 3D knitting as well, teaming up with Intel recently to demo the technology at a large trade show in New York.
Many of the machines in use, including Ministry of Supply's, are made by the Japanese knitting specialists Shima Seiki. It's also the company Uniqlo has partnered with for a joint venture aimed at creating a new production system for knits centered on its 3D-knit printers.
To buy one of the machines itself can cost $180,000, a significant investment, especially for smaller brands. Advani jokes that Ministry of Supply only budgeted for one-way transportation on its machine, which is roughly the size of a large dining table.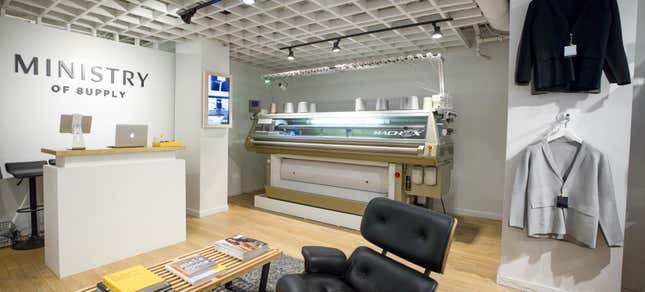 If 3D-knitting proves to be the game-changer Ministry of Supply expects, it will roll out 3D-knitting machines to its eight other stores. "At this point we are pretty convinced that we can get one-quarter, maybe even one-third, of our production done in-store, or even to serve the online market within the next couple years," Advani says.
If that comes to pass, and more labels adopt the technology, it sets 3D knitting on the road to succeeding as the consumer-facing innovation that 3D printing has thus far failed to become. It may still be some time before we are 3D printing clothes in our homes, as the futurist Ray Kurzweil predicted would happen within a decade—but a sweater knitted for you while you wait could be within your reach now.