Vladimir Putin is a man of many talents. The Russian president recently showcased his skills on the ice in an annual exhibition for his amateur hockey league. This weekend, he played piano while waiting for a meeting with Chinese president Xi Jinping.
Putin was in Beijing for "One Belt, One Road," a summit on the modern Silk Road introduced by Xi in 2013. The May 14-15 summit is Xi's signature foreign policy effort and China reportedly plans to ask heads of state to sign a joint communiqué endorsing its economic and diplomatic positions. Putin is in the minority of top leaders who actually chose to attend. According to an analysis by Quartz earlier this week, only 20 countries affected by the One Belt, One Road initiative planned to send their heads of state to the summit.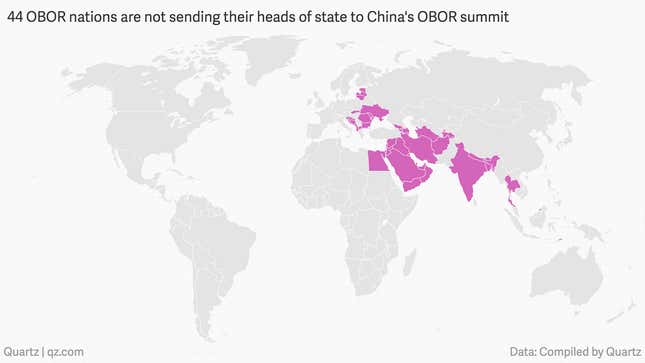 But back to the piano. The New York Times reported that Putin "sat down at a grand piano and played two tunes" while waiting for Xi at a state guesthouse. The songs were "Evening Song" by Vasily Solovyov-Sedoi and "Moscow Windows" by Tikhon Khrennikov. They are both typically performed with lyrics, but Putin played them solo. The Times added that Chinese officials were not pleased to see Putin steal the show. "The official Chinese news media pointedly made little mention of the piano performance," it noted.
Putin has previously been spotted playing the piano at a theatre in Moscow in 2011, and at a charity fundraiser in 2010. Piano is a softer skill for the Russian leader, whose other stunts and talents include diving in the Black Sea, hunting tigers, and generally doing things shirtless.