K-pop is back with a (big) bang in China.
After a months-long diplomatic standoff between South Korea and China due to Seoul's decision to install an anti-missile defense system—which resulted in a drastic drop in Chinese tourists to Korea and an effective boycott of Korean entertainment in China—a warming of relations seems to be underway.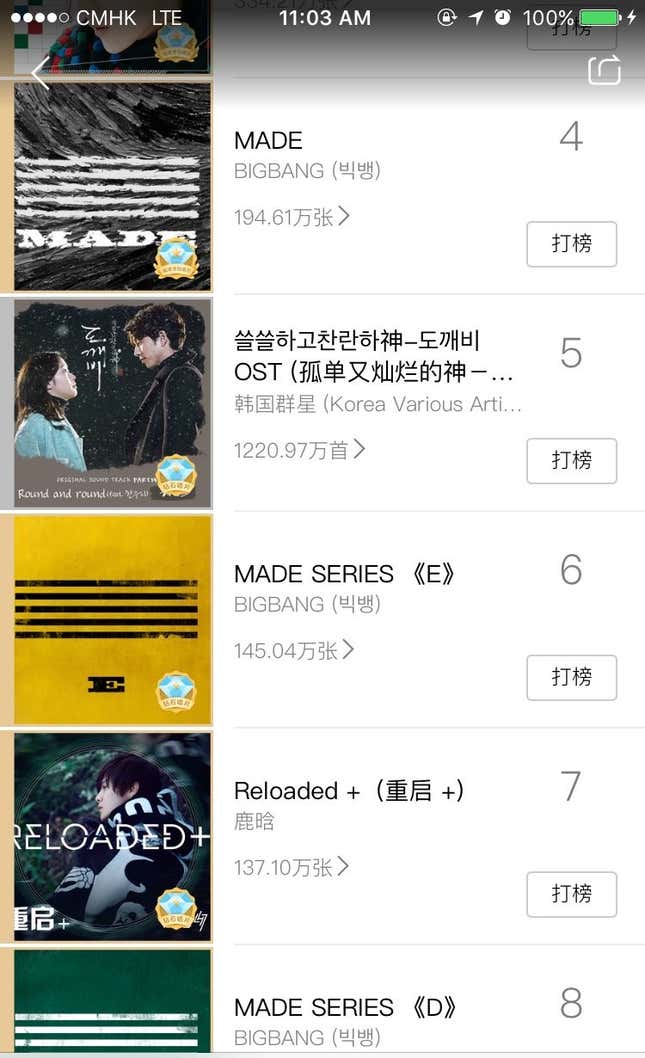 For a start, Korean pop stars are back in China's music charts. Made, the latest album from K-pop royalty Big Bang, is currently in fourth place by digital album sales on QQ Music, a popular Chinese music-streaming service, according to Korean news service Yonhap today (June 2). Gangnam Style star Psy's new single I Luv IT is in sixth place in QQ Music's Korean singles chart (link in Chinese).
Yonhap reported that QQ Music had to previously remove its Korean music chart in March. QQ Music didn't immediately respond to a request for comment.
In mid-June, South Korean girl group AOA will perform at a meeting of the Asian Infrastructure Investment Bank—an alternative to the World Bank led by China—on Jeju island. The Korean government said it hopes that the group's popularity in Asia could help "mend strained ties" between China and Korea, according to the Chosun Ilbo newspaper.
Since Seoul first announced last summer that it would install the US-made Terminal High Altitude Area Defense (THAAD) system to defend against missiles from North Korea, China has strongly protested the move as it says THAAD threatens China's national security. Korea began deploying THAAD in the south of the country in April.
At its peak, China used more than 40 ways to retaliate against Seoul, such as holding up textbooks from Korea, canceling exhibitions, and warning Korean conglomerate Lotte, which provided a golf course for the deployment of THAAD, of serious economic consequences if Seoul goes ahead with the deployment. Many Lotte stores in China were forced to shut down as a result of China's pressure.
But Korea's new president Moon Jae-in seems to be adopting a different tack to his predecessor, the conservative Park Geun-hye, who was impeached in March due to her involvement in a huge bribery and influence-peddling scandal. Moon promised to send delegates to Beijing to discuss THAAD during a call with China's president Xi Jinping (paywall) last month. Moon is also taking a softer approach to Pyongyang, for example by approving the resumption of civilian contact between the two countries.
Other than music, in late May the city of Incheon said it is planning to bring back a 13-year-old public-servant exchange program with the Chinese city of Dalian, which was halted last year. Starting today, the same Chinese city will increase the number of flights from Incheon on South Korea's Jeju Air, from seven times to 14 times (link in Korean) a week. More South Korean airlines will also resume (link in Korean) flying to China's eastern cities such as Shanghai in August. In March, budget airline Eastar Jet said it had to stop multiple flights to northern Chinese cities like Harbin due to "worsening relations." between the two countries.
Still, Korea's delicate balancing act between China and the US is likely to continue—Moon told Washington on Wednesday he doesn't plan to stop the deployment of THAAD.
Soo Kyung Jung contributed reporting.