The Internet has claimed yet another victim.
J.Crew CEO Mickey Drexler stepped down Monday (June 5) after 14 years at the helm, unable to arrest the upscale clothing chain's slide. Drexler, the innovative former CEO of Gap Inc., was an Apple board member who helped Steve Jobs create the first Apple stores. Yet despite his front-row seat to the marriage of technology and retail, he admitted he was unprepared for the changes wrought by online shopping.
Once, attention to clothing and in-store experience was enough, he told the Wall Street Journal May 24. No longer. "You cannot be successful without being obsessed with the product, obsessed with social media, and obsessed with digital," he said. "Retail is now about all that."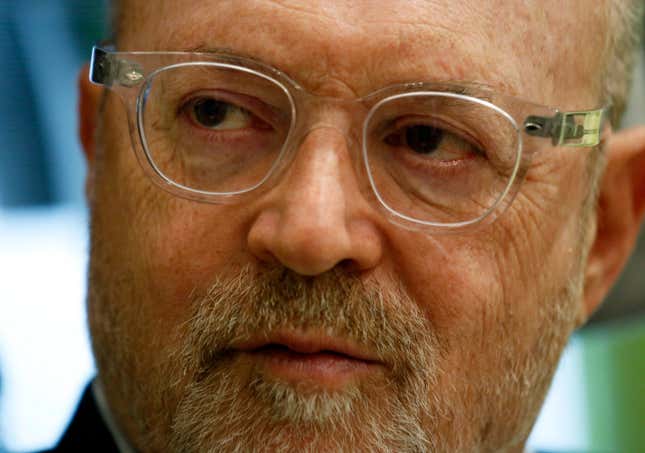 J.Crew is one of dozens of retailers shaken by seismic changes in the industry. Mass-market retailers like Macy's, JCPenney's, Sears, and Kohls—the staples of the American mall—are all struggling to adapt to the challenge of the online muscle of Amazon, and the marketing savvy of fast-fashion stores like H&M and Zara.
In their new book, Machine, Platform, Crowd, MIT professors Erik Brynjolfsson and Andrew McAfee compare the changes in the business world brought about by digital technology to a similar period of disruption at the beginning of the 1900s, when electric power displaced steam. Even when factories designed around steam were retrofitted for the new technology, they were always at a disadvantage compared to a new factory built around electrical power.
The same is true of legacy retailers trying to compete with companies born in the digital age. They're furiously trying to reinvent themselves, but they're encumbered with investments and processes designed for an earlier era. Sears Holdings, which also owns Kmart, has spent years trying to get shoppers to join a loyalty program, but it hasn't stopped the 124-year-old retailer's death spiral. Macy's—which is closing 100 stores, laying off 10,000 workers, and cutting prices to better compete with discount chains—still saw its same-store sales fall almost 5% in the first quarter.
Perhaps no retailer is repositioning itself more aggressively than Walmart, which purchased Jet.com for $3.3 billion last year to add an online brand to compete with Amazon, and to bring onboard its CEO, Marc Lore, who is now heading all of Walmart's online operations. To leverage its massive physical presence of nearly 5,000 US stores, the company is rolling out services like grocery pickup for online deliveries, and is experimenting with converting its store associates into delivery drivers.
Anxiety about the digital future among corporate executives is a business opportunity for consultants. Egon Zehnder, a global executive search firm, offers two-day seminars for board members called Digital Journeys, to help them understand that a online strategy requires more than a website.
"Digital is not about selling goods on the 'net; digital is about a cultural transformation," Rajeev Vasuveda, Egon Zehnder's CEO, told Quartz last year. "It impacts every part of your business."