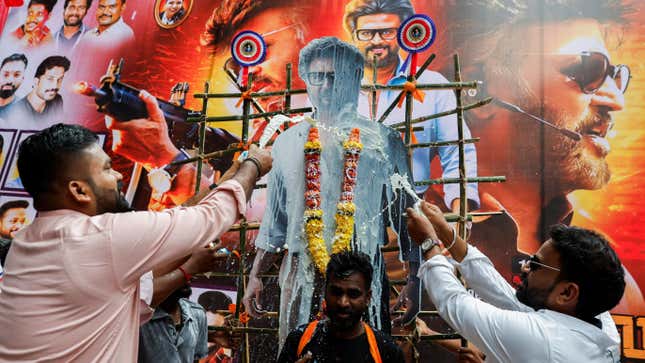 In most parts of the world, people have to feign sickness or fabricate some last-minute emergency to catch the first-day first-show of their favorite movie releases. But what if companies saved employees from the rigmarole and just gave them the day off to mark the big event? That's what some Indian companies are doing to honor one of the country's most popular movie stars, Rajinikanth, who is known for his action sequences, punchy dialogues, and dance moves.
Why a tightening of credit conditions could lead to a weak economy
Rajinikanth's first theatrical release in two years, Jailer, came out yesterday (Aug. 10). Manufacturer Uno Aqua Care announced a holiday across almost half a dozen Tamil Nadu offices, including in capital Chennai, as well as in Bengaluru, Karnataka. A Coimbatore, Tamil Nadu-based restaurant Le Hive gave its employees half a day off to enjoy the highly anticipated Tamil-language action thriller starring the 72-year-old megastar who enjoys demigod status among his fans. "This way, we do not have to deal with a flurry of sudden sick leaves or phones running out of battery," Jayakrishna T J, a representative of Le Hive, said in a tongue-in-cheek comment to the Press trust of India.
Le Hive even gave staff free tickets. So did Kerala-based education company Redbooks Abroad, who gave employees the entire day off, saying it's a "day to relax, rejoice, and immerse yourselves in the magic of the silverscreen," according to a memo circulating online that was verified by CNN. CEO of software company Freshworks, booked 2,200 across seven screens for his employees yesterday.
This isn't the first bout of Rajini fever. Back in 2016, some firms gave fans the day off to watch Rajinikanth's Kabali in theatres. Freshworks took its staff for the first-day-first-show then, too.

Rajinikanth's star power, by the digits
Rs52 crore ($6.3 million): Box office collections Jailer garnered on day one, the biggest-opening day for a Tamil-language film in 2023 so far
130,000: Movie tickets sold ahead of the release, as per ticketing platform BookMyShow
160: Movies starring Rajinikanth 
Rs800 crore ($97 million): Worldwide box office collection for Rajinikanth's highest-grossing film, 2.0. The Shankar-directed sequel to Enthiran was the most expensive Indian film ever made at the time
Person of interest: Thalapathy Vijay
Rajinikanth, fondly called Thailaaiva (boss), enjoys the highest order of superstardom, but others in his industry also have massive fanbases that have warranted official leaves. A knitting company in Tirupur, Tamil Nadu, declared April 13, 2022 a holiday to let Thalapathy Vijay fans enjoy his latest release, Beast, providing employees free tickets to the movie.
Fun facts: Elsewhere in India, employees got leave for a Netflix show
In September 2021, Jaipur-based IT company Verve Logic gave staff the day off to binge season 5 of Money Heist upon its release.
CEO Abhishek Jain gave a Le Hive-like reason for the decision. "We have taken this initiative not just to save an attack on our emails with false leaves, see mass bunks and numbers being switched off but because we know sometimes 'Moments of Chill be the Best Pills for Energy at Work'," he wrote in a statement at the time.
Related stories
✊ Kerala's small film industry—not Bollywood—created India's first original superhero
🏆 "RRR" soundtrack triumphed over Taylor Swift, Rihanna, and Lady Gaga at the Golden Globes 2023
🌊 South Indian movie actors emerge as heroes in flood-hit Chennai