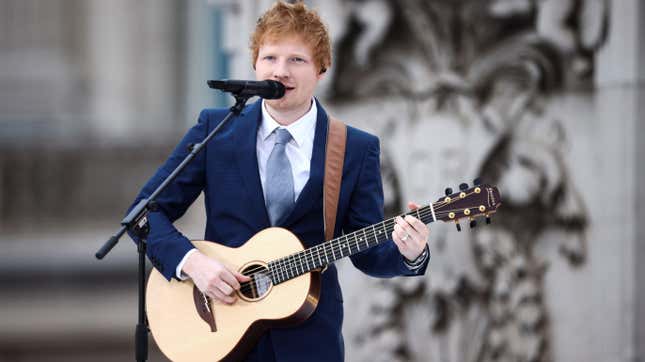 Was Ed Sheeran's "Thinking Out Loud" a rip-off of Marvin Gaye's "Let's Get It On"?
Eric Beiley Part II: Where rates are heading
The family of Ed Townsend, Gaye's co-writer on the song, sure thinks so. Townsend's heirs first sued Sheeran in in 2016 and then again in 2017. A trial opens in a Manhattan federal court today (April 24), where jury selection and opening remarks are on the agenda.
Townsend's representatives allege that Sheeran's 2014 hit violates the copyright for "Let's Get It On". "For far too long, Black artists have created, inspired and spread music all around the world," said Ben Crump, an attorney who is appearing for the Townsend family. "And Ed Townsend's family believes artists', like Mr. Sheeran's, infringement of Black artists is merely another example of artists exploiting the genius and the work of Black singers and songwriters."

Sheeran's lawyers argue that the similarities end at basic chord progressions and song structures—the backbone of pretty much all pop music. Other than that, the songs are in different keys, they have different tempos, and they also differ structurally. The instrumentation is varies across both songs, and the melody and lyrics of both the songs bear no resemblance to each other, Sheeran's lawyers say.

In attempting to draw a line between coincidentally similar sounds and actual plagiarism, the jury will likely hear the recordings of both songs. But comparing them in their entirety will have no legal bearing. Jurors are only supposed to consider the raw elements of melody, harmony, and rhythm, as documented on the "Let's Get It On" sheet music filed with the United States Patent and Trademark Office.
A brief timeline of Ed Sheeran's "Thinking out Loud" copyright lawsuit
1973: Marvin Gaye's "Let's Get It On" releases.
1984: Gaye is tragically shot and killed by his father, a day before his 45th birthday.
2003: Ed Townsend dies of heart failure at age 74.
2014: Ed Sheeran's "Thinking Out Loud" releases.
2016: Townsend's heirs file a lawsuit against Sheeran, his publisher, and his record label, for allegedly copying Gaye's 1973 soul classic in his hit track. However, the case fails because papers were not correctly served on Sheeran and the 14 other defendants, according to the Digital Music News report. A judge dismisses the case by November.
2017: Townsend's estate tries to file the lawsuit again—this time, successfully.
2018: Structured Asset Sales (SAS), which owns a one-third stake in Townsend's copyrights, files a similar lawsuit, suing Sheeran for $100 million. Jacob Taylor, a writer for the Loyola University Chicago School of Law blog, suggested SAS may be a copyright troll that "purchases copyrights and other intellectual property for financial gain." The company's business model "is to prevent others from producing music rather than producing music themselves or supporting an artist," he added.
2019: A US district court judge rejects Sheeran's request to dismiss the SAS lawsuit, adding that there were enough similarities between the two songs to prevent "a judgement of non-infringement as a matter of law," according to a report in Billboard.
2022: A judge denies Sheeran's request to toss the Townsend estate case out.
April 2023: A jury trial begins in the case brought by Townsend's heirs. Sheeran is expected to testify.
One big number: Should Ed Sheeran's concert revenues be part of damages?
$150 million: The earnings from Sheeran's 2014-15 tour. The judge who refused to scrap Sheeran's case also ruled last September that jurors must decide whether concert revenue should be included in damages or not. Sheeran argues that ticket sales weren't tied to the alleged infringement.
Throwback: Another day, another Marvin Gaye copyright lawsuit
While Gaye's estate isn't involved in the lawsuit against Sheeran, a copyright battle from its past could be precedent.
In March 2015, a Los Angeles jury ordered Robin Thicke and Pharrell Williams to pay $7.4 million to Marvin Gaye's family after finding that their 2013 hit "Blurred Lines" infringed on the copyright of Gaye's "Got to Give it Up". The damages were later reduced to $5.3 million. Thicke and Williams appealed the verdict, but in March 2018, a judge mostly upheld the jury's decision. The song's guest rapper, TI, was let off the hook.
Watch this: Ed Sheeran transitions from "Thinking Out Loud" to "Let's Get It On" in a live performance
It happens at 4:29.
One more thing: This isn't Ed Sheeran's first copyright rodeo

"I feel like claims like this are way too common now and have become a culture where a claim is made with the idea that a settlement will be cheaper than taking it to court, even if there is no basis for the claim... It's really damaging to the songwriting industry. There's only so many notes and very few chords used in pop music. Coincidence is bound to happen if 60,000 songs are being released every day on Spotify. That's 22 million songs a year. And there's only 12 notes that are available."


—Ed Sheeran, after winning a copyright battle (pdf) in the UK in June 2022 over his 2017 hit song "Shape of You". The two artists who sued him were ordered to pay Sheeran $1.1 million in legal fees.
Related stories
🎵 A short history, and Spotify playlist, of pop music's biggest copyright disputes
𝄞 A big music copyright ruling has managed to make both Pandora and record labels happy—mostly
🎶 The songwriters of TLC's "No Scrubs" now have a credit on 2017's monster hit "Shape of You"