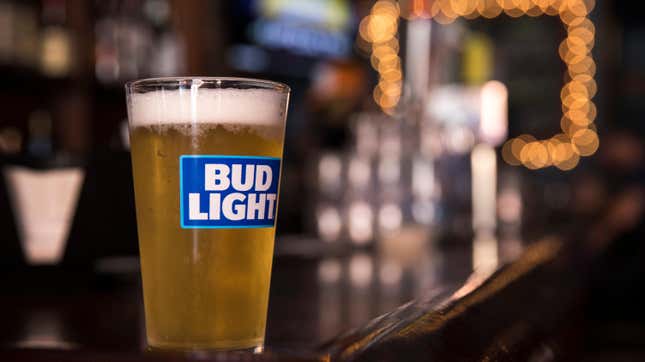 The world's largest brewer finally has another reason for making headlines besides its Bud Light marketing blunder: Stellar earnings.

Eric Beiley Part II: Where rates are heading
Belgian firm Anheuser-Busch InBev reported core profit of $4.76 billion, up by 13.6% from the first quarter of 2022, in its first-quarter earnings today (May 4). The company attributed the massive surge–Wall Street was expecting a jump of around 5.6%—to "pricing actions" and "product premiumizations." In other words, price hikes were absorbed by customers, and many of them opted for higher-tier products this quarter.
In announcing better-than-expected results, AB InBev didn't bring up the Bud Light controversy or its fallout—likely because it all happened after the quarter ended Mar. 31, and its effect wouldn't be seen in these results. Analysts, though, read between the lines to say the company is being cautious. For example, it could've raised its guidance on the back of a strong first quarter, but US conservative backlash against the social media promotion may have stopped the company from doing so.
Later, on the earnings call, CEO Michel Doukeris told investors "it is too early to have a full view" of the situation's impact on sales. "The Bud Light volume decline in the US over the first three weeks of April, as publicly reported, would represent around 1% of our overall global volumes for that period," he said.
Bud Light's inclusivity campaign gone wrong
A backlash against trans rights has engulfed various issues in the US, from children and drag shows to the provision of gender-affirming health care to trans athletes' participation in sporting events. And then it came for beer. Bud Light's campaign with transgender influencer Dylan Mulvaney—the brewer sent her a personalized can to mark 365 days since her transition—became a lightning rod in the political storm.
Mulvaney's April 2 Instagram post didn't go down well with the company's more traditional, conservative beer-drinkers. Supporters of Kari Lake, the failed Donald Trump-backed GOP 2022 candidate for Arizona governor, refused to drink free Bud Light at an open bar at a rally in Iowa. A restaurant owner in Kentucky said the divisive ad was the reason behind a bar brawl breaking out. A Florida chain of restaurants knocked the beer off their menu for going against "biblical faith." Florida governor Ron DeSantis took a break from his Disney feud to say Bud Light lost him as a customer. Musician Kid Rock even filmed a video of himself shooting a bunch of Bud Light cans.
Sales of the beer have since reportedly plummeted, and wholesalers even received personal threats over backlash from the promotion.
Making things worse, Bud Light's manufacturer failed to back his campaign and Mulvaney. On April 14, CEO Brendan Whitworth, without addressing the controversy directly, said in a statement that the beer brand "never intended to be part of a discussion that divides people. We are in the business of bringing people together over a beer." The statement failed to quell the controversy, but succeeded in attracting criticism from the LGBTQ community the ad was trying to reach. Whitworth's response was weak, and too little too late, according to LGBTQ activists.
One big number: Bud Light sales are sinking
26.1%: How much Bud Light's sales fell in the week ending April 22, compared with the same time a year ago, according to figures from trade newsletter Beer Business Daily, cited by Barron's. Meanwhile, rival beer brands Miller Lite and Coors Light are noting an uptick in sales.
Person of interest: Alissa Heinerscheid
Alissa Heinerscheid, Anheuser-Busch's vice president of marketing who oversaw the partnership promotion with Mulvaney, took leave of absence, along with her boss Daniel Blake. Todd Allen, Budweiser's global vice president, is stepping in.
In a podcast interview released before the controversy, Heinerscheid explained her brief was to bring Bud Light to a new customer base: "I had a really clear job to do when I took over Bud Light. It was, this brand is in decline, it's been in decline for a really long time, and if we do not attract young drinkers to come and drink this brand, there will be no future for Bud Light."
Quotable: Which side of history will Bud Light be on?
"As far as marketing, I hope and think they realized that as a brand they will be extinct in a few years if they are not fully on the side of equality, as that is what the Gen Z consumer expects and demands," —Stacy Lentz, a co-owner of the Stonewall Inn, which mounted a Bud Light boycott during New York Pride to protest Anheuser-Busch's donations to Republican politicians who had supported anti-LGBTQ+ legislation.
AB InBev's beer sales, by the digits
25%: Share of all beer drunk globally produced by AB InBev, which makes Budweiser, Stella Artois and Corona, among other brands
0.4%: Uptick in the company's beer sales were in 1Q 2023, compared to a year ago. China finally coming out of Covid-19 lockdowns played a significant role considering volumes in all other regions dipped.
19.4%: How much US beer shipment to wholesalers declined between December 2020 and December 2022, according to Wells Fargo. Light beer is especially losing out to craft beers, and other alcohol like wine and spirits. Bud Light might recover from the social media marketing controversy, but reversing years of erosion will be harder.
Related stories
🫢 Budweiser's latest tagline is really, really terrible
🍺 US beer drinkers are overpaying for their booze by $500 million a year
🍷 Wine before beer, or beer before wine? Science says the hangover will be equally punishing
This post has been updated with Michel Doukeris' comments.