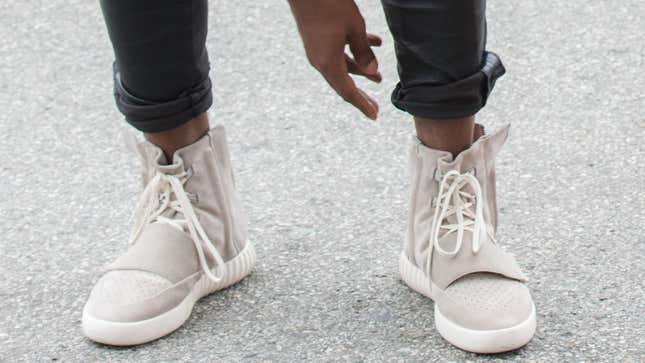 Adidas has given an update on the size of its Yeezy problem.
The company expects to clock an operating loss upwards of 700 million euros ($772 million) in 2023, it said while reporting earnings today (May 5). The bulk of it is due to the unsold stock of Yeezy footwear.
"Should the company irrevocably decide not to repurpose any of the existing Yeezy product going forward, this would result in the potential write-off of the existing Yeezy inventory and would lower the company's operating profit by an additional €500 million this year," Adidas noted. The additional € 200 million will be because of one-off costs.
The three-stripes company gave no concrete update on what it plans to do with its pile of Yeezys, disappointing analysts who had been expecting an update after Gulden suggested in March that proceeds of Yeezy sales could be going to charities.
Adidas' financial performance, by the digits
20%: Sales decline in North America as "the region is particularly affected by the discontinuation of the Yeezy business." Excluding Yeezy, sales were down 5%.
€400 million ($441 million): The drag on the year-over-year revenue comparison represented by the discontinuation of the Yeezy business, mainly across the North America, Greater China and EMEA regions.
€60 million euros ($66 million): Adidas' operating profit in the first quarter of 2023, exceeding analysts' expectations of €15 million ($16.5 million).
1%: How much the company's revenues declined by to around €5.3 billion in the first quarter versus a year ago. This was better than a forecast 4% drop.
9%: Sales drop in China, which was still better than expected.
6%: How much Adidas' shares rose after the earnings results were posted.
Quotable: 2023 is a "transition year" for Adidas
"2023 will be a bumpy year with disappointing numbers, where maximizing our short-term financial results is not our goal. It is a transition year to build a strong base for a better 2024 and a good 2025 and beyond." —Adidas CEO Bjørn Gulden
A brief timeline of Adidas shelving Yeezys
October 2022: Adidas cuts ties with Ye over his anti-semitic tirade. The company said it would not support any future Yeezy product drops, and instructed retail operators to pull any existing product from shelves and digital sites.
November 2022: Adidas launches a probe into Ye's behavior over seven years of co-designing at the company. Separately, the German shoemaker says it has all the patents and copyrights for the IP, designs, and colorways, and it can omit the branding and continue selling the shoe. It also pledged to donate over $1 million to the Anti-Defamation League, an international Jewish non-governmental organization.
February 2023: Adidas quietly shut down the Yeezysupply.com website, which Ye has used to launch his various Adidas Yeezy collaborations, restocks, apparel items, Balenciaga team-ups, GAP products and more.

A non-exhaustive list of Adidas' well-performing segments
Despite the decline in Lifestyle and the loss of Yeezy, Adidas earnings had some bright spots too:
👟 Its Terrace segment, initially designed for football players to primarily wear off the pitch in the '70s, is doing very well across markets. The company has started to scale up volumes for Samba, Gazelle and Campus franchises.
🤝 Partnership launches with Bad Bunny, Ronnie Fieg/Kith, and Gucci "have performed great," the brand said.
💰 The reaction from consumers and retailers to the highly-anticipated Fear of God Athletics launch on April 19 "was incredible," according to Adidas. While the collaboration has been in the works since at least a year before Adidas' fallout with rapper Ye (formerly Kanye West), industry watchers are hoping the sportswear line will fill the void left behind by Yeezy with a mix of affordable and premium offerings—Adidas really needs to find the next big thing after its collaboration with pop sensation Beyoncé is also going south.
Related stories
🎤 Another major celebrity collaboration is coming to an end at Adidas
💸 Ending the Yeezy deal created a billion-dollar problem for Adidas