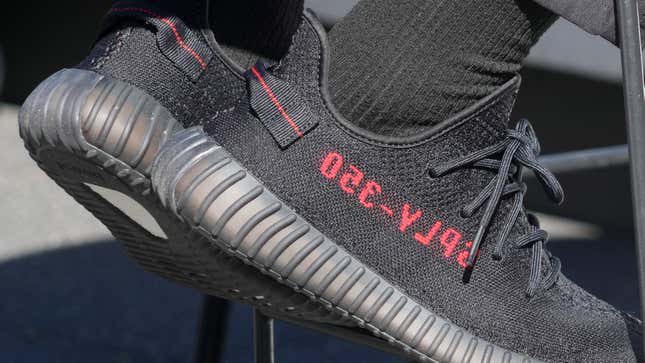 Unsold Yeezys have been hanging over Adidas ever since the German sportswear company decided to end its partnership with Ye, the rapper formerly known as Kanye West.

The company stands to lose more than $770 million if it doesn't sell the millions of Yeezys piled up in its warehouses, it said while reporting earnings on May 5.
However, Adidas has been wary of profiteering off shoes designed alongside Ye since the collaboration ended over the rapper's anti-semitic comments. Yeezy sales were halted immediately.
At Adidas's annual shareholder meeting yesterday (May 11), CEO Bjørn Gulden announced the brand seeks to "sell parts of this inventory and donate money to the organizations that are helping us and that were also hurt by Kanye's statements," quoted in CBS news.
But selling Yeezys wouldn't just be an act of charity. The rapper stands to gain from royalties of any stock Adidas sells, as Guden confirmed in March.
The future of Yeezys
Although the line has been shelved, trashing existing products was a step too far. Gulden told investors that "burning several million pairs [of shoes] does not make sense." Details of how and when the inventory will be offloaded are yet to be determined.
Meanwhile, Adidas can technically produce more Yeezy sneakers even without Ye. The company has all the patents and copyrights for the IP, designs, and colorways. It can omit the branding, give up the name "Yeezy," and continue selling the shoe.
However, analysts warn against it. The shoes "will always be synonymous with West, and this would likely result in muted customer demand," GlobalData apparel analyst Darcey Jupp said.
Adidas' Yeezys business, by the digits
$2 billion: Yeezy sales in 2021
8%: Share of Adidas's overall sales Yeezys accounted for
€1.2 billion ($1.3 billion): Revenue Adidas will forego in 2023 if it doesn't sell Yeezy inventory
15%: Royalties Ye gets from Yeezy products. He wanted 20%, though.
20%: Sales decline in North America as "the region is particularly affected by the discontinuation of the Yeezy business." Excluding Yeezy, sales were down 5%.
One more thing: Most of Ye's net worth came from his Adidas Yeezy collab
Several businesses, including fashion house Balenciaga and retailer FootLocker, cut ties with Ye in the aftermath of his anti-semitic tirade. But the Adidas severance hurt the most. Just losing the Yeezy contract was enough to demote Ye from billionaire status since the deal was the largest share of the musician's net worth, according to Forbes.
Related stories
👟 Adidas will lose more than $770 million if it can't sell its mountain of unsold Yeezys
🎤 Another major celebrity collaboration is coming to an end at Adidas
💸 Ending the Yeezy deal created a billion-dollar problem for Adidas