Last year, when Tolu Sofoluwe wanted a holiday away from Lagos and the high-stress, non-stop world of corporate consulting she's worked for 13 years, she did not opt for Dubai as she's done in the past.
Instead, she looked closer to home and went on a road trip to Osun Osogbo Grove, the sacred forest along the banks of Osun river fabled to be the home of the goddess of fertility in local mythology and also a UNESCO world heritage center. It's not a typical choice for middle-class Nigerians who usually aspire to international trips for holidays. But thanks to a crop of local companies increasingly making it easier to travel around and experience Nigeria, that may be slowing changing.
Take Irinajo, the travel company Sofoluwe booked her road trip with, for example. It offers trips to tourist locations across the country and has become best known for curating group trips and sourcing clients on social media.
After years of exploring Nigeria by himself, Adedamola Idowu set up Irinajo two years ago and created a business out of helping Nigerians travel locally. And he's not alone. Funmi Oyatogun, a travel blogger also started TVP Adventures, to explore local latent interest in travel. "So many people are interested in exploring Nigeria," Oyatogun says. "[They] want to travel but it's too much of a hassle putting the pieces together."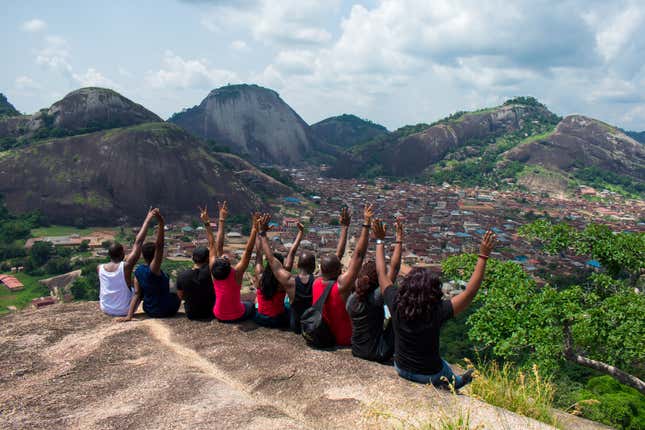 Put another way, it's not that Nigerians don't know about tourist attractions in their country or don't want to visit, it's that a lack of promotion for tourism in the country often means these destinations hold very little appeal to those with the option of seeing famous sights in other countries.
The first step to winning over customers has been working out travel logistics and creating experiences around these destinations with frequent group trips. "All I had to do was pay and show up," Sofoluwe says about her first group trip with around 20 other people. It's a model that seems to be working. Oyatogun says TVP Adventures has received over 1,500 bookings since its launch in October 2016 and currently averages three group trips per month, up from once in two months when it first launched.
For its part, Irinajo, which literally means "journey" in Yoruba, is on track to bag its 1,000th booking this year—with 20% of those so far being repeat customer bookings. While both companies also offer tours to other African countries, a vast majority of their bookings have been within Nigeria. By planning their trips around national public holidays and promoting heavily on social media, these companies have helped spark a wave of young people taking up local tourism.
Some of the increased local interest has also been fortuitous. As Nigeria's economy slowed in 2016, Nigeria's naira plunged in value against the dollar amid strict currency controls. As a result, foreign vacations became a lot more expensive and less appealing given spending caps on bank cards. Indeed, some international airlines operating in Nigeria also felt the crunch and either shut down operations or cut back on flights.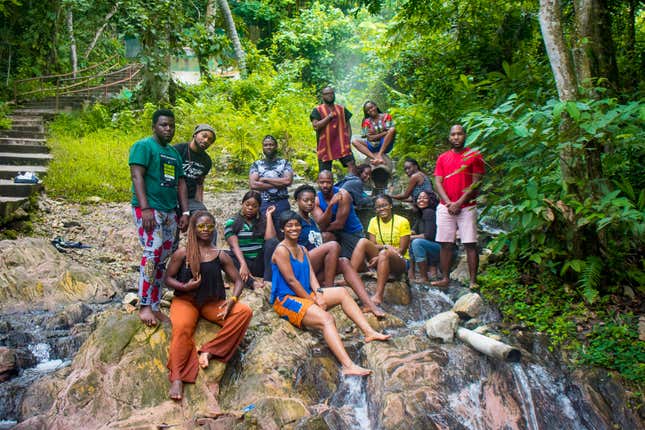 As local tours—or "staycations" as they also known—offer a cheaper alternative with the added benefit of discovering some of Nigeria's tourism gems, upwardly mobile young Nigerians are increasingly taking up the option. For instance, TVP Adventures' signature "Best of the West" trip, an exploration of tourist attractions including Ikogosi Warm Springs, Idanre Hills and Erin Ijesa Waterfalls all across Nigeria's southwest states, is priced at 62,000 naira ($154) and consistently sells out, Oyatogun says. And just as important as being cheaper, local travel also comes without the the well-documented difficulties Africans typically encounter while trying to obtain visas within and outside the continent.
Ripple effect
As more travel companies help Nigerians hit the road, discover the country and document their trips, they are also creating "a huge bank of up-to-date information," says Rosemary Okoli, founder of TripZapp, a Nigerian lifestyle travel company that also takes inbound tourism bookings from foreign visitors. The trove of information is starting to have an effect too. "We've started to see a growing trend of people traveling on their own and seeing things within Nigeria," Okoli says.
That has not always been possible as, despite having some knowledge of several tourist locations, accurate information to help guide private trips has been historically scant. One of such locations now welcoming more visitors is Iyake lake, a rare suspended lake located in Osun, in Nigeria's southwest. In northern Nigeria, Kajuru castle, a 37 year-old medieval German-style castle, complete with dungeons and an armory, has also become a local favorite.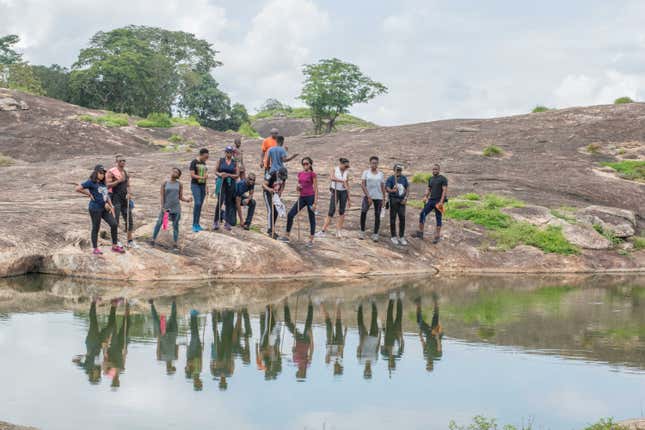 However, as local companies try to spark new interest in tourism, they're encountering some old problems. Traveling around the country—either by road or air—is hardly ever straightforward. Recurrent incidents of flight delays and cancellations at local airports can impact itineraries and traveling by road isn't always smooth sailing either given the poor state of Nigeria's road networks. And then there's the problem of security with the threat of highway kidnappings and robberies. Travel companies also have to deal with the impact of meager investment in tourism over past years which has seen several important attractions wither and lacking in support facilities such as resorts and museums. "We go on these trips, see these places and see that there's a lot more potential for revenue," says Sofoluwe.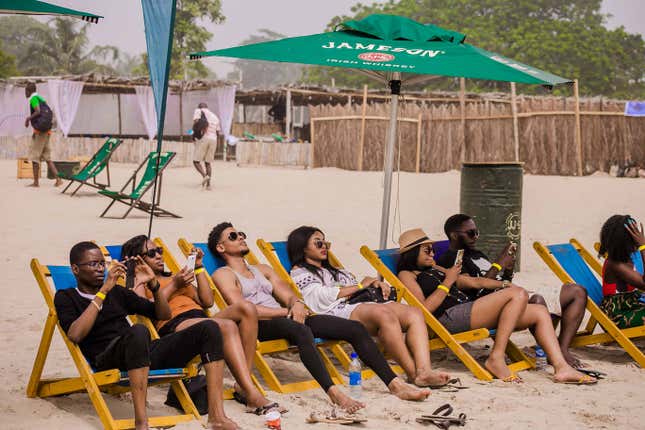 As enthusiasm for local tourism continues to grow, Okoli says only enduring companies will enjoy long-term success. "A lot of companies will start up and then stop," she tells Quartz. "It will take a long evolutionary process to get everyone around to that point where there is a large enough market." But in the meantime, there's cause for strong optimism, as Okoli admits local companies trying to "change the culture of travel" are already making an impact. "People are not necessarily just going to London or going to New York," she says. "They are also now looking at Benin, Togo or somewhere within Nigeria."
Sign up to the Quartz Africa Weekly Brief here for news and analysis on African business, tech and innovation in your inbox