Nigerian sports fans love nothing more than bragging rights. It's why, beyond celebrating their national teams and athletes, they are also typically quick to "claim" (or "famz," in local parlance) any sports star with even a hint of Nigerian heritage.
It's why Anthony Joshua, the world heavyweight boxing champion, is a huge star in Nigeria with a major "Naija" brand TV campaign for a local mobile operator even though he competes for Britain. It's not restricted to mainstream sports either: last week, when Kamaru Usman, a Nigerian-American notched a historic Ultimate Fighting Championship win, it was a trending topic in Nigerian social media circles.
But so far, there has been no similar levels of "Naija" affinity for basketball star Giannis Antetokounmpo,  one of this year's leading favorites for the NBA's coveted Most Valuable Player award. Antetokounmpo, born in Greece to Nigerian immigrants, has been the driving force of a Milwaukee Bucks team that holds the league's best record and has confounded critics. As part of a steady streak since first joining the Bucks in 2013, Antetokounmpo has set several records, boosting the franchise's hopes of a first NBA championship since 1971.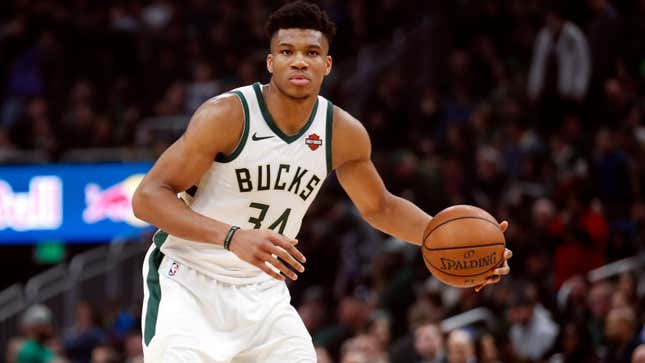 However, while he's a household name in American sports, it's not exactly the same in Nigeria and one obvious reason is Antetokounmpo's name. "Most people here can't relate very easily firstly because of the way his name is spelled," says Femi Adefeso, a Nigerian-based NBA reporter who covered the 2017 and 2018 All-Star weekends.
After gaining Greek citizenship in 2013, a romanization of his surname "Adetokunbo" saw him become "Antetokounmpo", stripping away the obvious link to his heritage. "Compare that with Victor Oladipo (another major NBA star), it speaks out loud. You know he is Nigerian right away," Adefeso says.
For his part, "the Greek Freak," as he's also called, has talked up his Nigerian heritage and even obtained a Nigerian passport back in 2015. And after first visiting Africa in 2015 during the first NBA Africa Game in Johannesburg in 2015, Antetokounmpo says he plans to visit Nigeria within the next two years.
Antetokounmpo, already on his way to becoming a full Greek international even before becoming an NBA star, also has no chance of playing for Nigeria. That's not to say Nigerians only root for stars who compete under their flag. Indeed,  the legendary Hakeem Olajuwon, Nigeria's greatest basketball icon, turned out to win a gold medal with the United States' third "Dream Team" at the 1996 Olympics in Atlanta.
But the Houston Rockets legend and two-time NBA champion was already a strong draw for local sports fans and media having moved from Nigeria to play college basketball in the United States and eventually ending up as a top NBA draft pick. Olajuwon's success spurred much mainstream local interest in the NBA in a traditionally soccer-mad country.
Since then, the success and growth of Nigerian-American NBA players like Andre Iguodala (Golden State Warriors), Victor Oladipo (Indiana Pacers) and Emeka Okafor (New Orleans Pelicans) has seen the sport become even more popular locally.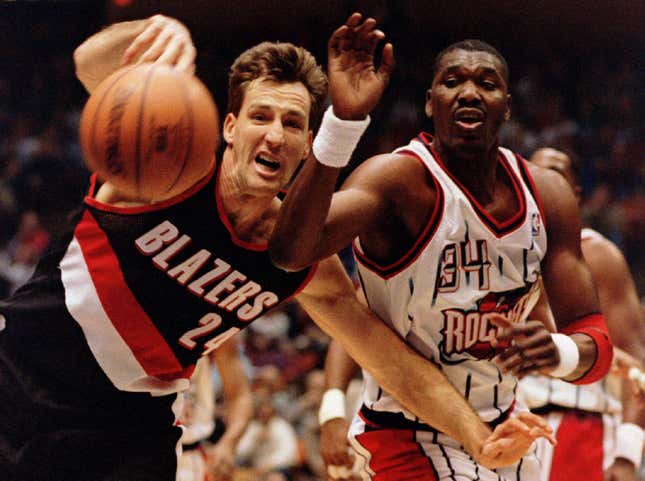 Still, with his global stock skyrocketing, a fairytale championship run with the Bucks and the coveted MVP prize could see Antetokounmpo become more popular in Africa's most populous country. Inadvertently, Antetokounmpo's rise will likely also mean he becomes central to the NBA's plans to grow its fan base across Africa.
The league has already shown strong commitment to growing an audience and talent pool on the continent signing broadcast deals, opening an official academy and, most recently, backing a regional African league.
Sign up to the Quartz Africa Weekly Brief here for news and analysis on African business, tech and innovation in your inbox