In the 19th century, large parts of present day Zambia was ruled by a fierce chief, whose kingdom was at least twice as large as any in the region. And when Portuguese slavers tried to subjugate the kingdom for its trade roots, the chief waged war and won.
That rarely told story is already remarkable, what makes it even more remarkable is that the chief was a woman: Chief Mwape. Although she ruled until her death in 1910, not much is known about this heroic figure, in part because of how women's history in Zambia, and elsewhere on the continent, has been distorted.
This week the Women's History Museum of Zambia launched an animated podcast series to balance that narrative. In about two-minute animations, the web series tells the stories of women from between the 17th and 19th century Zambia. The stories have categorized these women according to how they challenge stereotypes, "The Feminist," "The Innovator," "The Power Broker," and premiering with "The General," Mwape.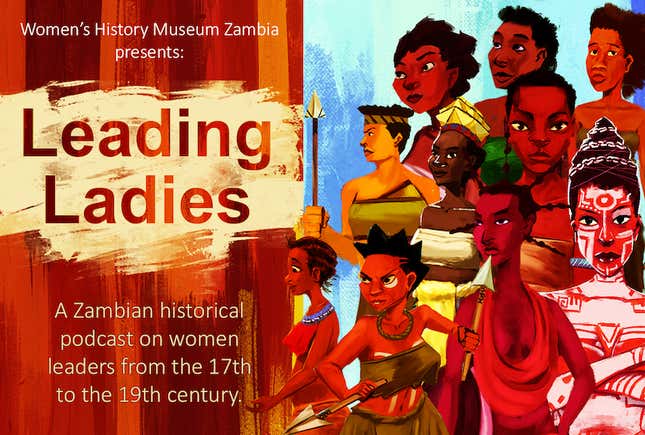 "These stories challenge the idea that, in the past, women were not capable of being leaders or contributing significantly to our societies," said Mulenga Kapwepwe, co-founder of the museum who wrote the stories. The podcasts will be published each week on the museum's Facebook page and YouTube channel. The creators would love to expand it to historical women across the continent.
"I mean, think how exciting that would be," co-creator and museum co-founder Samba Yonga told Quartz.
Recasting African historical figures as the central figures of contemporary storytelling platforms offers new way to reach audiences craving alternative narratives. The mainstreaming of the Black Panther, through the blockbuster film, certainly made audiences more open to a modern take on an African warrior king and women warriors.
Last year, the graphic novel Shaka Rising: A Legend of the Warrior Prince retold the story of the legendary Zulu king. At 96 pages, the novel was initially aimed at children but adults wanting to reacquaint themselves with the story of King Shaka will also be enthralled.
In an attempt to balance historical accounts, the story is at time romanticized, and the Leading Ladies series may come under the same criticism, due to the dearth of information about these historical figures. One could argue that Oscar winning films of British monarchs, like Elizabeth and The King's Speech have done the same, retelling historical accounts, just with more material to work with. They have also ensured that these histories remain relevant.
Efforts to unearth African stories, and create new material around them, could revive these histories too.
Sign up to the Quartz Africa Weekly Brief here for news and analysis on African business, tech and innovation in your inbox