H&M is rolling out its first African collaborative collection.
On April 16, the global retailer announced its collaboration with South African fashion label Mantsho, which will "introduce a dose of fresh fun and uniquely South African aesthetic to H&M customers around the world," H&M said in a statement.
Mantsho, which means "black is beautiful" in Sesotho, was created in 2004 by designer Palesa Mokubung. Mantsho is well-known in South Africa, a staple on the country's various fashion week runways and in the closets of the upwardly mobile. The clothes are edgy and feminine, flowy with the right number angles, and distinctly South African, representative of a post-apartheid optimism.
This season, for example, Mantsho's winter collection was marked by prints of the brand's distinctive graphic logo: a symmetrical flower made up of four women's faces (inspired by designer herself). It was not only fashionable, but savvy marketing for a ready-to-wear brand. The H&M collaboration seems to be the logical next step in that brand evolution.
Along with all of H&M's South Africa outlets, the Mantsho collection will be carried in flagship stores in the US, UK, France, Spain, Portugal, The Netherlands, Belgium, Mexico, Chile, and Israel, giving Mokubhung exposure far beyond her stores in Johannesburg. The collection will be available in H&M stores and online from August 15, summer in the northern hemisphere and the beginning of a warmer climate in the south.
Every year since 2004, H&M has collaborated with a fashion designer to produce a capsule collection for its stores. Mantsho's collaboration puts the brand in the company of designers such as Balmain, Stella McCartney, and Karl Lagerfeld that have all collaborated with the retailer.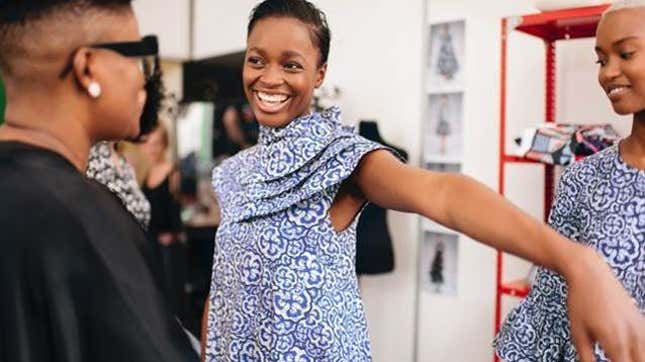 Collaborating with Mantsho is also great publicity for H&M. The brand has had some trouble in South Africa after the racist hoodie debacle in January 2018. The international uproar was turned up a notch in South Africa, where H&M stores were trashed, and an NGO demanded H&M executives attend training for racial sensitivity and diversity. Working with a black South African designer is a way for H&M to show it's reinvesting in one of  key markets in Africa. The Southern African Clothing and Textile Workers' Union, meanwhile, welcomed the chance to finally make the clothes sold in the fast-growing H&M.
The collaboration also challenges the poor precedent set by other global clothing retailers. Last year, H&M competitor Zara was accused of plagiarizing a pattern by South African designer and innovator Laduma Ngxokolo. Zara denied stealing the pattern, but removed the offending line of socks as "preventive action." Later, Ngxokolo optimistically saw the incident as creating global awareness for his distinctly African brand. H&M just proved there's a better way to do it.