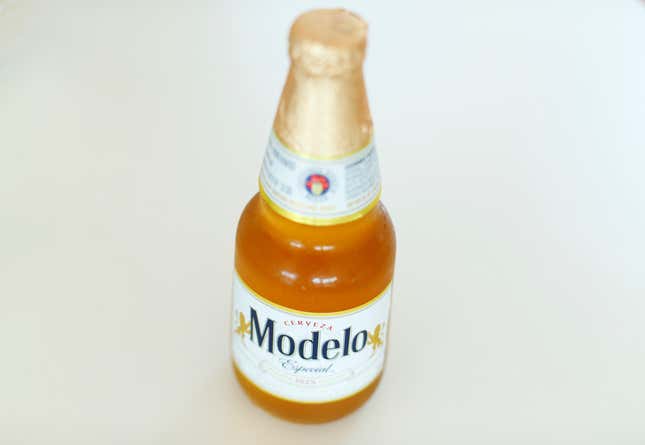 Modelo Especial, a Mexican beer, is now officially America's favorite. The beverage, marketed by Constellation Brands, was the top-selling beer for May, with 8.6% of all beer sales in the US, overtaking the long-time market leader Bud Light, an Anheuser-Busch (AB InBev) brand. Modelo's dominance looks set to continue in June, as so far it holds 8.4% of market share.

Bud Light's market share has ostensibly been decreasing in the aftermath of a controversy involving an advertisement campaign in April involving Dylan Mulvaney, a transgender actress and influencer. In March, the brand held 10% of the domestic market share; in April, 8.7%; in May, 7.6%; and, so far in June, 7.3%.
Initially, anti-LGBTQ beer drinkers took issues with a trans woman becoming the face of the brand and called for a boycott. When Bud Light failed to stand by its campaign, with two AB InBev marketing executives taking a leave of absence, some LGBTQ bars began boycotting the beer, too.
Bud Light's loss of market share appeared to benefit other light beers: Coors Light, which was the one to have the highest increase in market share, going from 5.1% to 6.2% of the market; Miller Lite, which went from 4.6% to 5.3%; and Modelo Especial, which was the second-highest seller before it overtook Bud Light.
But if anti-LGBTQ activists think they were successful in making their point, they may be sorry to learn Constellation Brands has shown its support for LGBTQ rights even more than AB InBev. And so has Molson Coors, the maker of Coors Light, and Miller Lite.
Charted: Modelo Especial overtakes Bud Light as America's favorite beer

LGBTQ support among beer brands is still widespread

All US leading light beer brands have a history of supporting LGBTQ rights, often in the form of sponsorship to pride events. Constellation Brands partners with Stonewall Sports, for instance, an organization promoting LGBTQ representation in sports. It was also listed as a top place to work for LGBTQ people several times over the years, and most recently in 2022, scoring 100/100 in workforce protection, inclusive benefits, and inclusive culture, in the Human Rights Campaign's Equality Index.
Similarly, Molson Coors has sponsored several pride events, and so has Budweiser, also an AB InBev brand. Bud Light is far from being the only ally among beers—in fact, its handling of the Mulvaney boycott drove criticism for not being explicit in its support of the actress or the trans community.
A Mexican beer, number one in the US
While the boycott has had a significant impact in Bud Light's sales, Modelo's ascent as America's top selling beer had been foretold.

Constellation Brands, in fact, was expecting Modelo Especial to become America's leading beer, although perhaps not quite so soon. "A Mexican beer brand in the United States is the number two beer brand in America. It will be number one in about two, maybe three years," said Constellation Brands vice president Rene Ramos last year, accepting Sports Business Journal's sport sponsor of the year award in 2022.