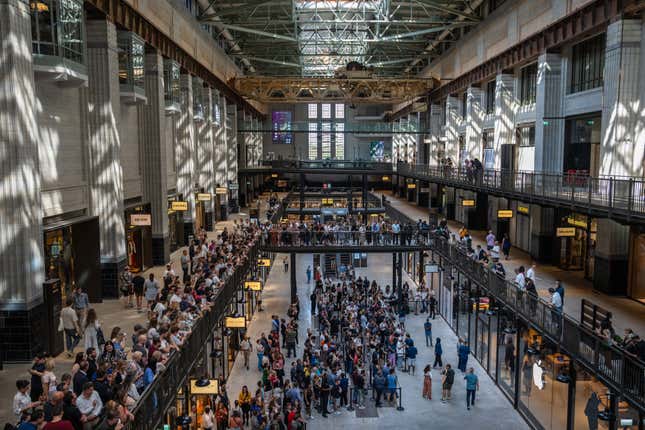 Apple became the first company in the world with a $3 trillion valuation on Friday (June 30). The company's stock closed at $193.97 per share—good for a market capitalization of $3.05 trillion.
Don't expect the Fed to help your investment in Amazon
Apple's feat became official at the end of the trading day on the Nasdaq stock exchange, six months after the company briefly topped the $3 trillion threshold during intraday trading on January 3.
The company's stock price was recently benefited from a broader bounce back in the tech sector, as well as from rebounding iPhone sales and excitement over its Apple Vision Pro mixed-reality headset, which will be released early next year.
There aren't many trillion-dollar companies
There are only six companies with a trillion-dollar valuation—and five of them are tech firms. Apple is trailed directly by computing giant Microsoft Corp. ($2.5 trillion), which was briefly the world's most valuable company in 2021 amid severe strains on the global supply chain. Microsoft was buoyed by its large cloud services business.
Next on the list is state-backed oil and gas company Saudi Aramco ($2 trillion), the only non-tech business worth more than $1 trillion. Saudi Aramco is followed by Google parent Alphabet ($1.5 trillion), e-commerce and cloud leader Amazon ($1.3 trillion), and chip maker Nvidia ($1 trillion).

Nvidia is the latest entrant to the trillion-dollar club, riding a wave of artificial intelligence hype to financial success. In May, the Santa Clara, California–based company's market capitalization rose nearly $200 billion in a single day.
Apple's achievement on June 30 was the latest in a series: It wasn't just the first company to top a $3 trillion valuation. It was also the first to surpass $1 trillion in 2018 as well as $2 trillion in 2020.
This article has been updated to reflect Apple's stock performance at the end of the trading day on Friday (June 30).