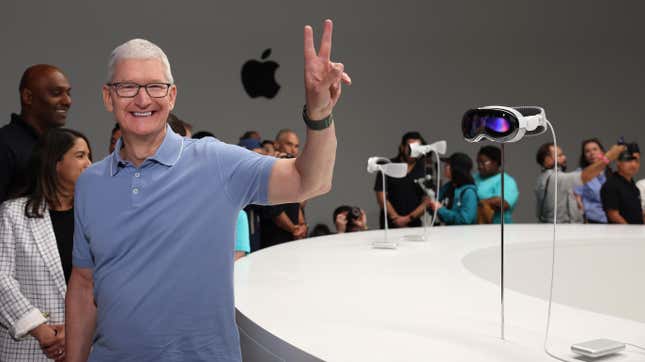 Apple's record stock performance is pushing the largest company in the world to the brink of a historic threshold.

Yesterday (June 12), the iPhone maker's stock closed at a record high of $183.79. With that, Apple is closer than ever to becoming the first $3 trillion company, currently worth $2.89 trillion.
A broader recovery in big tech stocks, the company's robust performance—including the rebound in its iPhone segment and its services business revenue clocking an all-time high—combined with optimism around the company's plans for a major retail push globally, are all hoisting the stock up and up.

Most recently, the Cupertino company hit an intraday high on June 5, when it launched its highly anticipated Vision Pro mixed-reality headset, but those gains reversed by market close.
Charted: Apple's climbing further up in the trillion-dollar club
Quotable: Apple's stock's 2023 rally will continue
"Apple is just as likely to perform well in a risk-on environment as a risk-off one. You can't expect 20-30% returns from here, but I'd rather park my money here than in a Treasury. There is a lot of opportunity for growth even in a tough market, and it pays a dividend, buys back a ton of stock, and has this incredibly strong balance sheet, all of which is attractive to investors." —Sylvia Jablonski, chief executive officer of Defiance ETFs
Fun fact: Apple holds all trillion-dollar valuation records
Apple was the first company to breach a $1 trillion valuation in August 2018, and the first to surpass $2 trillion two years after that milestone.
Other companies like tech giants Microsoft and Alphabet have breached the barrier since, and so has oil giant Saudi Aramco from halfway around the world, but Apple still holds the pole position.
A non-exhaustive list of things Apple's valuation already dwarfs
🌎 The GDP of major economies like Italy, Canada, and South Korea
🚀 The combined total of NASA's annual budget between 1958, when it was founded, and 2022
📈 Many stock exchanges around the world, including Saudi's Tadawul, Toronto Stock Exchange, and Taiwan Stock Exchange, among others
🧑🏽‍⚖️ The most expensive thing ever sold at an auction: Leonardo Da Vinci's Salvator Mundi was bought by the Crown Prince of Saudi Arabia, Mohammed bin Salman, in New York in 2017 for $450.3 million.
❗ Even at an unprecedented $3 trillion, Apple's valuation would still be half of the $6.4 trillion American taxpayer money the US has spent on wars in Afghanistan, Iraq, Syria, and Pakistan, since they began in 2001.
Related stories
👀 Apple WWDC 2023 is where the new virtual reality headset rumors face a reality test
☕ Apple's Vision Pro announcement at WWDC didn't mention the word "metaverse"
📈 Nvidia is on track to break a stock market record held by Apple in the US