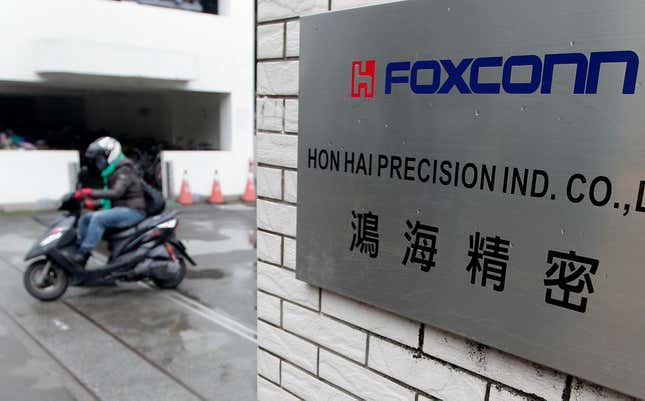 Foxconn is raising pay and bonuses for new workers at its major Zhengzhou plant, the SCMP first reported, as the Apple supplier anticipates a ramp up in production for the iPhone 15.

Foxconn announced on May 27 that, starting the following week, new recruits would be eligible to receive as much as a 3,000 yuan ($423) bonus if they work at the factory for at least 90 days, with pay as high as 21 yuan ($2.96) per hour. Existing workers are eligible to get a 500 yuan ($70.49) bonus for referrals, with a potential 1 rmb ($0.14) bump in hourly pay, according to a WeChat post (link in Chinese) published by the company.
The Zhengzhou factory is Apple's largest manufacturing site in the world. Foxconn is seeking to expand its workforce as it prepares to produce the iPhone 15, whose release is expected in September this year.
Hon Hai Technology Group, the official name of the Taiwan-based company, has initiated several recruitment drives in recent months to recover a loss of workers during the pandemic. In late November, workers at the Zhengzhou site—which employed about 200,000 people—staged violent protests over pay and working conditions. Earlier that month, a strict covid lockdown triggered a mass exodus from the site, snarling iPhone production.
Foxconn and Apple's pivot to India
China's covid restrictions since the start of the pandemic, and ensuing unrest at the Zhengzhou site, have prompted Apple to shore up its supply chain. For the first time it is splitting Foxconn's iPhone production with two other suppliers: Luxshare, based in Shenzhen, and Pegatron Corporation, headquartered in Taiwan.
Meanwhile, both Apple and its suppliers have been pursuing an expansion in India. To that end, Foxconn CEO Young Liu first met with Indian prime minister Narendra Modi in June 2022, before following up with a second meeting in March this year.
Apple CEO Tim Cook also met with Modi in April as the tech giant seeks to move some of its supply chain outside of China.
Foxconn is reportedly planning to expand its existing factory site in India's southeastern city of Chennai, while competitor Pegatron is in talks to open its second Indian factory, according to Reuters. Earlier this month, local authorities in the Indian state of Telangana announced that Foxconn started building a new $500 million factory.
Related stories
💰 Apple is investing billions in US-made 5G components as it looks to move manufacturing out of China
🇻🇳 Apple is making another bet on an emerging market in Asia
📱 Foxconn's quarterly results are proof that people are buying fewer smartphones