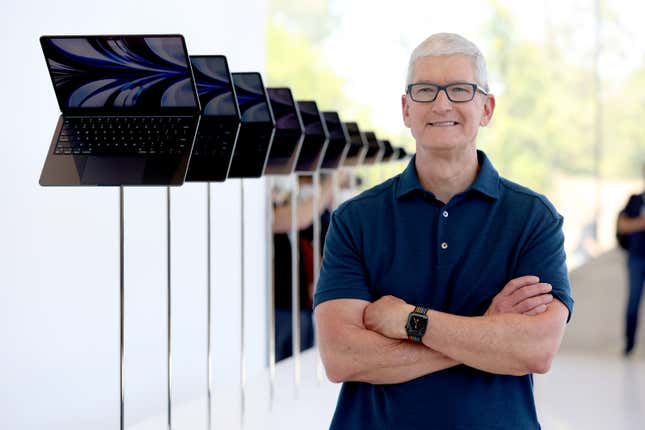 Apple has unveiled a multibillion-dollar deal with Broadcom to produce new 5G radio frequency components in the US. The May 23 announcement comes as Apple—the world's largest consumer electronics company—looks to spend more than $400 billion on domestic manufacturing.

The Broadcom deal covers a range of 5G wireless connectivity components, including FBAR filters, acoustic resonators that enable iPhones to connect to 5G networks. Apple plans to invest in production across a number of US cities, including Fort Collins, Colorado, where Broadcom already has a major facility.
"We're thrilled to make commitments that harness the ingenuity, creativity, and innovative spirit of American manufacturing," Apple CEO Tim Cook said in a prepared statement. "All of Apple's products depend on technology engineered and built here in the United States, and we'll continue to deepen our investments in the U.S. economy because we have an unshakable belief in America's future."
Apple's statement announcing the deal stressed the importance of 5G connectivity in consumer electronics, adding that the company is spending billions of dollars to develop the technology domestically. Apple devices have been compatible with 5G since 2020.
Broadcom wasn't immediately available for a comment on the deal.
Apple's US-based production, by the digits
2.7 million: American jobs produced by Apple through direct employment, iOS app store development, and US suppliers and manufacturers of Apple products.
$430 billion: Amount Apple plans to invest in the US economy over the next five years.
48: Apple manufacturing sites in the US, more than 30 of them in California. This is just a fraction of the company's global production, with most manufacturing still done in China, as well as growing secondary markets in India and Vietnam.
Apple wants to move manufacturing out of China
This increased investment in domestic production is part of a larger Apple strategy to move production out of China.
As US-Sino relations continue to sour, the company faces pressure from American lawmakers to wind down its extensive manufacturing process in China. It has also blamed Chinese pandemic-era policies and riots at Foxconn factories for supply chain issues.
In response, Apple has opened new factories in India and Vietnam to produce hardware like iPhones and Macbooks. Stateside, however, the company has said it will invest $430 billion in domestic 5G infrastructure and silicon engineering, including major money for chip production.
Last December, Cook announced that Apple would start sourcing its chips from a Taiwanese-owned Arizona factory as soon as 2024. The CEO shared this news at an event where US president Joe Biden touted his $50 billion in investment incentives for companies to expand domestic production of semiconductors.
Related stories
Apple wants to move its manufacturing out of China
The DOJ charged a former Apple engineer for stealing autonomous car technology and fleeing to China
Apple just gave us all a look inside the AI of its secretive self-driving car project