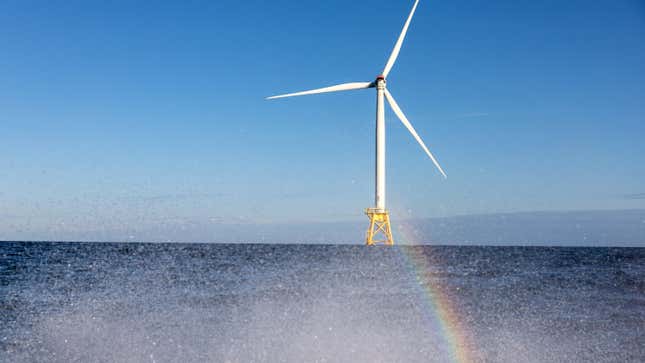 The Biden administration just approved the biggest offshore wind project in the US. Located about 13 nautical miles southeast of Atlantic City, the Ocean Wind 1 project offshore New Jersey will have a capacity of approximately 1,100 megawatts (MW) of clean energy, the US Department of the Interior's Bureau of Ocean Energy Management (BOEM) said yesterday (July 5).

Quartz Smart Investing Episode 2
The project, which will be run by Denmark-based power company Ørstedt, marks the Biden-Harris administration's third approval of a commercial-scale, offshore wind energy project in the country. The other two are the Vineyard Wind project, off the coast of Martha's Vineyard, Massachusetts, which was approved back in May 2021; and the South Fork Wind project, off the coast of Rhode Island and New York, approved in November that year. Both of these are currently under construction. BOEM director Elizabeth Klein heralded the approval as "another significant step forward for the offshore wind industry in the United States."

Liz Burdock, founder and CEO of the Business Network for Offshore Wind, which supports the Ocean Wind 1 project, said that workers in New Jersey and fabricators in Baltimore, Maryland, are starting to manufacture components for the turbines. Ørsted expects to begin operations in New Jersey in late 2024 or early 2025.
Charted: Ocean Wind 1 will generate the most energy
Biden's wind power goals, by the digits
380,000: Homes the Ocean Wind 1 project can power with its energy, according to the interior department
3,000: "Good-paying" jobs the New Jersey project will generate "through development and a three-year construction cycle," the federal agency said
98: The number of wind turbine generators the Ocean Wind 1 project has permission to construct, according to the Record of Decision (ROD) documents. Additionally, it can build three offshore substations within its lease area
$695 million: How much Ørsted expects to spend on the Ocean Wind 1 project in New Jersey. It has some federal help—the New Jersey legislature narrowly approved a bill last week to let Ørsted keep federal tax credits to insulate it from rising costs due to inflation and the covid-19 pandemic hangover
30 gigawatts (GW): President Biden's offshore wind power generation goal by 2030, which will power 10 million homes, and create 77,000 jobs
Quotable: Green energy greenlit after thorough review
The stamp of approval from BOEM comes after a rigorous environmental and community impact review process, demonstrating the administration's and the industry's shared commitment to building clean power in a responsible way. —Josh Kaplowitz, vice president for Offshore Wind at the American Clean Power Association (ACP), in a statement on July 5
A non-exhaustive list of backlash for Biden's wind farms
🐋 The impact on whales: There are fewer than 350 of the endangered North American right whales left, and wind turbines will do them harm, local residents who sued Vineyard Wind in 2021 alleged. Former Fox News host Tucker Carlson and reality star Snooki have both amplified this concern.
"Additional noise, vessel traffic and habitat modifications due to offshore wind development will likely cause added stress that could result in additional population consequences to a species that is already experiencing rapid decline," Sean Hayes, chief of the protected species branch at National Oceanic and Atmospheric Administration's (NOAA) National Northeast Fisheries Science Center, wrote in a May 13, 2022 letter to Interior Department officials, Bloomberg reported in November that year.
But in May this year, the court sided with the wind farm project, not finding any violation of environmental or endangered species acts. "There are no known links between recent large whale mortalities and ongoing offshore wind surveys," the NOAA writes on its website.
Additionally, Vineyard Wind claims it's taking steps to limit harm to whales by curtailing turbine construction in the winter and early spring, when the whales may be near its site; dampening construction noise; imposing strict vessel speed limits; and devoting $3 million to researching and developing tech to further safeguard the marine mammals.
🎣 The impact on fisheries: Groups have sued both Vineyard Wind and Ocean Wind 1 over potential harm to marine life and therefore to local fisheries.
However, both projects claim to have made accommodations to leave fishing unobstructed.
For instance, Vineyard Wind moved its six northernmost wind turbine generators to a different location to "provide additional unobstructed space for navigation in area commonly used by commercial fisheries," it noted in a December 2022 court filing.
Ocean Wind 1's Record of Decision (ROD) documents reveal its commitment to three fisheries mitigation programs: a direct compensation program for reimbursement of lost revenues, a navigational safety fund for navigation equipment upgrades, and a reimbursement program for lost or damaged commercial fishing gear.
Related stories
💼 The US East Coast is set to become a green energy job powerhouse