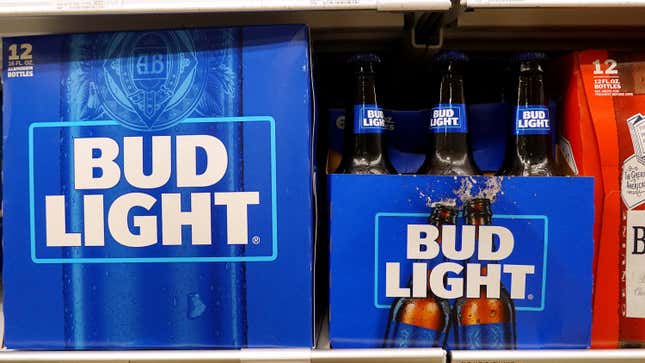 Bill Gates still has faith in Bud Light's parent company AB InBev—even though the low-cost beer has lost pole position in the industry.
Why a tightening of credit conditions could lead to a weak economy
Bud Light's advertising campaign in April, with the transgender influencer Dylan Mulvaney—which included sending her a personalized can to mark 365 days since her transition—became a lightning rod in the US culture wars. In the following months, a right-wing backlash sent sales of Bud Light down, sinking the stock of its parent company Anheuser-Busch (AB InBev).
The company's recovery hasn't been very promising. In the quarter ended June 30, AB InBev posted a 10.5% decline in US revenues. But that hasn't seemed to matter to the Bill and Melinda Gates Foundation Trust, which has laid an optimistic bet on the company. The foundation bought 1.7 million shares, worth over $96 million, in AB InBev during this period, an Aug. 14 regulatory filing shows.
The investment hasn't paid off yet—quite the opposite, as CNN notes. AB InBev's stock has declined nearly 2% since the foundation's purchase and is down 6% so far this year. But despite Bud Light's woes, other AB InBev brands like Corona and Stella Artois are faring well. And beyond the US, it has scores of other brands in other countries that are tasting success.
By the digits: AB InBev beyond Bud Light

5%: The increase in AB InBev's adjusted earnings in the quarter ended June 30, as international sales more than made up for the US slump. The growth smashed a consensus forecast of 0.4%.
80%: The proportion of Americans who had a "favorable or neutral" perception of the Bud Light brand, according to a survey of 17,000 US consumers' beer habits released by the company
$57.8 billion: AB InBev's revenue last year. Heineken (the second biggest beer company in the world) earned €34.676 million ($37.972 million) in 2022, by way of comparison.
630: The number of AB InBev brands
150: The number of countries in which AB InBev operates. The company owns popular local brands like Aguila in Colombia and Harbin in China.

Quotable: Plotting Bud Light's comeback
"[O]ur consumers across all sentiment groups have three points of feedback in common. One, they want to enjoy their beer without a debate. Two, they want Bud Light to focus on beer. Three, they want Bud Light to concentrate on the platforms that all consumers love, such as NFL, Folds of Honor and Music."

—Michel Doukeris, AB InBev's CEO, during his Oct. 3 earnings call
Company of interest: Heineken
For someone who, in 2018, claimed that he's "not a big beer drinker," Gates definitely seems very into the companies that make beer. In February, he purchased 10.8 million shares, worth over $900 million, in Heineken, which gave him a 3.76% stake in the Amsterdam-based brewery.
Gates purchased the shares from one of Mexico's largest brewers, Femsa—the largest bottler of Coca Cola–which sold its brewery to Heineken in 2010. Back in 2007, Gates had bought a $392 million stake in Femsa.
Related stories
🍺 Bud Light's parent company is too big to boycott
🍀 Why is St. Patrick's Day such a big holiday in the US?
🍺 The price of beer at Oktoberfest completely defies economic logic