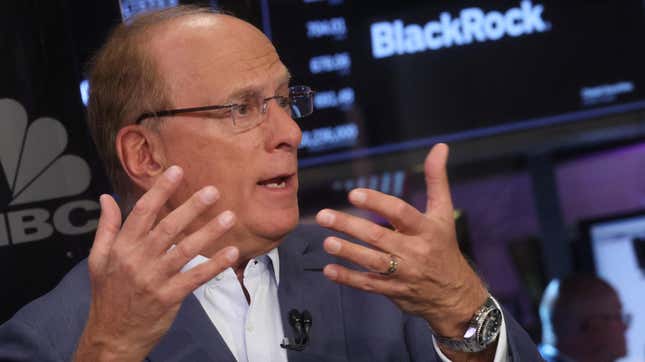 Keen readers of Blackrock CEO Larry Fink's annual letters will be familiar with how he's been arguing that purpose begets profit, and such purpose is defined by environmental, social, and governance (ESG) considerations. But ESG, the acronym that appeared four times in his 2021 letter to CEOs of the companies part of BlackRock's $9.1 trillion portfolio, no longer works for Fink.
Should you keep investing in Big Tech?
Fink, the high-profile CEO of the world's largest asset manager, is concerned that the term ESG has become politically charged, as he said in a conversation at the Aspen Ideas Festival on Sunday (June 25). For one, it has become a lightning rod for a certain kind of political discourse and even got the investing giant blacklisted in red states like Texas and Florida. On the other hand, it leaves the company exposed to accusation of just paying lip service to those principles.
"I'm not going to use the word ESG because it's been misused by the far left and the far right," Fink told the audience, quoted by Axios. While Fink is moving away from the term, he's not steering the firm away from the wide away ethically responsible business practices it represents, from curbing carbon emissions to eliminating discrimination. BlackRock is still seeking portfolio companies that can see that "sustainability and financial profitability are inextricably tied."
What Fink is focusing on instead of ESG, by the digits
26: Number of times "ESG" is mentioned in Larry Fink's 2020 letter to clients
1: Number of times "ESG" is mentioned in Larry Fink's 2022 letter to CEOs of the companies BlackRock clients invest in. Instead, the message does mention "decarbonization" (9 times), "climate" and "social" (4 times each) and "governance" (twice)
0: Number of times "ESG" is mentioned in Larry Fink's 2023 annual letter to investors. There are some mentions of climate (5), decarbonization (3), and governance (7)
Quotable: BlackRock's Fink showed signs of ESG debate fatigue in Davos
"The narrative is ugly. The narrative has created this huge polarization...For the first time in my professional career, attacks are now personal. They're trying to demonize the issues." —Larry Fink, speaking at the World Economic Forum in Davos in January 2023 on a panel about the political backlash from the right to BlackRock's ESG-led investing.
BlackRock's neither-here-nor-there ESG strategy
In his 2018 letter to CEOs of the companies part of BlackRock's portfolio, Fink introduced "a social purpose" that would take into account businesses' ESG practices and policies. Fink, who believes climate risk is an investment risk, increasingly put climate change at the centre of its investing philosophy.
Environmental activists have however long accused the company, which is a top institutional investor in fossil fuels and hasn't entirely distanced itself from gunmakers, of brazen greenwashing.
By December 2022, BlackRock faced scrutiny both from Republican anti-ESG crusaders in the US Congress for taking too much action on climate change, and from an activist investor in the firm for not doing enough.
Related stories
🚧 BlackRock's climate actions are so milquetoast they're making no one happy
🤫 Larry Fink's latest letter to CEOs didn't deliver a vital detail