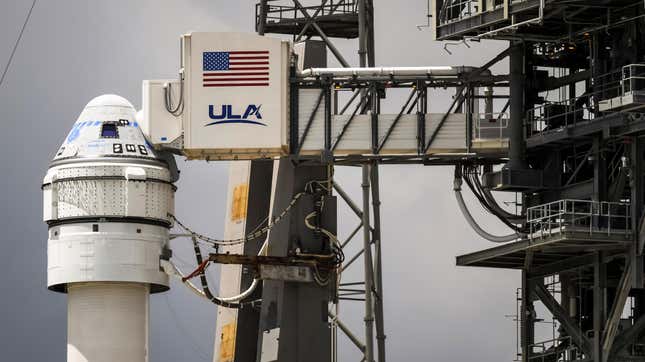 If you want to imagine an engineer's nightmare, here it goes: You've spent nearly a decade building a spacecraft, testing and re-testing the vehicle to ensure it can survive the extreme conditions onboard a rocket to orbit. Now, you're preparing to launch NASA astronauts into space in a month.

Why a tightening of credit conditions could lead to a weak economy
Then, someone comes up to you. Do you remember the tape—the tape we wrapped around all the wires hidden behind panels in the spacecraft, to protect them from shorting out? Hundreds of feet of tape? Turns out that tape is flammable. We're going to have to disassemble the whole spacecraft to see where it is and how to fix it, or else risk a potentially disastrous fire.
Oh, and by the way, we also found out that a key link in the parachutes that bring the capsule down for a safe landing are made of a material that's too weak for our safety standards. We'll have to re-do that, too.
All this happened over the past week to Boeing's Starliner spacecraft program, sending Mark Nappi, the executive in charge, to CEO Dave Calhoun to get permission to stand down from an already long-delayed crew flight test.
Boeing was tapped to build this vehicle by NASA in 2014, alongside rival SpaceX. Elon Musk's company delivered its Dragon crew vehicle in 2020, and since then it has flown eight times to orbit, carrying government astronauts and private passengers.
Boeing's troubled Starliner development hit another snag
In contrast, Boeing's program has lurched from problem to problem. Delays and the need to re-do a failed flight test have cost the company $585 million, since its original $4.2 billion fixed-price contract with NASA doesn't allow for overages. Engineers may still need to redesign the Starliner's propulsion system: The valves that regulate the flow of fuel through the system have malfunctioned in the past, and while Boeing says changes in the way it loads fuel can prevent the problem, changing the system might make more sense.
Last week, NASA's Aerospace Safety Advisory Panel (ASAP), said the space agency should stand up an independent review of Starliner to ensure that it will be safe enough to carry people. Steve Stich, the NASA official responsible for Starliner development, said that NASA engineers embedded with Boeing's Starliner team will convene with the NASA's chief engineer to offer an independent assessment of the program.
Boeing was criticized for failing to perform comprehensive testing before the failure of its first flight test. The discovery of two new safety issues just weeks before a crewed test flight isn't a great development. On one hand, the process in place caught these risks, and Boeing communicated about them transparently. On the other hand, these problems are years old.
"I have seen a tremendous change in Boeing culture since the first orbital flight test," Stich told reporters yesterday. "I wouldn't go indict the NASA or Boeing safety process because we have these late findings."
Nappi argued that Boeing's safety culture had always been strong, but conceded "there was a certain sense of optimism when some of the designs were done, some of the processes were created many years ago, that led to some of these things creeping their way through the system."
What's next for Starliner?
Nappi said his team would need to further assess the problems with the wiring tape and the parachute links before it could determine when a new test flight is possible. While the space agency and its contractor didn't rule out a test flight later this year, the potential work needed to fix the problems—which might include additional parachute drop tests—mean that test flight might not come until 2024.
That's an issue for NASA, which "desperately needs a second provider of crew transportation," according to Stich. SpaceX's current monopoly on human spaceflight in the western world means it can drive up prices: While the company's first flights for NASA were estimated at $55 million per seat, additional contracts to fly astronauts have come in at $70 million per astronaut. Boeing's seats will cost more for the duration of the ISS's expected lifespan, but lowering the cost of getting people to orbit in the future will require multiple providers.
Boeing, which had a critical roles in the Space Shuttle and is the prime contractor for the International Space Station, has seen its space businesses face significant headwinds. Its speciality on the satellite side—building large, bespoke satellites—is seen as a business in decline, and its joint venture with Lockheed Martin to build rockets, United Launch Alliance, is reportedly up for sale.
Analysts say that Boeing may not be able to recoup its losses on the Starliner program under the NASA contract, and may also face challenges winning private human spaceflight business. Nappi insisted that there was no thought at Boeing about abandoning Starliner, and said discussions were ongoing about how to use the spacecraft more in the future by adapting its design to fly on rockets besides the soon-to-be-retired Atlas V.
"We know there are growing pains in developing a vehicle," said Nappi. "This is just part of the business."