Dear readers,
Welcome to Quartz's newsletter on the economic possibilities of the extraterrestrial sphere. Please forward widely, and let me know what you think.
Why a tightening of credit conditions could lead to a weak economy
This week: ULA for sale, Apple puts down another deposit on satellite connectivity, and Jeff Koons and his Moon(s).
🚀 🚀 🚀
United Launch Alliance, the joint venture of Lockheed Martin and Boeing that dominated US rocketry before SpaceX and is its primary competitor today, is reportedly up for sale.
Ars Technica's Eric Berger writes that the company is expected to change hands this year, with Morgan Stanley and Bain & Co. advising the company's board on the transaction.
The move has the potential to reshape the global rocket industry. ULA was formed in 2005 to combine the launch vehicle production lines of Boeing and Lockheed after the two contractors were unable to sustain the businesses on their own, creating a monopoly in the US rocket industry. They had counted on a significant amount of commercial launches to subsidize their government contracts, and that business never emerged.
At the time, Elon Musk's SpaceX—a company still years away from launching its first rocket—challenged the combination, but anti-trust regulators deferred to the Pentagon and allowed ULA to be created. SpaceX would ultimately have the last laugh: Working with NASA on a spacecraft development program seen as too risky by most companies in the sector, it built the Falcon 9 and Dragon and came to dominate the launch industry.
That forced a sea change at ULA, which brought in Lockheed exec Tory Bruno as CEO in 2014. Bruno cut costs and led the development of a new rocket called Vulcan that is expected to fly as soon as this May. Most importantly, he won a 60% share of a five-year contract to launch spacecraft for the US military that is expected to deliver billions of dollars in revenue, and another contract to fly 38 missions launching Amazon's Kuiper satellite constellation.
On the other hand, ULA is dependent on Jeff Bezos' Blue Origin for its engines, the most expensive and important part of any new rocket. The company has not made the investments in reusability or super heavy lift that SpaceX has, leaving it vulnerable to competition in the future. Lockheed and Boeing have largely used ULA as a cash cow, pulling most of its profits back to the parent companies.
Boeing and Lockheed have yet to release their full-year earnings for 2022, but in 2021 ULA was valued by the companies at about $1.2 billion and returned about $134 million to its two parents. Both of those numbers were lower than in previous years, reflecting a slow pace of launch while the company awaits the Vulcan. A valuation of nine times earnings is reasonable for corporate accounting, but shareholders will likely look for a higher premium from outside investors.
So, who would buy the company? Nobody outside the US, for starters. Perhaps one of its existing parents could, but it is difficult to imagine Boeing taking on full ownership of ULA amidst its struggles. Lockheed has a major stake in small-rocket maker ABL Space Systems, which could be complementary to ULA's products, or a reason not to take on the legacy rocket-maker—a varied product line could appeal to customers, or become a supply-chain mess.
Other defense contractors might be interested. Northrop Grumman already builds boosters for Vulcan and has previously competed for national security launch contracts. L3Harris recently made a deal to buy engine-maker Aerojet Rocketdyne, and could see ULA's launch business as a complement.
Outside the usual suspects, things get more interesting. A private equity bid is conceivable, perhaps from a company already active in the space like AE Industrial Partners. Would a tech firm like Apple or Amazon want to own a major rocket-maker? My guess is no. Apple chose to finance its own pet satellite company in Globalstar rather than develop its own satellite network for the iPhone, so it is hard to see the company getting into rockets. Amazon has its own satellite constellation program in Kuiper, but that has synergies with Amazon Web Services that a rocket business wouldn't provide. It also seems unlikely that Bezos would want two companies he owns competing over launch contracts.
That brings us to Blue Origin. ULA and Blue are already closely tied, thanks to Blue's work on the BE-4 engine used by Vulcan. There may be conflicts in operating two new orbital rockets, Vulcan and the forthcoming New Glenn, but the differences between them are significant: The New Glenn is reusable and has substantially more payload capacity. Combining the two programs could let Blue Origin start flying real missions now and give it some breathing space to execute on its more ambitious vehicle.
Whether or not ULA gets sold—sometimes these trial balloons get popped, after all—it would behoove the industry if the talent at the company was unleashed. Under Bruno's leadership, engineers developed schemes to recover rocket engines with helicopters in order to reuse them, put space trucks in orbit, and create a strategic propellant reserve in space. None of these ideas has attracted much internal investment under current ownership, but more big swings could improve ULA's ability to attract top engineers, and give the company a chance to compete on technology as well as reliability.
Someone needs to challenge SpaceX, after all.
🌕🌖🌗

IMAGERY INTERLUDE
Here's an arresting shot of SpaceX's static fire of the Starship Super Heavy booster earlier this month, which sets the stage for an orbital test flight as soon as this month. For scale, that booster has a diameter of nine meters, about the length of two mid-sized automobiles.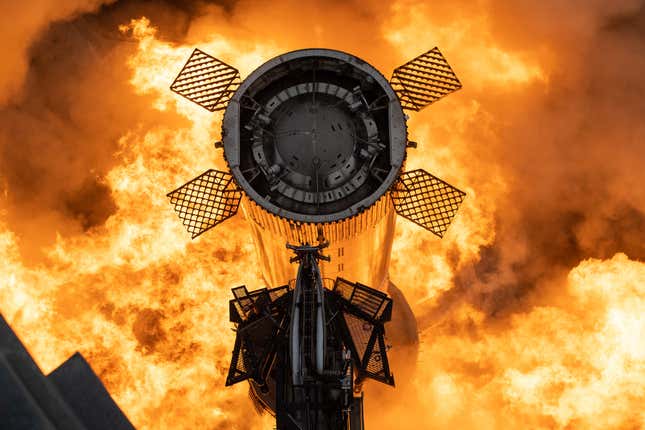 SPACE DEBRIS
Crew-6 heads to the ISS. At press time, SpaceX is expected to launch four astronauts to the International Space Station in the early hours of March 2. The crew includes the second astronaut from the UAE, as well as two representatives from the US and another from Russia. The launch was delayed after a clogged filter gummed up the system that ignites the Falcon 9 rocket's engines.
Apple finds $252 million in the couch cushions for Globalstar. As part of its plans to keep iPhones connected to satellites anywhere in the world, Apple has loaned $252 million to Globalstar to build out a new satellite network. Apple had originally asked Globalstar to raise that money itself, but that's been complicated by the need to refinance a $150 million debt to telecom entrepreneur Charlie Ergen's Echostar. With a deadline of March 13, that's something to watch.

Astroscale raises $76 million. The Japanese company, best known for its ELSA-D orbital rendezvous and proximity mission, announced that its latest fundraising round was led by Mitsubishi. The cash will help set up the firm to launch its next debris-hunting mission for the Japanese space agency and invest in developing satellite life-extension technology.
Blue Origin is still not sure what happened to NS-23. New Shepard chief engineer Gary Lai told attendees at a suborbital rocketry conference that Blue Origin is still working through the investigation of an in-flight failure of a New Shepard rocket in Sept. 2022. The long timeline—SpaceX, for example, took one month to figure out what happened to its failed CRS-7 mission, four months to determine why its AMOS-6 rocket exploded during a static fire, and three months to understand a ground test failure of its crew Dragon vehicle—suggests Blue is still running tests to isolate and replicate what went wrong with its booster.
iSpace aims for April moon landing. The Japanese company's lander launched on a SpaceX rocket in Dec. 2022 and, despite some in-flight hiccups, remains on schedule to visit the lunar surface late next month. If successful, it will be the first private landing on the Moon, following a failed attempt by Israel's SpaceIL in 2019.
Jeff Koons is sending art to the Moon. The polarizing pop artist is sending a new 125 piece work, called "Moon Phases," to our nearest astronomical neighbor as part of a NASA-backed commercial mission operated by Intuitive Machines launching later this year.

Your pal,

Tim
This was issue 170 of our newsletter. Hope your week is out of this world! Please send me your predictions for who will buy ULA, favorite Charlie Ergen stories, tips, and informed opinions to tim@qz.com.
Correction: This newsletter originally reported that the New Glenn is intended to be fully reusable; in fact, only its booster will be reused.