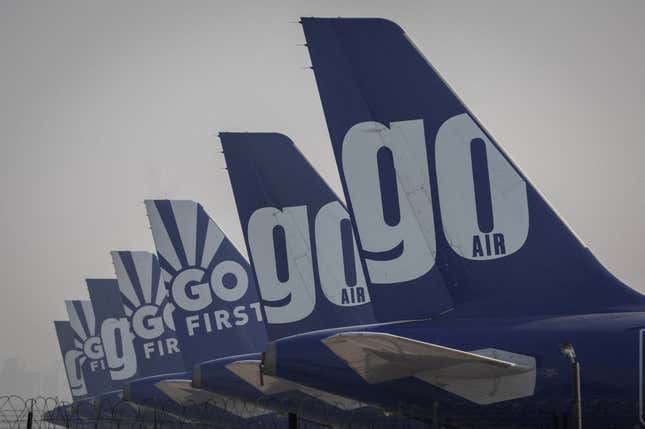 Skyrocketing airfares have burnt a hole in Indians' pockets during vacation season.
Why a tightening of credit conditions could lead to a weak economy
The sudden grounding of the bankrupt low-cost carrier GoFirst is fueling air ticket prices in the country. On some of the busiest domestic routes, they are up as much as 40%.
Burdened flyers are now demanding that prime minister Narendra Modi's government bring back price-capping, according to a survey by community platform LocalCircles.
The Indian government imposed a cap on airfares when air travel resumed post-pandemic. However, it was lifted in August 2022 with the centre giving airlines more say in setting fares.
The more than 30,000 responses the survey received revealed that passengers are also upset over low-cost airlines SpiceJet and Akasa charging higher prices than the full-service airlines like Vistara and Air India on the same routes.

No respite for Indian flyers
Last-minute fares on the Delhi-Mumbai route are now at a premium of more than 200% of $230 as against $80-100 before GoAir got grounded. Similarly, the price of a one-way Delhi-Kochi ticket, which was otherwise around $80, touched $267 in May.

And there is no immediate relief in sight for flyers. GoFirst has extended flight cancellations till June 4 as it seeks the aviation watchdog's approval for its revival plan. Until it makes a comeback, demand will remain high—and so will prices.
"Go First was integral in ensuring that the sector is not a duopoly. Now the market has now largely split up into two broad camps. One is IndiGo one is Tata Airlines. So obviously when the market becomes a sort of a duopoly, which it will be right now, the fares will be much stiffer than they were back in the day," Ajay Awtaney, founder of Live From A Lounge, an Indian aviation sector consultancy, told Business Today in May.
IndiGo holds the largest market share in India with the Tatas—Air India, Vistara, and Air Asia—coming a close second.