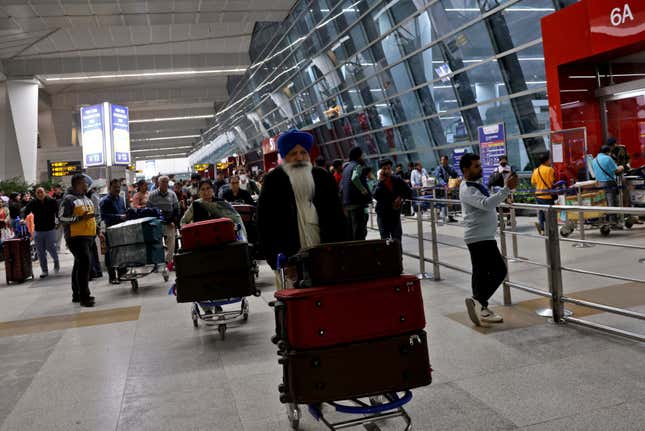 India is planning a $12 billion ramp-up of its aviation sector which is recovering quickly from the pandemic slump and is on its way to a boom.
Carin Pai, Part 2: Reasons to de-risk your portfolio
Domestic passenger volumes had reached 93% of the pre-covid era by December 2022 while international footfalls stood at more than 80%, according to credit agency ICRA. Indian airlines are already placing orders for record numbers of aeroplanes.
Such burgeoning ambition will inevitably put the country's aviation infrastructure under immense pressure.
Prime Minister Narendra Modi's government, therefore, is looking to increase the number of airports alone from the present 148 to 220 by just 2025. The revamp plan also envisions improved air-traffic regulation and control and an increase in the number of flying schools, according to civil aviation minister Jyotiraditya Scindia.

"We need to put in place the civil aviation infrastructure and capabilities that by 2047 would be able to support a $20 trillion economy within India," Scindia said yesterday (March 20) at the CAPA India Aviation Summit held in New Delhi.
India's growing aviation sector
Airport footfalls have been constantly rising in India. In February this year, domestic traffic grew 56.8% with 24.6 million passengers, up from 14.1 million in January, directorate general of civil aviation data show.

These numbers are expected to shoot up. Air India has placed the country's largest aircraft order ever; India's largest airline IndiGo is also plane-shopping. So are others like Akasa Air.
"Surprisingly and shockingly, the situation has turned the other way. Where at one point we did not have passengers to fill our airplanes...now we do not have enough airplanes to fly our passengers," Scindia said at the summit.
However, not everyone is as excited about the mega plan for Indian aviation. Mark Martin, founder and CEO of Dubai-based aviation consulting firm Martin Consulting, believes India is "too late" in putting money in its airports.
"Given the current situation of the airports, it's too late for such an investment. The airport infrastructure is already crumbling, and everyone from flyers to airlines, to cargo operators, everyone is suffering," he told Quartz.
The coming boom, meanwhile, is expected to pose major challenges.

India's carriers, for instance, are facing a shortage of pilots and trained crew. Air India may even cancel some of its US-bound flights due to this. Besides, low-budget airlines like SpiceJet are struggling to keep their finances healthy.