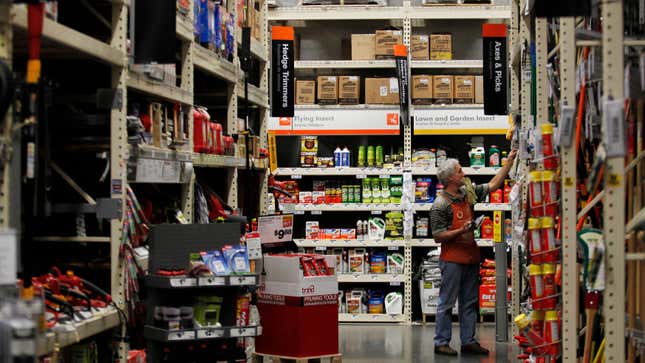 California Attorney General Rob Bonta is gathering a squad of sorts to fight organized retail theft.

Don't expect the Fed to help your investment in Amazon
Bonta announced yesterday (June 20) a new partnership between the Justice Department and more than a dozen retailers and online marketplaces. Together, they committed to help in the "detection and prosecution" of large-scale theft and fraud by individuals or groups that steal goods from brick-and-mortar stores and or the retail supply chain.
Offline retailers like The Home Depot, Target, and Albertsons, as well as online marketplaces eBay, Amazon, and Etsy have endorsed the agreement, which is thought to be the first of its kind. It requires all stakeholders—shops, e-commerce players, and law enforcement—to communicate and collaborate more freely and frequently.
California's plan to fight organized retail crime
Retailers report the crime
The agreement asks physical retailers to file comprehensive police reports, maintain logs of thefts, and train people to collect and preserve evidence, among other things.
Online marketplaces help find the culprits
Often the resale of stolen goods takes place online.
The Senate Bill 301, signed into law in the state last year, provides threshold requirements for marketplaces to collect and store information related to third party high-volume sellers. The agreement takes things a step further, ordering marketplaces to assign staff and tools—dedicate webpage, online portal, or point of contact—to address concerns of theft that come in from retails or law enforcement, and to monitor listings "to affirmatively prevent and detect" organized crime.
In addition, their policies should "clearly prohibit the sale of stolen goods and violators should be penalized up to and including removal from future use of the marketplaces," the document reads.
The public can serve as witness
Members of the public also have a role to play. The Justice Department has established a new online portal where citizens can submit complaints and tips about such crimes they witness. This furthers last year's Assembly Bill 1700, which creates an online reporting tool that provides the public with a mechanism for reporting organized retail theft.
Quotable: Organized crime fighters
"The only way we can take these criminals down is by beating them at their own game and being organized as well."—California State Attorney General Rob Bonta on June 20
A non-exhaustive timeline of California AG Rob Bonta's organized crime arrests and charges
March 2022: Felony charges against members of a statewide organized crime ring, after a search and arrest operation recovering items from retailers including Macy's, Columbia Sportswear, Abercrombie & Fitch, J.C. Penney, and Lululemon.
February 2023: Felony arrests and charges against eight individuals involved in a statewide organized retail crime operation targeting primarily Apple Store locations.

March 2023: Charges against four individuals with felonies for allegedly stealing more than $1 million worth of goods, including Xbox and Acer products, from cargo trucks that had departed from Microsoft shipping facilities.
April 2023: Charges against three individuals involved in a statewide organized retail crime operation targeting Home Depot locations, causing a total loss exceeding $75,000.
Why is California taking on organized retail crime at all?
An uptick in retail theft has lead to daily-use items being put behind lock-and-key or behind the counter—especially in poorer areas. Retailers like Nordstrom, Whole Foods, and Walgreens have hinted at rising crime, or at least a decline in footfall caused by a fear of it, as reasons for store closures.
While shoplifting, employee theft or fraud, or one-off smash-and-grab burglaries, all contribute to the havoc, Bonta's crackdown specifically adresses organized retail crime. It's not focusing on stolen baby formula and toothbrushes for personal use. The targets are multi-billion dollar gang-facilitated robberies, which intend to resell, distribute, or return stolen goods to make money, exacerbating retail shrink.
The cost of organized retail crime, by the digits
$700,000: How much US retailers lose to organized retail crime per every $1 billion in sales, according to a 2020 National Retail Federation (NRF) survey cited by the California AG's office in its announcement
26.5%: Increase in organized retail crime incidents in 2021 reported by retailers on average, according to the 2022 NRF survey
8 in 10: Share of retailers surveyed that reported that the violence and aggression associated with organized retail crime incidents increased in the past year, as per the 2022 NRF survey
31%: Share of retailers that have an organized retail crime team, as per the 2022 NRF survey
$500 million: How much more organized retail crime will cost Target this year versus 2022
400: Cases of suspected organized retail crime Home Depot investigated in the last year alone, Scott Glenn, vice president for asset protection, said last month
One more thing: What are organized retail thieves stealing?
The NRF describes the ideal targets for organized retail crime with the "CRAVED model"—items that are (1) concealable; (2) removable; (3) available; (4) valuable; (5) enjoyable; and (6) disposable.
These range from apparel and health and beauty to electronic appliances and accessories to food and beverage to home furnishings and housewares, and more.
Related stories
👩‍⚖️ ️ Walgreens realized theft isn't as big an issue as litigation costs
🔒 Whole Foods has shut down a store in downtown San Francisco on safety concerns