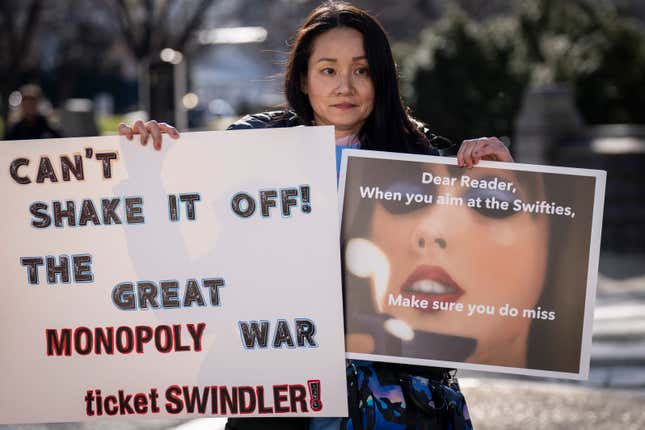 A California bill is taking aim at the US's largest ticket seller, whose position of dominance of the market has often left concertgoers frustrated at the prices and availability of tickets.

As noted by author Pat Garofalo, the SB 829 bill introduced to the California senate in February seeks to undercut a key component of Ticketmaster's monopoly: exclusivity.
The ticket sales giant, owned by Live Nation Entertainment, dominates an estimated 70% of the ticketing market and over 80% of the share for major concert ticket sales in the US. By its own admission, Ticketmaster usually signs five to seven-year exclusivity deals with concert venues, though the agreements can sometimes exceed 10 years.
SB 829 would ban these kinds of deals. As the abstract for the legislation states: "This bill would prohibit the operator of an entertainment facility and a primary ticket seller from entering into a contract that provides for the primary ticket seller to be the exclusive ticket seller for the operator of the entertainment facility."
The bipartisan bill, sponsored by Republican Scott Wilk and Democrat Laura Friedman, would deal a heavy blow to Ticketmaster and Live Nation's business model. With the former selling tickets, and the latter handling concerts and artists, venues often have little choice but to make deals with both companies—or risk being cut off altogether.
"Venue operators must take into account the very real possibility that Live Nation Entertainment will not route tours through their venues if they do not select Ticketmaster as their primary ticketing service provider," alleged one lawsuit filed in California against the two companies in 2022.
The bill is currently set for a state senate appropriations committee hearing on May 8. Quartz has reached out to Ticketmaster and Live Nation for comment.

Troubles with Ticketmaster, from Pearl Jam to Taylor Swift
Live Nation bought Ticketmaster in 2010, effectively forming a monopoly. Its recent bungling of ticket sales for Taylor Swift's Eras tour, which kicked off in March, generated public outrage, congressional scrutiny, and legislative pushes to tackle Ticketmaster's dominance in the industry.

But disputes with Ticketmaster date back to 1994. That year, alt rock band Pearl Jam canceled its summer tour when it discovered the company was slapping on a service charge far above their requested cap of $1.80. The group lodged an antitrust complaint against Ticketmaster. Pearl Jam ultimately lost its crusade, with the Justice Department closing its investigation on July 5 that year.

"Getting attacked by a superstar rock band is a lot like being accused of kicking your dog: There's a general presumption of guilt until proven innocent," Ticketmaster said in a statement to Rolling Stone at the time. It added: "Luckily the facts were on our side, and we prevailed."
Pearl Jam decided to forgo Ticketmaster for its tour in 1995, a decision that reportedly cost the group millions of dollars. It ultimately canceled its tour in the US due to difficulty finding venues.

Live Nation is raking in record profits
Yesterday (May 4), Live Nation reported a record $3.1 billion in first quarter revenue, up 73% from the same quarter last year. It brought in $2.3 billion in concert revenue, marking an 89% jump year on year. The company has already sold about 90 million tickets in 2023.
Part of the jump in revenue is likely due to pent-up demand following years of covid restrictions.
"For the first time in three years, all of our markets are fully open. The common theme we are seeing around the world is that live experiences are a high priority for fans," Live Nation said in a press release.
The company is selling tickets for some of the biggest acts going on tour this year, including Beyoncé, Harry Styles, P!NK, and Kalis Uchis.
Related stories
🤑 The Cure forced Ticketmaster to refund fans a portion of "unduly high" fees

😡 ​Taylor Swift fans' rage sparks calls to break up Ticketmaster and Live Nation

🧐 Taylor Swift didn't fall for FTX because she asked a simple question