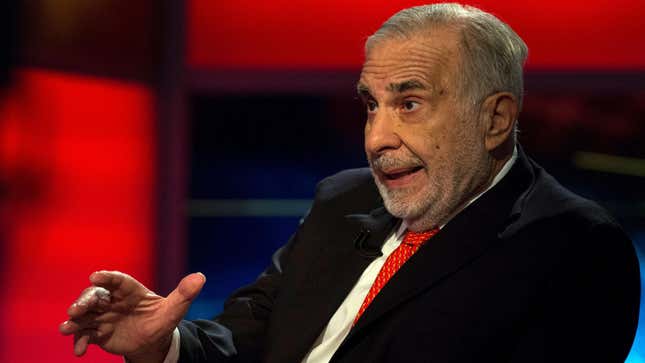 Investors were spooked by the news that federal prosecutors put Icahn Enterprises on their radar, which caused the stock to take yet another tumble.

The publication of a Hindenburg Research report earlier this month, which accused the conglomerate created by legendary Wall Street investor Carl Icahn of inflating assets by more than 75%, among other things, caused the shares to hit their lowest point in more than a decade. Icahn's net worth lost $10 billion, according to Bloomberg.
Markets weren't the only ones taking an interest in the report. The US Attorney's office for the Southern District of New York contacted Icahn Enterprises on May 3, "seeking production of information relating to it and certain of its affiliates' corporate governance, capitalization, securities offerings, dividends, valuation, marketing materials, due diligence and other materials." The company disclosed the request in a filing with the Securities and Exchanges Commission (SEC) yesterday (May 10).
Icahn Enterprises shares, which closed at the price of $37.97 on May 9, fell 15% over the day to $32.22, wiping $2 billion off the company's market cap following the disclosure of the federal request.
The New York-headquartered company said it is cooperating, but emphasized that the US Attorney's office has "not made any claims or allegations" against it or Icahn himself.
Later the same day, the firm also tried to set the record straight in a detailed letter refuting Hindenburg's accusations, in which it said Hindenburg Research "would be more aptly named Blitzkrieg Research given its tactics of wantonly destroying property and harming innocent civilians."
Charted: Icahn Enterprises' stock sank after Hindenburg report
Quotable: Icahn Enterprises will fight back
"The good news for IEP's (Icahn Enterprises) investors is that we have Carl, the liquidity, the strategy and the know-how to fight back."—Icahn Enterprises' response to Hindenburg
Person of interest: Carl Icahn
87-year-old Icahn has earned a reputation as an activist investor known for unlocking shareholder value at companies ranging from iPhone maker Apple to fast food chain McDonalds to streaming behemoth Netflix.
Icahn Enterprises' financial standing, by the digits
84%: Share of the Company's outstanding units owned by Icahn and his affiliates
$1.9 billion: How much cash Icahn Enterprises holds
$4 billion: Icahn Enterprises' additional liquidity
$6.6 billion: Loss in Icahn Enterprises' market capitalization the day after Hindenburg Research published the report.
$13.6 billion: Carl Icahn's net worth as of May 9, almost half the $25 billion recorded at the end of April
More than 40%: Fall in Icahn Enterprises' shares since the start of the Hindenburg saga.
A brief timeline of Hindenburg's shorts this year
January: At the start of this year, Hindenburg went after the enterprise run by one of India's richest men, Gautam Adani, accusing Adani of adding over $100 billion to his net worth over the last three years, largely through stock manipulation, fraud, and money laundering. Adani put out a 413-page rebuttal but the scrutiny didn't stop. An expert panel recently submitted a report to the Supreme Court, which will start hearings on the matter tomorrow (May 12).
March: Hindenburg Research accuses Jack Dorsey's payments firm Block of facilitating fraud against consumers and the government, avoiding regulation, dressing up predatory loans and fees as revolutionary technology, and misleading investors with inflated metrics. Block's response impressed Wall Street and the stock bounced back.
May: Hindenburg Research chides Icahn Enterprises for its "Ponzi-like" structure.
Related stories
🎭 Who is behind Hindenburg, the research firm targeting the Adani group?
🎯 Activist investor Carl Icahn is Hindenburg Research's latest short-selling target
💸 Jack Dorsey's fintech company Block is being accused of facilitating criminal activity