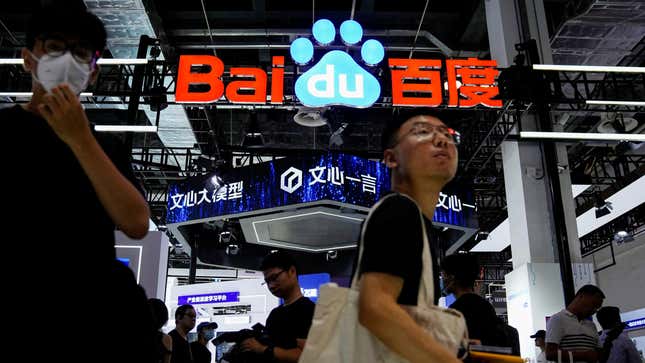 China appears to have softened its proposed regulations of generative AI. The Cyberspace Administration of China, the nation's top internet watchdog, has released the latest version of its artificial intelligence guidelines. Notably, some specific restrictions from the initial draft, which was first published in April and open to public comment, have been removed or clarified.
The new generative AI rules are expected to take effect on Aug. 15, which would make China one of the first countries to regulate the nascent industry. China's top internet companies—including Alibaba, Baidu, and JD—have already announced their own AI bots to rival OpenAI's ChatGPT.
Here are some of the changes in China's AI guidelines, from the initial draft to the latest (pdf):
Beijing's regulations will apply to all generative AI services offered to the public. But generative AI technology developed for use only outside the country is now exempt from the rules.
Language in the first draft said fines of no less than 10,000 yuan ($1,400) and no more than 100,000 yuan ($14,000) will be imposed. In the latest version, the language on fines was removed.
The previous draft said providers of generative AI services must "be able to guarantee the authenticity, accuracy, objectivity, and diversity of the data." In the latest version, the language was refined to say they must "take effective measures to improve the quality of training data, and enhance the authenticity, accuracy, objectivity, and diversity of training data."
Other initial rules have stayed: Providers of generative AI services must undergo a security assessment, and AI tools must adhere to socialist values.
China's latest stance on AI regulation underscores how countries are trying to create guardrails around new technology while also encouraging innovation, with the stakes arguably heightened for Beijing given the tech rivalry between the US and China. In 2022, US-based AI startups attracted five times more funding than their Chinese counterparts, according to CB Insights, a market research firm. For China, making government rules more lax could further boost domestic development.

Startups are watching as governments grapple with how to regulate the fast-moving AI industry

Many of the proposed AI regulations around the world— such as the EU's AI Act—are in limbo. That puts businesses, particularly startups, in a tough situation when it comes to building their AI products, says Jeff Wong, EY's global chief innovative officer. "I am concerned about overly restrictive regulations that make innovation more expensive," he told Quartz in a recent interview, before the latest rules update from Beijing. "I don't think they mean to do that because they want the economic growth that comes with innovation."
Wong argued that startups would be more willing to move to less restrictive countries to avoid regulation. Certainly, the rise of remote work and the interest venture capital funds have shown in geographies beyond Silicon Valley suggest an increased ability for nascent AI companies to pull up stakes and relocate as needed. It could put natural pressure on governments to set the least restrictive rules possible, both to prevent innovative startups from moving out and to encourage startups from elsewhere to move in.