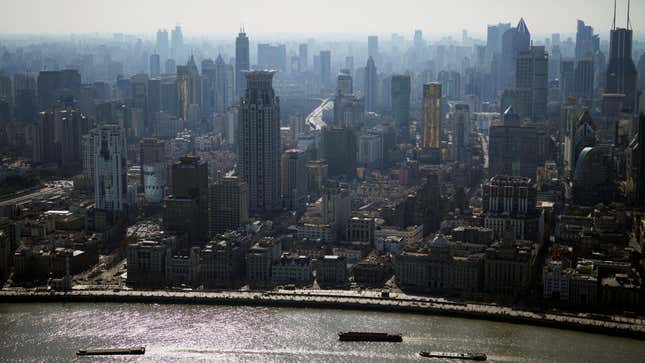 One of Bain & Co's offices in China had some surprise visitors recently.
The Chinese police made an unannounced visit to the US management consultancy's Shanghai hub roughly two weeks ago and questioned employees, according to the Financial Times, which reported the incident yesterday (April 26) citing six people familiar with the situation.
Ben Emons Part 2: The Fed, Apple shares
The police reportedly confiscated computers and phones but did not hold any employees in their custody.
The visit to Bain is part of a cycle of heightened scrutiny of foreign businesses in China, even as tensions between Beijing and Washington intensify. Bain's case is no exception; several foreign firms have faced the brunt of China's policing recently. Which makes the recent contention, by China's new premier Li Qiang, that "China will open its door wider and wider" to foreign entities look mostly like lip service.

"The Chinese government has continuously said it welcomes foreign investment," Michael Hart, the president of American Chamber of Commerce in China, told the BBC. "However, a flurry of recent actions taken against US enterprises in China has sent the opposite message. Our business community is spooked, and our members are asking, 'Who's next?' Irrespective of the government's intention, that's the message being received."

By the digits: Bain & Co's China presence
3: The number of offices Bain has in China: in Shanghai, Beijing, and Hong Kong
19: The number of years Bain's Shanghai office has been in operation

200: The number of employees Bain has in China who consult for a slew of Chinese clients, including Jack Ma's Alibaba and the electric vehicle startup Li Auto

A brief summary of US-Sino tensions
The spark to the ongoing US-China trade war came in 2018, when the Trump administration enacted sweeping tariffs against Chinese imports. Things have only flared since. Along the way, the US—much to China's chagrin—criticized the genocide of Uyghur Muslims, boycotted the 2022 Beijing Winter Olympics, and showed solidarity with Taiwan. At the end of 2022, in Indonesia, the US president Joe Biden and the Chinese premier Xi Jinping met in person for the first time during Biden's presidency to repair bilateral relations. However, in February, the efforts were derailed when the US shot down what it claims was a Chinese spy balloon. (China insists it was a harmless weather satellite that had drifted off course.)
Quotable: China is increasingly unfriendly towards US firms
"[W]e are concerned about a recent uptick in coercive actions targeting US firms, which comes at the same moment that China states that it is re-opening for foreign investment."
A non-exhaustive list of China's crackdown on foreign firms in 2023
Mintz Group: Chinese authorities raided the Beijing office of the Mintz Group, a US-based corporate due diligence firm. They shut down the office and detained five employees, all of them Chinese nationals.
Deloitte: China fined the biggest of the Big 4 consulting firms $30.8 million and suspended its Beijing operations for three months for alleged auditing discrepancies. That's on top of asking state-owned firms to phase out contracts with the Big 4.
Astellas Pharma: China detained a senior executive from the Japanese pharma giant on espionage charges.
Micron Technology: China's cybersecurity regulator launched a probe into the US memory chip manufacturer on national security grounds. "It is a major concern because China lacks transparency in many conventions of law and policy, and this is one," said Lester Ross, chair of the policy committee at the American Chamber of Commerce in China.
Raytheon and Lockheed: China has barred senior executives of the US-headquartered defense firms from entering, working, and residing in the country for two months now. It has sanctioned the two military-adjacent firms as well.

Related stories
🌎 To compete with China, Europe has to question the orthodoxy of globalization
🇺🇸 One in four Americans now sees China as an enemy of the US
🪖 China sanctions US military companies supplying arms to Taiwan