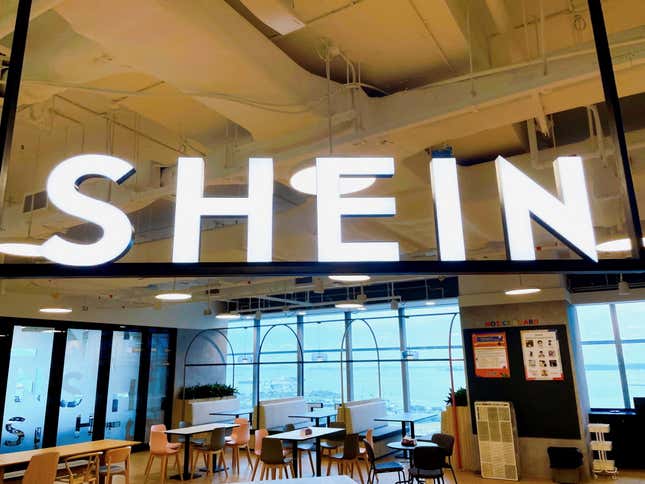 Fast-fashion giant Shein is the latest company to face increased scrutiny from Washington, after a sprawling report by a Congressional committee investigating China detailed allegations of copyright infringement and unfair labor practices.
Eric Beiley Part II: Where rates are heading
The retailer, which was founded in China but is based in Singapore, has dodged accusations of unfair labor practices for years.
Specifically, the report published by the US-China Economic and Security Review Commission (USCC) accuses Shein of allegedly sourcing cotton from Xinjiang, a violation of the Uyghur Forced Labor Prevention Act.
The report comes just a week after a bipartisan group of Congressional lawmakers wrote a letter to the US Securities and Exchange Commission (SEC) demanding increased scrutiny of Shein's business practices.
"There are credible allegations of the company's use of underpaid and forced labor in the Xinjiang Uyghur Autonomous Region," the letter said, also asking the SEC to independently verify that Shein doesn't use forced labor before allowing it to launch an IPO in the US.
The USCC report also cites numerous lawsuits against the company for blatantly copying high-fashion designs with low-priced materials, as well as alleging that it dodges US tariff and customs inspections to keep the price of its products low.
The USCC expresses similar concerns about the business practices of Temu, a Shein competitor that lets American consumers buy products directly from Chinese warehouses. Temu has surged in popularity this year, becoming the most popular download in the iOS app store for a four-month period last fall.

Quotable:
"Shein and similar firms serve as a case study of Chinese e-commerce platforms outmaneuvering regulators to grow a dominant U.S. market presence." —The USCC report, alleging that Shein's financial success largely stems from skirting business regulations
Shein's market dominance: by the digits

#1: Shein holds the largest market share in the US fast-fashion industry.
200 million: Downloads of the Shein app in 2022.
$64 billion: Shein's valuation ahead of a potential IPO this year. That figure is down from a whopping $100 billion valuation in April 2022.

2,000–10,000: Styles added to Shein's app each day between July and December 2021, according to a report by nonprofit publication Rest of World.
600,000: Styles advertised on Shein's website at any given time.
6.3 million tons: Carbon dioxide produced each year by the company's consumption of oil and use of virgin polyester, equal to the emissions from 180 coal-fired power plants.
Related stories:

📱 US teens are flocking to a Chinese e-commerce site you've never heard of
♻️ Shein's new resale platform won't do much to quell sustainability complaints
🌏 The dirty industry of fast fashion is causing an environmental "emergency"