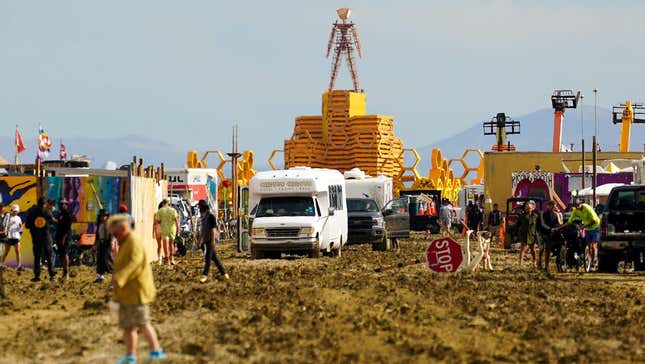 Tens of thousand attendees at the Burning Man Festival in Nevada's Black Rock desert were stuck on muddy campgrounds over the weekend, as heavy rain inundated the venue.
Should you keep investing in Big Tech?
The rain came as a change, although not necessarily a pleasant one. Typically, Burning Man is plagued every year by extreme heat and dust storms. This time, torrential rains that started on the night of Friday (Sep. 1) shut the festival down over the weekend.
Both ways to access the counterculture extravaganza—either driving on a two-lane rural highway leading to the festival's gate or flying into its small, temporary airport–were still closed as of yesterday (Sep. 3). A flood watch remains in place as of Monday (Sep. 4) morning. The closest city is Reno, 140 miles away.
Things got so out of hand over the that US president Joe Biden was briefed, and Nevada's national guard offered a helping hand. "We're very pleased and surprised that there has been such a fuss over us," Marian Goodell, the CEO of Burning Man Project, told NBC News. The organizers appreciated the "fuss" but didn't see this as "an evacuation situation," Goodell added.

Festival administrators are trying to keep things in check by requesting people to stay put. They have asked people to conserve food and water, set up charging stations, brought in additional mobile cell towers and provided wifi, and started shuttle services to nearby towns, among other things. Some four-wheel drive vehicles and all-terrain tires were able to navigate the mud to leave yesterday (Sep. 3), but most vehicles got stuck, Washoe County officials said.
The festival's main "burn" event, the burning of a 40-foot effigy of a "man," was postponed twice until Monday (Sep. 4) night. There is, as yet, no estimated time for the reopening of the gates for participants to drive out.
The flood alarms and torrents of rain are portents of things to come. In the future, Burning Man's organizers will increasingly have to plan for extreme weather, and not just the anticipated triple-digit temperatures and scorching heat characteristic of the terrain. Nevada's average rainfall and frequency of rainstorms is set to increase as the climate crisis worsens, according to the Environmental Protection Agency.
A brief explanation of Burning Man
Since its inception in 1986, Burning Man has marketed itself as a place of "radical" self-expression and self-reliance away from capitalism—a pitch that lured in artists, Silicon Valley tech bros, the who's who of Hollywood, and others who can afford the thousands of dollars it costs to be part of the community that builds and breaks down the event.
Burners do their own construction, including accommodation and art installations, and their currency is gifts, not money. The world's richest man, Elon Musk, who has shown up almost every year for the last two decades, describes it as the "best art on Earth." It's unclear if Musk has been in attendance this year, but his brother Kimbal has been spotted roughing it out.
By the digits: Burning Man
35: The number of attendees in 1986, when co-founders Larry Harvey and Jerry James built a human effigy and burned it on a San Francisco beach
$575: The price of a ticket to Burning Man
$1,500: The average cost of attending Burning Man, including lodging, travel and attire, as per a CNBC estimate
105°F (40°C): Temperatures last year, versus the low 60s and 70s this year
Up to 0.8 inches: The volum of rainfall that Burning Man's site received in just 24 hours between Friday and Saturday, equivalent to between two and three months of rain
73,000: The number of stranded Burning Man attendees this year
1: The number of deaths during the weekend's torrential rain, as per the Pershing County Sheriff's Office
People of interest: Diplo, Chris Rock, and others who walked out
On Sunday (Sep. 3), the American DJ Diplo wrote on X that he and Chris Rock walked "5 miles in the mud out of burning man" and then got picked up by a fan.
Neal Katyal, the former deputy solicitor general of the US, also claimed to have made a six-mile hike through slippery mud in the dead of the night to get out. He doesn't recommend it. "[I]t is very slippery and the mud is like cement and sticks to your boots. It also has some quicksand properties—it grabs your boots and sometimes you are stuck. No one should try this unless in good shape and part of a group. It was quite hard, and will get harder if/when it rains more," he posted on X.
Quotable: Climate change at Burning Man
"However, such heavy rain events are typically somewhat localized—so fact that fairly heavy rain fell in *this* particular location during *this* particular week—while there are 70k people in a pretty remote stretch of (usually) dry desert lakebed—makes this event a big deal. The question of whether #ClimateChange is increasing the odds of #BurningMan washouts is, quite frankly, not too high on my list of climate concerns. But is it plausible? Yes, probably—the heaviest downpours will increase almost everywhere in a warming climate.
One more thing: Another climate change fight at Burning Man
The rain wasn't the only environment-related crisis Burning Man faced this year. On opening day on Aug. 27, climate and anti-capitalist activists blocked a road leading into Burning Man.
The festival, where everything is ferried in on petrol- and diesel-guzzling vehicles, and where vast structures are lit aflame, pumping tons of carbon into the atmosphere, is bad for the planet. The festival's leave-no-trace policy mandates that people dispose of all their own debris, but attendees tend to leave trash in and around Lake Tahoe, which becomes a headache for Reno residents. The rush to evacuate after the stormy weather this year has likely led to lots of rubbish being left behind in the campsites as well.

Burning Man wants to reach zero emissions by 2030, but it hasn't shared a blueprint of how it intends to do that.
The activists behind the blockade called on organizers to ban single-use plastic, unnecessary propane burning, unlimited generator use, and—the lowest-hanging fruit—private jets. But the protesters were met with violence, not discussion. Trucks from the Pyramid Lake Ranger Station, a tribal law enforcement agency, rammed through the barricade and handcuffed unarmed protestors at gunpoint. The cop who pulled out his weapon is apparently under review.
Related stories
🎪 Kumbh Mela and Burning Man: What the world's two craziest pop-up cities have in common
💸 The real reason Burning Man isn't for regular folks
🕵️ Quiz: Can you tell a real Burning Man event from a fake one?