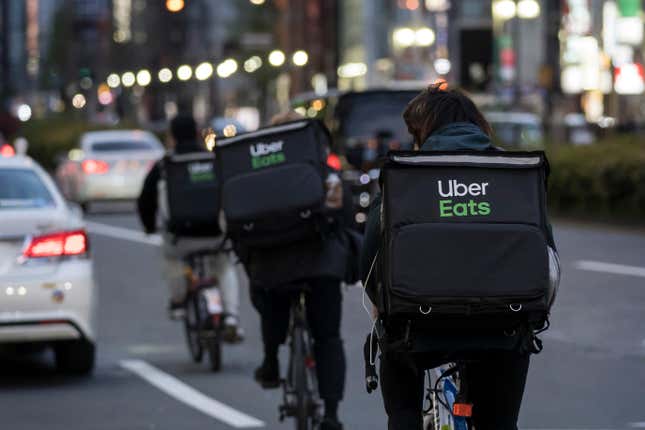 Major food delivery companies—including DoorDash, UberEats, and GrubHub— are suing New York City over a new law that raises the minimum pay rate for app-based delivery workers. The New York City Department of Consumer and Worker Protection passed the law, the first of its kind, in June, and it takes effect on July 12.
DoorDash and Grubhub filed a joint lawsuit in the New York Supreme Court, while Uber Eats filed its own in the same court. The companies argue that wage minimums will lead them to increase consumer fees, as well as limit the number of workers.
Lawyers for the companies are seeking a preliminary injunction to prevent the law from taking effect, arguing that the new wage rules mean delivery workers will receive a base compensation greater than the city's minimum wage.
If the law is enacted, it will mandate that all delivery workers earn an estimated $19.96 an hour, a dramatic increase from the current average hourly rate of $7.09. It achieves this by requiring app-based food delivery companies to either pay a minimum hourly wage of $17.96 (not including tips) or pay workers 50 cents for every minute of their trip.

Currently, app-based delivery workers have no minimum wage floor and virtually no guaranteed worker protections, with the pay rate unilaterally determined by the company they work for. This is because DoorDash, Uber Eats, and Grubhub, don't directly employ the workers, and instead classifying them as independent contractors.
New York City officials "disappointed" by the lawsuit
In a prepared statement, the New York City Department of Consumer and Worker Protection said they were "disappointed" by the lawsuit, and reiterated that "all workers deserve fair pay for their labor."

Eli Scheinholtz, a DoorDash spokesperson, said the lawsuit was aimed at protecting consumers' wallets.

"Bad policies cannot go unchallenged, and we will not stand by and let the harmful impacts of this earnings standard on New York City customers, merchants, and the delivery workers it was intended to support go unchecked," Scheinholtz said in an email to Quartz.
Scheinholtz also said the law would lead to the company paying workers for downtime between deliveries,
In May, DoorDash raised its annual profit forecast after beating quarterly revenue expectations.
The company went public at the end of 2020, following a surge in profits during the pandemic. The next year DoorDash CEO Tony Xu took home $413 million. DoorDash promises a base payment of between $2-$10 to its workers for each delivery.
Grubhub laid out similar reasoning for the lawsuit in an email to Quartz, while Uber Eats was not immediately available for comment.
Food delivery company Relay—which runs an app that allows couriers to contract with third-party delivery services like DoorDash and Uber Eats simultaneously—announced it was also suing New York City over the same law.
Matt Miller, a Relay representative, said the company believes it has been incorrectly classified with other companies in the space.
"Relay is the only strictly B2B service targeted by the minimum pay rule, and has no consumer-facing app," Miller said in an email to Quartz.

Quotable:
"These workers brave thunderstorms, extreme heat events, and risk their lives to deliver for New Yorkers—and we remain committed to delivering for them. The minimum pay rate will help uplift thousands of working New Yorkers and their families out of poverty." — Vilda Vera Mayuga, the New York City Department of Consumer and Worker Protection commissioner, in a June press conference.
Delivery workers in NYC, by the numbers:
60,000: Estimated number of delivery workers in New York City
$7.09: Average hourly wage for a delivery worker in New York City.
#1: Ranking of New York City in the worldwide list of most expensive places to live.
Related stories:
🧢 Food delivery price caps are starting to unravel
🤑 Uber and DoorDash found a way to make food-delivery profitable
🚙 A California court voted to uphold Proposition 22 in a win for Uber and Lyft