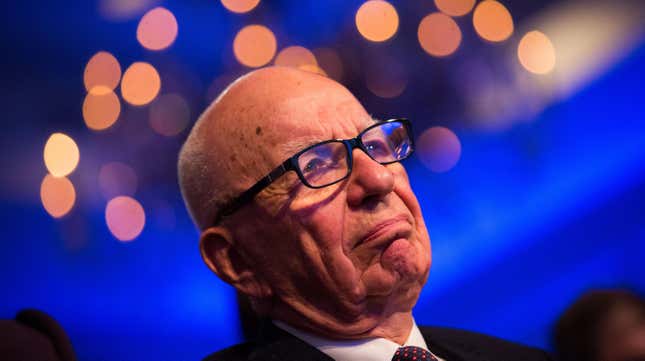 The Theranos scam co-conspirators have to foot a huge bill for their crimes.

In a ruling yesterday (May 16), US district judge Edward Davila ordered Theranos founder Elizabeth Holmes to pay $452 million in restitution to those she duped while building her hoax blood-testing business.
Paulina Porizkova on being an Estee Lauder model
The disgraced Theranos founder is being held jointly liable for that amount with her former lover and business partner Ramesh "Sunny" Balwani, who started his 13-year prison sentence last month.
At $125 million, the biggest payout will be made to media mogul Rupert Murdoch.
Person of interest: Rupert Murdoch
Murdoch, alongside a group of high-profile individuals like Oracle co-founder Larry Ellison, former secretary of state Henry Kissinger, and former education secretary Betsy Davos, pumped millions into the venture spearheaded by Holmes, a young and ambitious college dropout.
Once a series of Wall Street Journal investigations in 2015 revealed the company's machines were not actually able to run tests from tiny blood samples as advertised, subsequent regulatory scrutiny brought Theranos to its knees. Murdoch stood to lose the $100 million he invested in the startup between 2014 and 2015.
The Theranos restitutions, by the digits
$40 million: How much Holmes and Balwani have to pay Walgreens. The second-largest pharmacy chain in the US paid Theranos $140 million, of which $100 million was an "innovation fee."
$14.5 million: The amount Davila has said Holmes and Balwani have to pay Safeway. The California-based supermarket chain signed a contract with the blood-testing startup in 2010 and spent nearly $400 million on the deal, remodeling nearly 1,000 stores to build patient service centers and hiring two dozen phlebotomists.
$878 million: The restitution amount prosecutors were seeking from Holmes, nearly double the eventual amount assigned
Will Holmes and Balwani pay the $452 million restitution bill?
It's not clear how 39-year-old Holmes, whose net worth went from $4.5 billion at its peak to nothing after Theranos imploded, will pay the fine. In 2022, Balwani's net worth was $85 million, which even in its entirety makes a small dent in the total amount owed.
In separate hearings, lawyers for Holmes and Balwani argued that the two were nearly broke after running up millions of dollars in legal bills while proclaiming their innocence.
The Department of Justice acknowledges it is "rare" that defendants ever fully pay the restitution amount they owe.
One more thing: Holmes can't put off prison any longer
Also on May 16, an appeals court rejected Holmes's bid to stay out of prison, an 11th hour appeal to avoid a sentencing that was due to start on April 27. Davila, who sentenced her in November, will set a new date for her surrender.
Related stories
🏪 How Safeway and Walgreens fell for the Theranos pipe dream