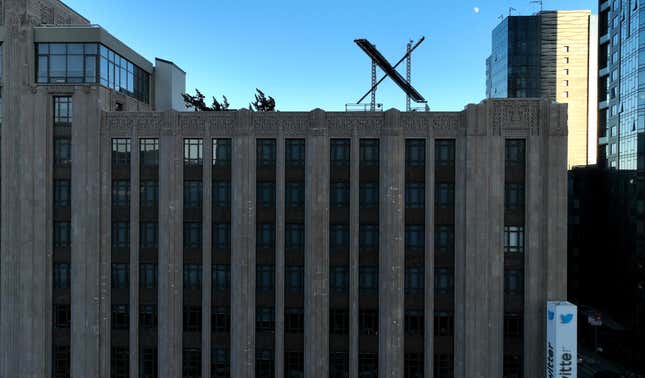 Elon Musk is threatening a defamation suit against the Anti-Defamation League, a prominent Jewish civil rights group, saying the group's calls for advertisers to pause their spending on the platform formerly known as Twitter were based on false accusations that have financially damaged the company.
What inspired Elon Musk's design for Tesla's Cybertruck?
The billionaire owner of X, formerly known as Twitter, said he had no choice but to sue the group to "clear our platform's name on the matter of anti-Semitism." And then there are the financial considerations: Fidelity, which helped finance Musk's $44 billion takeover, is holding its shares at a 58% discount, indicating that the social-media platform may now be worth less than $20 billion.
"Based on what we've heard from advertisers, ADL seems to be responsible for most of our revenue loss," Musk tweeted. "Giving them maximum benefit of the doubt, I don't see any scenario where they're responsible for less than 10% of the value destruction, so ~$4 billion." Later he suggested the impact could be as high as $22 billion.

A "giant data dump" of the ADL's communication with advertisers is coming, but it might take until next week because X is short-staffed this week, he said.
While Musk spent the Labor Day holiday weekend in the US amping up his rhetoric, his feud with the ADL, and other anti-hate groups, has been brewing for the better part of a year.
A brief timeline of antisemitism on X since Musk took over
The ADL was calling out antisemitism on Twitter for more than a decade before Musk showed up. In 2012, it flagged the "A good Jew" hashtag for propagating antisemitic tweets. In 2014, it tracked an influx of antisemitic messages in Spain the following Maccabi Tel Aviv basketball team's victory over Real Madrid.
After Musk bought Twitter in October 2022, he very quickly faced his own challenges related to antisemitic content on the platform.
Jan. 24: A lawsuit filed in Germany accuses the platform of mishandling Holocaust denial, which is a crime in the country.
Feb. 9: Twitter stands to earn $19 million annually from ads on just 10 toxic reinstated accounts, the Center for Countering Digital Hate (CCDH) reveals. To name a few, there's controversial kickboxer-turned-influencer Andrew Tate, who has been charged with human trafficking and rape, and Anthime Gionet—alias Baked Alaska—the white supremacist who has been sentenced for his role in the Capitol insurrection
April 5: Germany threatens to fine X (then Twitter) €50 million ($54 million) per case for failing to act on antisemitic speech takedown requests in the country. At the time, there were around 600 cases.
May 15: Musk baselessly and irresponsibly posts that billionaire George Soros, a frequent target of antisemitic conspiracy theories, "hates humanity" to his 140 million followers at the time
May 24: ADL publishes a report that discloses 5,000-plus examples from February of "virulent antisemitism from 2,173 accounts" on Twitter after accounts were reinstated under free speech advocate Musk's direction.
June 7: Musk boosts an antisemitic tweet from an account that pushes QAnon conspiracy theories and hate speech. His reply wasn't hateful per se, but his willingness to engage with such posts would embolden others.
Aug. 30: ADL director Jonathan Greenblatt publishes a post on X saying X CEO Linda Yaccarino reached out and had a "frank" and "productive" conversation about effectively addressing hate on the platform. (The tweet is later deleted.)
Sept. 1: Musk starts liking posts with the #BanTheADL hashtag.
Sept. 4: Musk says X will sue ADL for defamation and shares an article chiding the group, while commenting on an "interesting documentary" that criticizes the organization. In replies to tweets, he says former Fox News anchor Tucker Carlson, whom the ADL called an "obvious antisemite" who should be deplatformed, was "welcome to join" X's suit. Musk briefly entertains a right-wing campaign to ban the ADL on X, teasing the idea of running a poll on this; soon after, he says the group will not be banned unless it breaks the law.
X's growing hate problem
The ADL isn't the only anti-hate group with which Musk has butted heads.
In June, the Center for Countering Digital Hate (CCDH), a British nonprofit, published research claiming that Twitter didn't act on 99% of hate posts by Twitter Blue (premium) users, and that its algorithm boosts "toxic tweets." On July 20, CCDH got a letter from Musk's company, accusing it of making "a series of troubling and baseless claims that appear calculated to harm Twitter generally, and its digital advertising business specifically." By the end of the month, X had sued CCDH.
Now it seems Musk is on a similar course against the ADL. The nonprofit "has been overzealous in recent years & hijacked by woke mind virus," Musk tweeted. Specifically, he claims the ADL has been "trying to kill this platform by falsely accusing it & me and of being anti-Semitic," since the acquisition.
Quotable: Free-speech crusader Musk
"To be super clear, I'm pro free speech, but against anti-Semitism of any kind." —Musk's Sept. 4 tweet
One more thing: X is changing in other ways

While engaging with Twitter users about ADL, Musk revealed a couple other things about X's future:
🚫 Permanent bans will be "rare" going forward and organizations may see their takedown requests made public and put to a vote
📊 Speaking of polls, X will soon "allow votes only by verified users." Musk claimed its to foolproof the polls from bot attacks. It's a futile exercise when you consider Twitter has been handing blue ticks to AI-generated profiles.
Related stories
📮 Elon Musk said Twitter's ad revenue has halved
🚧 Elon Musk has made Twitter CEO Linda Yaccarino's job even harder
🏳️‍⚧️ Elon Musk made Twitter a more hostile place for trans people