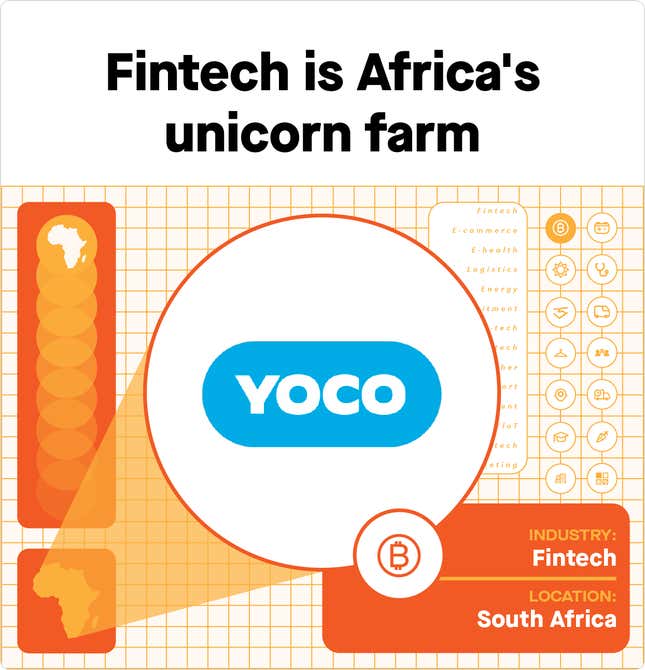 Hi Quartz Africa members!
Welcome to the second edition of the Quartz Africa Member Brief, our weekly analysis of the opportunities and challenges available to startups on the continent. Readers of Quartz Africa Weekly are getting a free preview of this newsletter. To keep it coming to your inbox, sign up for a free trial to Quartz Africa membership.
Okay, let's get started.
---
Making payments possible
Africa is home to the world's most exciting fintech startups, which are stepping in to serve millions of people underserved by established financial institutions. Of the $5.2 billion in venture capital funding that went to startups on the continent last year, fintech accounted for a third of the deals and 63% of the investment dollars.
Some of those deals are significant. In September, Senegal-based mobile money provider Wave closed a $200 million Series A round that crowned it Francophone Africa's first unicorn. That achievement put Wave in a club with Nigerian payments startup Flutterwave—Africa's most valuable unicorn—which secured $170 million last March and another $250 million this month. In 2020, Stripe made its first-ever acquisition in Africa by scooping up Nigeria-based Paystack, a Flutterwave competitor, for $200 million. And in South Africa last year, Yoco, which offers portable credit card machines to small businesses, raised $83 million in a Series C round.
What connects these companies is that they are facilitating trade and transactions, often for the small businesses that are the backbone of the African economy. In that space, there will be many more opportunities for enterprising startups to make strides.
---
Cheat sheet
💡  The opportunity: In many African countries, those who can't access the established ways of receiving payments or moving money outnumber those who can. Fintech is a diverse industry with numerous opportunities to make hay: savings, payments, investment, lending, remittances, and so on. These companies are solving problems that legacy institutions have been reluctant to tackle.
🤔  The challenge: Fintech companies require certain authorizations from regulators, who are often wary of innovation. Nigerian-based startups, for example, are engaged in long-running battles with the country's central bank, an edict from whom can make or break them.
🌍  The road map: Funding these startups remains a primarily Western endeavor, with money pouring in from VCs in the US and Europe. A lot of that capital has gone to companies in Nigeria, South Africa, and Kenya. There needs to be an effort to fund companies in smaller markets, where local bigwigs also need to better support startups.
💰  The stakeholders: Global VCs like Sequoia Capital, Tiger Global, and payments giant Stripe are making a play. The ubiquitous SoftBank has dipped its toes into African waters with a recent investment in OPay. Locally, firms like Microtraction, Ingressive Capital, Ventures Platforms, EchoVC, and others often make the first round of bets on promising companies.
---
By the digits
350 million: Africa's unbanked population
$3.2 billion: Total funding raised by African fintech startups in 2021
63%: Share of African startup funding that went into fintech in 2021
$3 billion: The valuation of Flutterwave, Africa's most valuable unicorn
87.9%: Share of all African fintech funding that has gone to startups in Nigeria, South Africa, and Kenya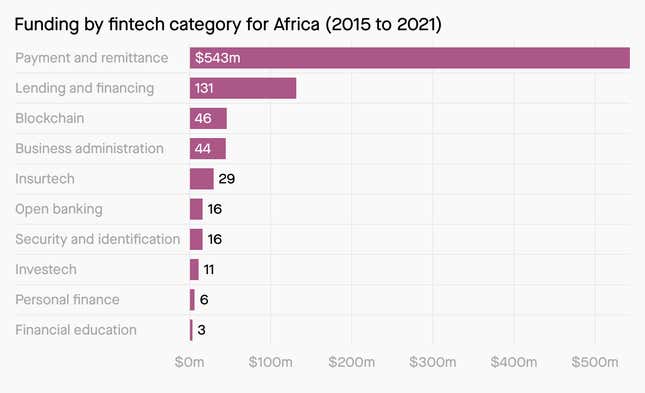 ---
The case study
Name: Yoco
Founded: 2015
HQ: South Africa
Founders: Katlego Maphai, Lungisa Matshoba, Bradley Wattrus, Carl Wazen
Latest valuation: Undisclosed
Yoco was founded in 2015 to fill a yawning gap in South Africa's offline payments sector: Despite a 70% card penetration rate among customers, many businesses were still cash-only. Getting card machines from any of the country's large banks was an expensive and arduous process that excluded all but the biggest merchants. So Yoco began offering low-cost card machines to small stores.
Today, roughly 170,000 merchants across South Africa use Yoco's card machines; for many, it's the first time they've been able to accept credit-card payments. But an estimated 5 million businesses in the country remain cash-only, and Yoco wants to get them on board, too.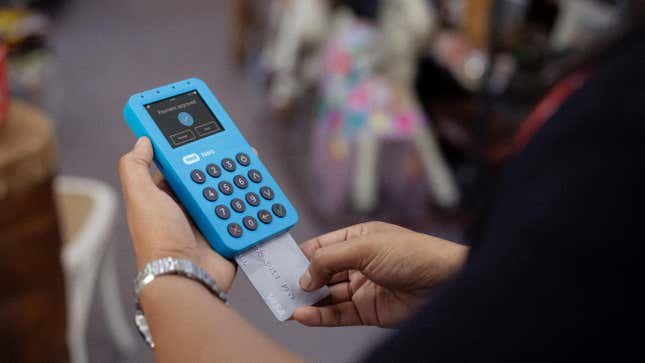 The pandemic offered Yoco another opportunity. When South Africa imposed one of the world's strictest lockdowns, the company's merchants were suddenly cut off from their customers. As e-commerce took off and cash became even less popular, Yoco released a beta product to allow its merchants to receive payments online. Now the two offerings are integrated, and Yoco says it has processed more than $2 billion in transactions.
With its latest funding round, Yoco is focused on adding 200 more employees to its ranks of ~350, and on expanding to other countries in Africa and the Middle East.
---
In conversation with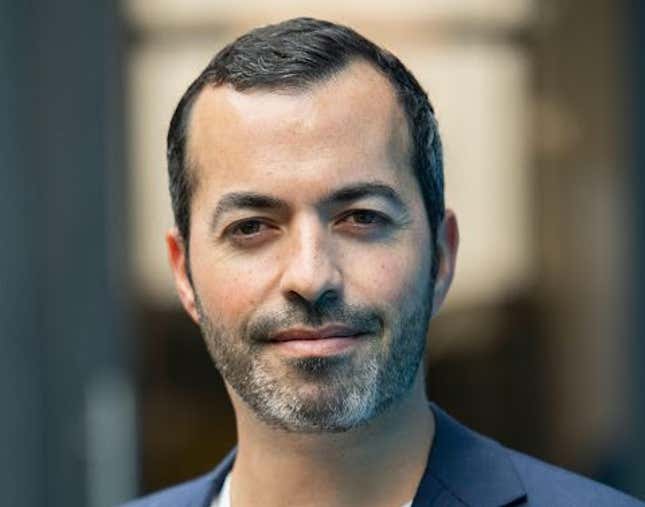 Carl Wazen was working in management consulting when he teamed up with three friends to start Yoco; today he's the company's chief business officer. Here are some choice quotes from our conversation.
💳  On the need that started it all:
"In South Africa, there was high banking and card penetration, which was unusual in an African country. But on the acceptance side, which was dominated by small businesses, businesses couldn't accept any form of digital payments because of high cost and a lot of friction. What that meant for us was an opportunity to allow more businesses to participate in the economy by allowing them to accept a form of payment that a good chunk of the population was becoming accustomed to and was choosing to pay with."
📱  On introducing online payments:
"We all knew that businesses would come to expect their payment provider to offer payments across all of their channels. And we wanted to make sure we're not excluding any channels or merchants."
🤝  On the regulatory environment:
"It's pretty clear, it's not very opaque. The regulator is a steady hand and doesn't get too involved or change things too often."
---
Fintech deals to watch
Flutterwave raised $250 million last week from Tiger Global and Avenir, among others, in a Series D round led by B Capital Group. The Nigeria and US-based startup, which facilitates cross-border payments, is now the continent's most valuable unicorn with a $3 billion valuation.
OPay raised $400 million last year, valuing it at $2 billion and making the Africa-based startup the fastest unicorn. The company, founded by a Chinese entrepreneur, provides individuals with a point-of-sale machine and underlying software so they can act as banks and ATMs.
Wave, a mobile-money startup in Senegal, raised $200 million in a Series A round in 2021. Investors valued the company at $1.7 billion, making it the first billion-dollar startup in Francophone Africa.
---
Learn more with Quartz Africa
📈  Where did VC investment grow the fastest in 2021?
📋  Everything you need to know about fintech financing
❄️  To scale up, Africa's fintech startups have to diversify
🌍  Fintech could make or break Africa's new free-trade area
🕳️  Even Africa's fintech startups face major funding gaps
🤩  Africa's startup scene has Jeff Bezos back for more
🤑  Raising $100 million? For Africa's startups, it's now no sweat
---
🎵  This brief was produced while listening to "Hela" /"Money" by Juliani (Kenya)
---
Have a highly motivated rest of your week,
— Aanu Adeoye, Quartz Africa contributor in Johannesburg and London
---
One 📱 thing
Just how big is Africa's fintech opportunity? The continent is already home to half of the world's mobile money customers, 70% of the world's mobile money transactions, and two-thirds of the transaction volume by value. And that's today. As internet access and connectivity issues are resolved on the continent, particularly in rural areas, the upside remains enormous.