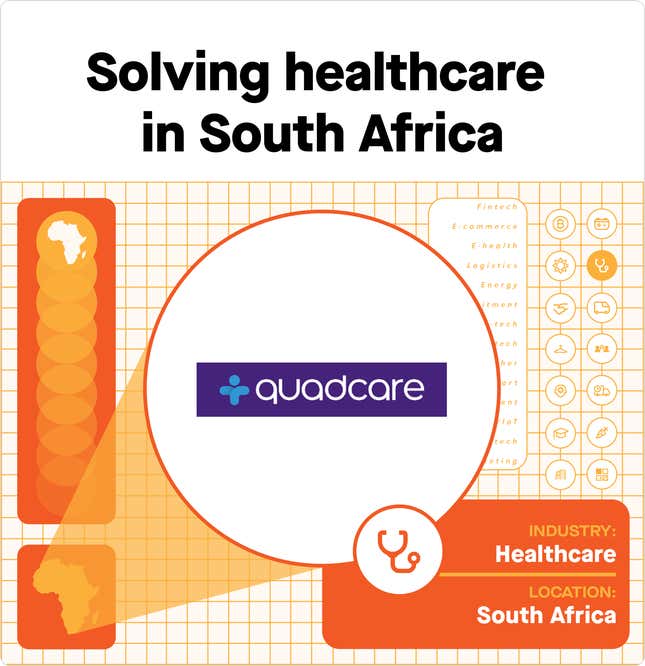 Hi Quartz Africa members!
This is the final free preview of the Quartz Africa Member Brief, our weekly analysis of opportunities and challenges for startups on the continent. We hope you've enjoyed reading them! To keep receiving this email—and everything else Quartz Africa membership has to offer—sign up for a free trial today.
Okay, let's get started.
---
Making healthcare work
Healthcare is a human right in South Africa, enshrined in the country's progressive, post-apartheid constitution. Yet the experience of getting medical treatment tells a different story. South Africa's small elite tap into an excellent and expensive private medical network, while the majority of the population must deal with an overburdened and under-resourced public sector. Yet the government, which spends 12% of its GDP on healthcare, devotes equal resources to both.
"The drive to improve the quality of healthcare in South Africa has not been lacking in interventions or in powerful ideas," researchers Winnie Maphumulo and Busisiwe Bhenu of the University of KwaZulu-Natal wrote in a review of post-apartheid healthcare in the country.
But corruption, a lack of leadership, and poor infrastructure all contribute to healthcare being neither fully accessible, affordable, or equitable, the authors write. The country also suffers from an acute healthcare worker shortage, with around 70% of its healthcare workers looking after the 16% of the population that can access the private sector. Predictably, the poor receive the least support.
To address these disparities, the government is keen on providing universal healthcare that is both affordable and accessible—but that remains a pipe dream for now. What is on offer is potential for innovation, says Katusha De Villiers, who works on health systems at the Bertha Centre for Social Innovation and Entrepreneurship at the University of Cape Town. "There has to be a way in which you can pull [the majority] into the private sector or into clinics," De Villiers says.  "I think that is where the biggest opportunity is."
---
Cheat sheet
💡  The opportunity: Equitable healthcare for 60 million South Africans, 71% of whom primarily interact with the public sector.
🤔  The challenge: Lack of funding and government support, and a population that suffers from severe health challenges. During the pandemic, for example, South Africans suffering from comorbidities such as diabetes and asthma, often undiagnosed by the strained public sector, were at even greater risk from the virus.
🌍  The road map: Innovations that bridge the gap between public- and private-sector healthcare to provide primary care, deliver medicine, and diagnose or even prevent chronic illness.
💰  The stakeholders: The government, employers, and society at large.
---
By the digits
1.3%: Percentage of the world's healthcare workers who care for 25% of the world's disease burden
50%: Africans in a 2016-18 study who said they had gone without healthcare in the previous year
$24 billion: Amount the World Bank and its partners committed in 2016 to developing universal healthcare coverage in Africa over five years
$37 billion: Anticipated size of South Africa's healthcare market by 2022
4.9%: Proportion of GDP spent on healthcare in sub-Saharan Africa in 2019
$4.8 billion: Amount spent on "wellness visits" to sub-Saharan Africa between 2015 and 2017, a suggestion of the promise of medical tourism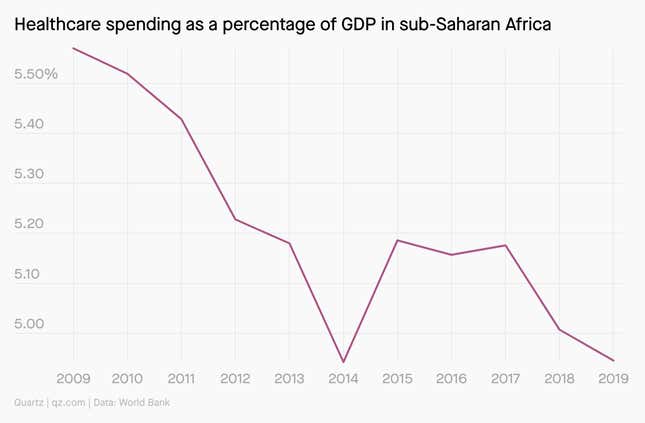 ---
The case study
Name:

Quadcare

Founded:
2013

HQ:

South Africa

Founder:
Dr. Dulcy Rakumakoe

Latest valuation:

25 million rand ($1.6 million), according to the company.
Only 15% of South Africans have private medical insurance; the rest rely on government hospitals, which are often overcrowded. Vulnerable patients, such as members of the LGBTQ+ community, often experience harsh and discriminatory attitudes when treated. Cue Quadcare—a network of private clinics that aims to provide affordable, empathetic, and high-quality medical care for South Africans. It offers a complete medical checkup plus basic medication for around R350 ($25).
"'Quad' in quadcare stands for quality, accessibility, and dignity," says founder Dulcy Rakumakoe. "We have as our core values love, empathy, professionalism, [and] putting patients first all the time, which is not necessarily the case everywhere people go to, especially when they are not paying."
While completing her community service (a required part of South Africa's medical training) in a small rural hospital a decade ago, Rakumakoe saw an opportunity to provide better, more accessible primary health services. She pursued an MBA at South Africa's Gordon Institute of Business Science, and in 2013 relaunched her private practice as Quadcare.
At first, the biggest challenge was funding: Rakumakoe had a track record as a medical professional, but none as an entrepreneur. So she situated her practice in a small town with limited medical services, and watched business pick up organically by focusing on key Quadcare differentiators: the ability to task-shift—deciding whether an ailment needs a doctor or can be effectively treated by a nurse—and training the staff on soft skills.
In 2019, a private consortium of investors from sectors including retail, property management, and actuarial science, put R8 million ($512,000) into Quadcare, which now employs 45 people across 10 clinics that each treat around 500 patients a month. The company also provides corporate health solutions for workplaces, and is hoping to expand to 30 centers in the next decade.
Today, Quadcare has even bigger challenges, like scaling across provinces and plugging into more government services. But Rakumakoe remains optimistic. "I think by the time the government springs into action on universal healthcare, we will be an obvious partner," she says. "What they're proposing—private healthcare for low-income patients—is what we've been doing for years."
---
In conversation with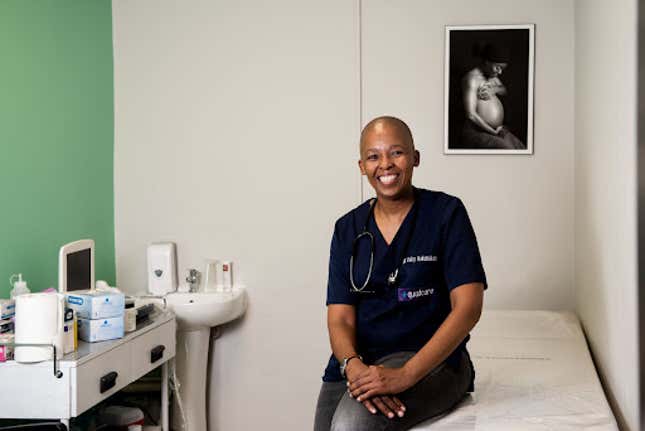 Dr. Dulcy Rakumakoe didn't have much of a choice over her career: Fed up with standing in line to see a doctor, Rakumakoe's grandmother said she had better become a doctor. Rakumakoe did her one better: She qualified as a general practitioner and went on to launch Quadcare. Says Rakumakoe: "My grandmother's story is the story of many people in our country in townships and rural areas." Here are some other choice quotes from our conversation:
🧲  On what attracted investors to Quadcare:
"The government has been talking about national health insurance for the last 10+ years, and it has still not happened. [Investors] see this as a company that is doing national health insurance by itself."
✋🏿  On Quadcare's values:
"We drill down into questions around homophobia, biphobia, transphobia; on religious beliefs and how they impact on the type of care they provide our patients. We have had candidates with great qualifications who [were] not qualified to come into Quadcare, because of these values. And we have had employees we've needed to dismiss because of transgressions that show us that they are not aligned to the values we stand for."
🔄  On building a sustainable healthcare businesses in Africa:
"You do not need to be a medical professional per se to see the problems in your community, and start coming up with solutions. It's about time entrepreneurs started thinking in a collaborative way: Let's bring in health professionals, IT graduates, engineers, logistic graduates—people who can get together …and employ their expertise to solve community problems."
---
Healthcare deals to watch
Reliance Health, a Nigerian health insurance and telemedicine startup, raised $40 million in February in a series B round led by General Atlantic, a US firm. Reliance was founded in 2016 and had raised money twice previously: a $6 million series A round in January 2020, and a $2 million seed round in 2017.
Susu, an Ivorian healthcare financing startup, raised $1 million this month in equity from a host of angel investors, and $1.2 million in debt and grants from BPI France. The three-year-old company operates in Cote d'Ivoire, Senegal, and Cameroon and says it has 5,000 customers.
Kenya-based Ilara Health raised $3.75 million in December 2020 in a round led by TLcom Capital. The company, which provides diagnostics equipment to healthcare providers, also secured a $1.1 million grant from the Bill & Melinda Gates Foundation earlier that year.
---
Learn more with Quartz Africa
😷  The pandemic created Africa's next investment opportunity
🌍  AfCFTA should be radical in prioritizing Africa's health
🧠  There's a mental health reckoning for Africa's doctors
🛠️  Africa's broken healthcare has an opportunity in covid
🤑  Impact investors are boosting health and agri-tech startups
👩‍⚕️  Nigeria's doctors have become a key export
💊  Africa's rising fake medicine problem
---
🎵  This brief was produced while listening to "Mal à la tête"/"headache" by Mix Premier
(Côte d'Ivoire) 🎵
Have a highly motivated rest of your week,
— Jackie Bischof, London
---
One ✈️ thing
South Africa is the top destination for medical tourism in Africa, followed by Egypt, Morocco, and Tunisia, according to the 2020 Medical Tourism Index by medicaltourism.com. But none of them are in the global top 20, which is led by Canada, Singapore, and Japan. India, Oman, and South Korea are also preferred by medical tourists to any African country.