Hi, Quartz Africa readers!
The revolution is outside
World Economic Forum events often have an air of exclusivity. Presidents, senior government officials, top executives of major multinationals and leaders of large NGOs all get together in Davos and around the world to expound on how to improve the future of our world.
This year's WEF Africa in Cape Town was looking to be another one of those with its not-so snappily titled theme: "Shaping inclusive growth and shared futures in the Fourth Industrial Revolution."
But real world events in South Africa took over and chipped away at some of the inevitable pomposity and corporate-sponsored earnestness.
Just weeks before, South Africans had been shocked by the rape and murder of 19-year-old University of Cape Town student Uyinene Mrwetyana. What makes this more shocking is that it was not. The most recent statistics (2017/18) on sexual violence in South Africa are horrifying with a woman murdered every three hours. But the female students of UCT  did not want to allow this to be normalized and picked WEF as the perfect spot to raise national and global awareness.
Hundreds of young women showed up with banners and placards outside the Cape Town Convention Centre forcing a security blockade. It had the powerful effect of redirecting conversations for attendees (when they finally made it inside).
WEF opened up a panel of leading women to highlight the scale of the problem. "I'm dumbfounded by the idea that we can continue with business as usual," said Namhla Mniki-Mangaliso, director of African Monitor, who urged technology companies to take a lead in delivering solutions that help protect women. African Monitor will help establish a fund with multiple stakeholders to focus on tackling gender violence
Of course, the other crisis in South Africa this week was the latest wave of xenophobic attacks on the shops and businesses of African migrants in certain neighborhoods across Pretoria and Johannesburg.
Again, even though this has happened with depressing frequency since 2008, it changed the conversation at WEF. In part  because social media misinformation had further inflamed an already terrible situation and led to reprisal attacks on South African businesses in other African countries. The official Nigerian WEF delegation, which was to be led by the vice-president, declined to attend in light of the attacks.
The opening plenary on the African Continental Free Trade Agreement was impacted by both crises. South Africa's finance minister Tito Mboweni had to stand in for president Cyril Ramaphosa who pulled out so he could speak in parliament about the country's gender violence problem.
With a topic like free trade, more open borders and stronger collaboration between African countries seemed the very opposite of these attacks on other Africans and Mboweni seemed to recognize this. "We welcome all Africans who have come to this conference; we welcome all Africans who live in South Africa. We are all Africans. We need to tell our people that what they are doing is wrong."
— Yinka Adegoke, Quartz Africa editor
Stories from this week
Japan has a plan to challenge China's influence in Africa. At month's TICAD conference in Yokohama, Japan's president Shinzo Abe pledged $20 billion to support African countries. Tokyo is offering a counterweight to China  by focusing on its core strengths by funding partnerships boosting technological innovation, industrialization, impact investment, institutional building, and climate change adaptation.
Kenya's huge wind power project might be great for the environment but not for locals. While there has been plenty of support and admiration for Kenya's Lake Turkana Wind Power, Africa's largest wind energy project. But research shows it is part of a wider trend of disruption of local communities by large scale infrastructure projects in historically marginalized, pastoralist regions.
Fake news fueled xenophobic attacks on African migrants in South Africa and reprisals in Nigeria. South Africa witnessed its latest wave of attacks on businesses owned by African migrants. But, as Yomi Kazeem explains, the latest xenophobic attacks and reprisals against South Africa-owned businesses in Nigeria and Zambia were fueled by misinformation shared on social media including gory videos and images from previous unrelated incidents.
Innovators are in a race to plug Africa's skills gap but they can't do it all alone. African innovators can only do so much to boost development without firing up the continent's education and training pipeline, argued a panel of innovators at Quartz's Africa Innovators panel during the World Economic Forum Africa in Cape Town.
Africa's innovators say their focus is needed to fix an unlikely problem—politics. The innovators on Quartz Africa's WEF panel—Bright Simons, Chika Uwazie, Fatoumata Ba and Iyinoluwa Aboyeji, see the biggest opportunity in driving change in Africa as related to policymakers. All are focused on disrupting the system. "I see myself and the work that I do with my organization as defenders of African sovereignty," says Simons.
Unpacking Mugabe's conflicted legacy. Zimbabweans learned this week of the passing of former president Robert Mugabe in a Singaporean hospital nearly two years after he was ousted from office. While some reactions trailing his death have amplified his role in liberating Zimbabwe from colonial rule, others focus more on his latter years in which his 37 years of autocratic resulted in failures and betrayals of the people he once fought to free. Zimbabwean writer Tinashe Mushakavanhu explains how the author Dambudzo Marechera was Mugabe's nemesis and was one of the first to predict, soon after independence, the country would falter under his leadership.
Chart of the Week
Uber is working on plans to offer its bus system to Lagos. By some measures Lagos state is Africa's seventh largest economy, but its 20 million-plus residents are often stuck in traffic. Uber has held talks with the highest levels of the state government about bringing its bus system to Lagos, reports Abdi Latif Dahir.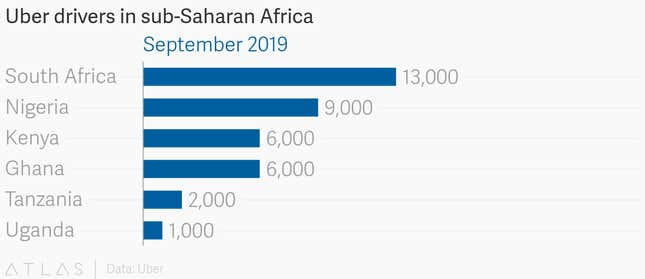 The Dealmaker
Accion Venture Lab, a seed-stage investment initiative focused on fintech in under-served markets, is going to invest an additional $33 million into fintech startups made up of $23 million from a co-investment vehicle with third party funds and a new $10 million investment from Accion itself….PEG Africa, a solar power solutions company operating across West Africa, has raised $5 million from ElectriFI, an European Union-funded development finance institution focused on sustainable energy. PEG Africa is expected to deploy the funding to expand in the three countries it currently operates in: Ghana, Cote d'Ivoire and Senegal.
Other Things We Liked
Is one of the world's biggest lawsuits built on a sham? Nigeria's government was recently on the receiving end of a $9.6 billion  judgement fine for breach of contract against a little-known Irish firm. However, in this piece for Bloomberg, Joe Light, Ruth Olurounbi and Kit Chellel investigate the allegedly fraudulent origins of the billion-dollar contract in question.
How Big Data—and lessons from Obama—swung Senegal's presidential election.  When Senegal's president Macky Sall started planning for his last election campaign he had one secret weapon: Big Data. For Mail & Guardian, Simon Allison reports on the team behind the strategy led by two former Obama campaign operatives who brought the lessons learned in 2008 to build a detailed database of Senegalese citizens.
Writing papers for US college students has become a lucrative profession for Kenyans. University graduates in countries including Kenya, India and Ukraine have been signing up to work for companies that write college papers for US, UK and Australia college students, report Farah Stockman and Carlos Mureithi for the New York Times from Nairobi . The paid-to-order essays are referred to as "contract cheating" in higher education circles.
Quartz announcement
Quartz Africa is looking for a full-time journalist to cover South Africa with a focus on business, innovation & culture. The right person would be based in either Johannesburg or Cape Town. More details here.
ICYMI
Microsoft research PhD scholarship program. PhD supervisors from academic institutions in Europe, Middle East and Africa are invited to submit their proposals for collaborative research projects with Microsoft Research Cambridge. The program focuses on sectors including artificial intelligence through future of work. (Sep. 21)
Oprah Winfrey Foundation's African Women's Public Service Fellowship 2020. The African Women's Public Service Fellowship, made possible by the Oprah Winfrey Foundation, invites graduate degree-seeking African women in areas from public heath to urban planning to apply.  (Dec. 2)
Keep Your Eye On
International Court of Justice to hear Kenya-Somalia maritime dispute (Sep. 9-13). The ICJ will convene in The Hague from Sep. 9-13 to listen to oral submissions by both parties in the maritime delimitation dispute between Kenya and Somalia.
Digital Media Africa 2019 (Sep 11-12). The Africa-focused digital innovation and revenue conference takes place in Johannesburg with industry names including Facebook, News24 and SABC. Quartz Africa will be in attendance as WAN-IFRA hosts the continent-wide gathering.
*This brief was produced while listening to Africa, Center of the World by Fela Anikulapo Kuti and Roy Ayers (Nigeria/USA). [Spotify]
Our best wishes for a productive and ideas-filled week ahead. Please send any news, comments, suggestions, ideas, Uber bus tokens for Lagos and exclusive Davos invitations to africa@qz.com. You can follow us on Twitter at @qzafrica for updates throughout the day.
If you received this email from a friend or colleague, you can sign up here to receive the Quartz Africa Weekly Brief in your inbox every week. You can also follow Quartz Africa on Facebook.