Hi, Quartz Africa readers!
Credit Scarred
African debt is on the rise and that fact is causing tensions to spark in unexpected places.
Total external debt for Sub Saharan Africa jumped nearly 150% to $583 billion in 2018 from $236 billion 10 years earlier, according to World Bank data. Many now worry the debt load is becoming unsustainable as the average public debt increased from 2010-2018 by 40% to 59% of GDP.
It's a problem across the low income developing world but particularly acute in the subregion. The trend has been driven by a number of factors including cheap money in more advanced economies so investors have been keen to seek yield in African countries promising up to 8% or 9% on eurobonds, said IMF managing director Kristalina Georgieva, in a panel discussion at the World Bank in Washington DC this week. The problem, she noted, is 8% to 9% isn't cheap for many countries paying out the yield.
The IMF and World Bank are especially worried about the lack of transparency, weak debt management and a lack of capacity in an increasing number of low income countries.
The elephant in the room was China and while it was addressed, it was often referred to as a "non-traditional lender". World Bank president David Malpass was especially exercised about the non-disclosure clauses  of China deals.
But Malpass grabbed most headlines for his attack on the Asia Development Bank, European Bank for Reconstruction and Development and the African Development Bank (AfDB) blaming them for "a tendency to lend too quickly and add to the debt problem of the countries."  He added: "In the case of Africa, the African Development Bank is pushing large amounts of money into Nigeria, South Africa and others without the strongest program to sustain it and push it forward."
In one of those grab-your-popcorn moments, the AfDB immediately hit back, describing Malpass' comments as "inaccurate and not fact-based."  It added: "It impugns the integrity of the AfDB, undermines our governance systems, and incorrectly insinuates that we operate under different standards from the World Bank."
It comes at an interesting time for both institutions. Malpass, who took the role a year ago, as a former Trump advisor and previous World Bank critic, has recently revealed he's splitting the World Bank's Sub Saharan Africa unit into two, a West/Central Africa and East/Southern Africa with two vice-presidents. This is widely seen as the bank likely doing more business in the region—and could be going up head-to-head with the AfDB more often and in a less collegial fashion than it has traditionally.
As for AfDB, its ambitious president Akinwumi Adesina of Nigeria is on the verge of being re-elected this May to run the bank for another five years by its shareholders. Its biggest shareholder is Nigeria and its next largest is the United States, which picked Malpass to run the World Bank.
— Yinka Adegoke, Quartz Africa editor
Five stories from this week
The story of the British pharma giant and the African yam. The advent of cortisone as a 1940s wonder drug kicked off a global search for diosgenin—one of the drug's main components. The search led to the discovery and decade-long plundering of 6,000 tonnes of a South African wild yam species at the expense of local farmers for the benefit of one of Britain's household pharma retailers.
Scientists worry about the pangolin's role in passing the coronavirus to humans but the Ebola crisis taught lessons that can protect Africa. The long-running  concern with pangolins has been population decline due to to demand for their meat and scales in China. But as Uwagbale Edward-Ekpu reports, the scaly mammals which are often smuggled from African ports to China are now being linked to the devastating coronavirus outbreak. But there are many lessons West Africa in particular learned from the devastating Ebola crisis that could protect the continent from the worst of the coronavirus. These lessons have nothing to do with acquiring drugs or building new hospitals.
Why Kenya's pre-independence rebel fighters Mau Mau gave up their fight. For forty years after its independence, governments in Kenya banned a pre-independence movement that pushed against oppressive British rule for unclear reasons. As it turns out, the government's motives ranged from fears over splinter groups being formed to maintaining uneasy political balance in the movement's stronghold areas.
This contemporary art exhibition in Dakar tackles African migration and reframes colonization. Africa's first traveling art exhibition will move through the continent's major cities this year showcasing works of 30 artists from around 20 countries. In this photo essay, Ciku Kimeria notes that, from paintings, sculpture and photography to fabric installations, the exhibition celebrates artistry while confronting lingering cultural and economic challenges.
The Dealmaker
Vezeeta, an Egyptian healthtech startup, raised $40 million in a Series D round led by Gulf Capital with participation from Saudi Technology Ventures. Founded in 2012, Vezeeta has grown to become one of North Africa's largest healthcare booking platforms…Aella Credit, a Nigerian lending startup, raised $10 million in debt financing from Singapore-based HQ Financial Group. In addition to loans, the company is now also looking to provide investment services to users Nigeria and the Philippines. Gebeya, an Ethiopian startup that trains and outsources tech talent, raised $2 million in a seed funding round co-led by Partech and Orange Digital Ventures with participation from Consonance Investment Managers. Gebeya is now eyeing pan-African expansion starting first with Francophone Africa.
Chart of the Week
The number of Nigerian immigrants to Canada has tripled in the last five years. For the fifth year in a row, more Nigerians emigrated to Canada than the year before as more skilled middle-class Nigerians head north. Yomi Kazeem found the growth rate of Nigerians receiving resident permits outstrips some of the North American country's biggest sources of immigrants over the last five years.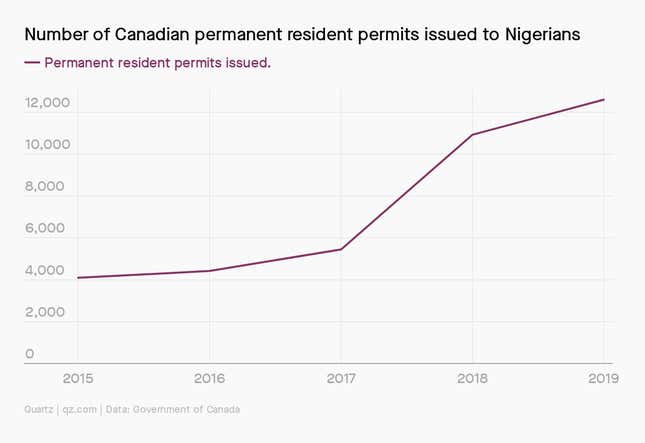 Quartz Membership
Amazon is unrivaled in ecommerce. With a trillion-dollar valuation and a business that spans everything from in-house brands to third-party inventory, Amazon has built its empire by disrupting US retail. Quartz's Marc Bain reports on how an online bookseller came to redefine an industry and what competitors are doing to keep up.
Other things we liked
Following the trail of Ethiopian female migrants risking all to reach Saudi Arabia. In a desperate search for jobs in Saudi Arabia, Ethiopian women and girls as young as 13 endure hunger and exhaustion walking through deserts, the dangers of a sea crossing and, often, rape and torture at the hands of traffickers. For Associated Press, Nariman El-Mofty  and Maggie Michael followed their journey.
Andela is still trying to figure out its business model. Last year Andela, one of Africa's most celebrated and best funded tech companies, announced it was shifting its model from outsourcing junior developers to focus on more experienced developers. As part of that move it let go hundreds of developers. But for Weetracker, Nzekwe Henry and Saruni Maina learn from insiders and partners the company is struggling to find placements for more experienced engineers leading to uncertainty about its model internally.
Kenya borrowed to buy advanced medical equipment but much of it never got used. Kenya was widely praised by multilateral banks a few years ago for launching Africa's largest public-private healthcare program valued at hundreds of millions of dollars. But years later, even after much of the equipment was bought, valuable equipment is lying unused in regional hospitals across the country, finds Maggie Fick for Reuters.
Listen: The rise of synthesizers in African pop music. Back in the mid-1970s to early 1980s, pop fans across Africa started to notice the introduction of a "computer sound" in their local disco, highlife and funk records. Afropop Worldwide's Georges Collinet digs into the history of how synthesizers were initially resisted then took over the sound with fresh new sounds from artists including William Onyeabor, Kris Okotie (Nigeria), Hailu Mergia (Ethiopia) and South African superstar Brenda Fassie.
ICYMI
Africa Guest Researchers Scholarship Program. The program allows African scholars to develop postdoctoral research at the Nordic Africa Institute in Sweden. (Apr. 1)
Google Africa PhD Fellowship Program. African graduate students can apply for a research fellowship at Google lasting up to three years. (Apr. 15)
Keep an eye on
Global Off-Grid Solar Forum and Expo, Nairobi (Feb. 18-20). GOGLA, the global association for the off-grid solar energy industry, and The World Bank Group's Lighting Global Program will hold the next edition of the Global Off-Grid Solar Forum and Expo in Nairobi.
*This brief was produced while listening to Homeless by Ladysmith Black Mambazo (South Africa). The group's leader Joseph Shabalala died at 78 this week.
**Apologies for having the wrong link last week for Bi Lamban by Toumani Diabaté & Ballaké Sissoko (Mali).
Our best wishes for a productive and ideas-filled year ahead. Please send any news, comments, suggestions, ideas, more Canadian resident permits and tickets for Dakar's visit of Prête-moi ton rêve to africa@qz.com. You can follow us on Twitter at @qzafrica for updates throughout the day.
If you received this email from a friend or colleague, you can sign up here to receive the Quartz Africa Weekly Brief in your inbox every week. You can also follow Quartz Africa on Facebook.